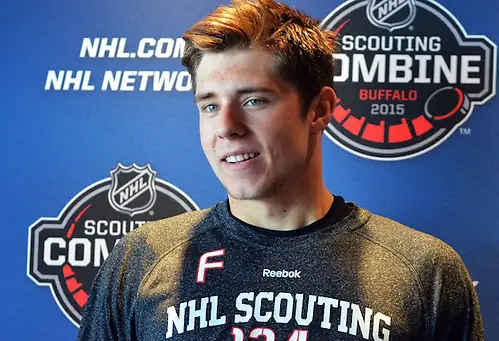 SUNRISE, Fla. — As if the 2015 NHL Entry Draft hadn't been good enough for Boston University, it got even better on Saturday morning.
One day after freshman phenom and reigning Hobey Baker Award winner Jack Eichel was drafted second overall by Buffalo, three more current or future Terriers players had their names called in Saturday's second round, giving BU four players taken among the first 50 picks.
2015 NHL Entry Draft
June 26-27, Sunrise, Fla
Selections: College players and recruits picked
Gallery: College players at the draft
First round: Record three players picked in top eight
Second round: Four Terriers players picked in top 50
Notebook: 27 college teams represented over 56 picks
A.J. Greer: At NHL scouting combine, Boston University forward sells his value in playing roles
10 years ago: Unusual draft launched memorable pro careers for college players
Zach Werenski: Young Michigan defenseman has high draft hopes but isn't sure on future plans
Noah Hanifin: Boston College defenseman serious about hockey on and off the ice
Jack Eichel: Top prospect distances himself from 'generational' talk
"It speaks an awful lot to the job [current assistants] Steve Greeley and Albie O'Connell and [former assistants] Buddy Powers and Mike Bavis have done," said BU coach David Quinn. "BU has always been a place where we get top-end guys. I'm happy for the players as individuals.
"But at the end of the day, it's a 48-hour celebration and you move on. At the end of the day, you have to be a player."
Possibly the biggest story for BU on Saturday was the selection of A.J. Greer, who posted just seven points as a role player for BU last season but played arguably his best hockey during the Frozen Four when the spotlight shined brightest.
Greer was ranked 71st among North American skaters by NHL Central Scouting but became the 39th selection overall when Colorado picked him Saturday morning.
"A lot of teams mentioned that at the beginning of the year, I was on their draft list, midway I wasn't and I think [my play] at the end really helped me," said Greer. "A lot of people doubted me throughout the year and sometimes I doubted myself.
"But I kept working hard and showed what I can do in pressure situations at the end."
Quinn was quick to note that Greer did well working through the toughest points of his freshman season.
"I give him a lot of credit the way he handled things," said Quinn. "There were some tough stretches, and that's not a knock on him. I'm just really happy for him for how he stuck with it, getting better and better."
Greer's selection by Colorado was soon followed by two BU recruits: Jakob Forsbacka Karlsson (45th overall by Boston) and Jordan Greenway (50th overall to Minnesota).
"I'm just fortunate being at the draft. Being drafted is just a great accomplishment," said Greenway, an imposing 6-foot-5 winger who was ranked 22nd in the midterm rankings before dropping to 47th in the final rankings.
"Everyone dreams about being in the NHL draft one day, and now that it's here and I've been picked it's just unbelievable."
With four high selections, the obvious question facing Quinn is how many of them will be playing his team next season.
That doesn't bother Quinn, though.
"At the end of the day, I don't worry about it," Quinn said of players leaving for the NHL. "Our job is to do the best job for the players. When it's time to go, it's time to go.
"When you're at a place like BU and some of the other schools that can get the high-end talent, you owe it to the player to try to make him the best player they can be and help them achieve their ultimate goal."
In Saturday's second round, five players with college hockey ties — all either attending or committed to attend Hockey East schools — were chosen. Notre Dame recruit Christian Fischer was the second selection of the day, going 32nd overall to Phoenix.
And the round closed with a compensatory draft pick by Toronto, which tabbed BC recruit Jeremy Bracco. That, however, might not be good news for the Eagles.
Bracco also is a draft pick of the Kitchener Rangers of the OHL, a team that plays just minutes away in a suburb of Toronto. It is feasible that Bracco could forgo his commitment to Boston College to develop right down the road from the team that owns his NHL rights.
"My focus is on BC right now," said Bracco. "But if [Toronto] thinks a different route is better for me to further my development and help the Toronto Maple Leafs win, it's a conversation I'll be having with them in the future."