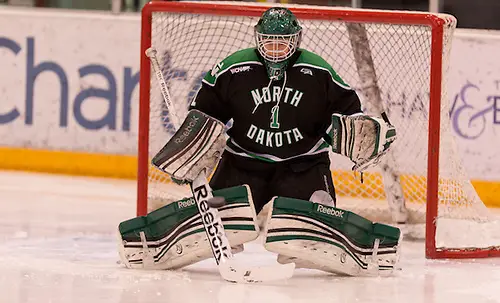 North Dakota
USCHO prediction: Third
Coaches' prediction: Third
Last season: Third (22-12-3, 16-9-3 WCHA)
The names
"We've kind of been on the PairWise bubble for two years; it's no fun," coach Brian Idalski said. "The real challenge is when we started, it was a Big Three. Now, it's become a Big Two. The challenge for us is to break into that top two in the league."
To do that, North Dakota will need more of the kind of performance it got from goaltender Shelbie Amsley-Benzie down the stretch. Her strong play earned her a nod as a Kazmaier Finalist and an All-American. UND would gladly take more of the same in her senior season.
The large senior class also provides the team's points leaders, forwards Meghan Dufault (31 points) and Becca Kohler (30), and defensive stalwart Tanja Eisenschmid. This sets up to be a year for North Dakota to make some noise, but it could use some immediate impact from its newcomers.
"I think it's a transition for everybody, but I would say off the top of my head, Anna Kilponen is probably the player for us who will be able to contribute the quickest out of anybody," Idalski said. "A Finnish Olympian, she's pretty polished already and definitely somebody who'll contribute for us right away. Vilma Tanskanen, a Finnish Olympian for us has potential, and so does Rebekah Kolstad. So I think those three kids have the greatest potential to have an easier transition to the game in the WCHA."
Last year, the team didn't gel early, and it wasn't until January that everything started to click.
"I think from a skill perspective and having the opportunity to work with our team, we like where we are with some of those things," Idalski said. "It's easy to tell that we have some talent and some ability. But when you start putting in systems, start asking some of our younger kids to execute with the group, that kind of bogs some things down."
The numbers
North Dakota's record was 10-10-2 after a home loss to Syracuse on January 11. It then went 12-1-1 over the next fourteen games before a loss to Wisconsin in a WCHA semifinal ended the team's season.
The prognosis
If North Dakota is going to force its way back into the league's top two, it will have to improve on the head-to-head results versus the teams that finished above it the last two seasons. UND was 1-3 against Minnesota and a crippling 0-4-1 versus Wisconsin.
North Dakota should be better this season, but likely not enough to make up the four games that separated it from second-place Wisconsin.