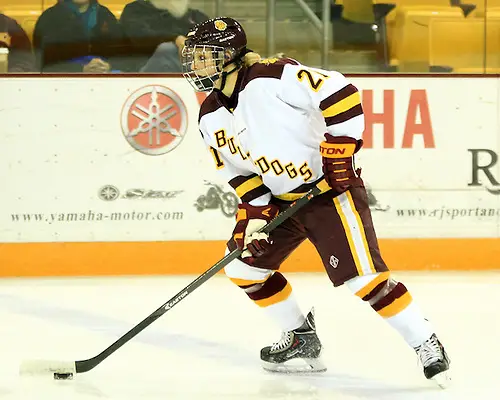 Minnesota-Duluth Bulldogs
USCHO prediction: Fourth
Coaches' prediction: Fifth
Last season: Fourth (20-12-5, 14-10-4-2 WCHA)
The names
Maura Crowell makes the transition from being Katey Stone's top assistant at Harvard to the second coach in Minnesota-Duluth history.
"Being a head coach in the WCHA is an unbelievable opportunity," Crowell said. "Hands down, that was the number one reason. The WCHA being the best league in the country, that's a draw. I know there's been a ton of success here and they've won five national championships. The university supports the program; the resources are in place. I think it's exciting and challenging for any head coach to try to bring the program back to that national prominence."
While the ongoing legal action hangs over the university, the team itself doesn't have to face as many distractions as it did over the second half of last season.
"It seems like a little bit of a weight has been lifted," Crowell said. "I commend my players for everything that they went through last year and coming out in the spring and figuring things out without a coach even really in place for some time. They really bonded together. I think they're a very mature group that has been through more than most any other college program has been through."
While it's been a long time since the Bulldogs have boasted the abundance of talent that they once possessed, and a number of key players just graduated, some impact players remain, particularly in the junior class. That class provides the top four returning scorers led by Ashleigh Brykaliuk (30 points) and Lara Stalder (29).
Kayla Black has logged heavy minutes in net over her three years in Duluth and is coming off her best season, where she recorded a .935 save percentage. Classmate Karissa Grapp and freshman Maddie Rooney provide backup.
The numbers
Between the start of the season and Thanksgiving, the Bulldogs will play only four games at AMSOIL Arena.
"You can look at things a couple different ways, but we'll look at it as a positive challenge and a great opportunity for building team camaraderie and getting to know our players a little better and having them learn about each other," Crowell said. "Being on the road is fun; it's also challenging. It can be a grind."
The prognosis
For all that Bemidji State accomplished last season, the Bulldogs were still seven points better than BSU in the final standings. Despite the losses to graduation of Zoe Hickel, Brigette Lacquette, and Jenna McParland, among others, a fresh start and a renewed focus make UMD a solid bet to get back into the top four.