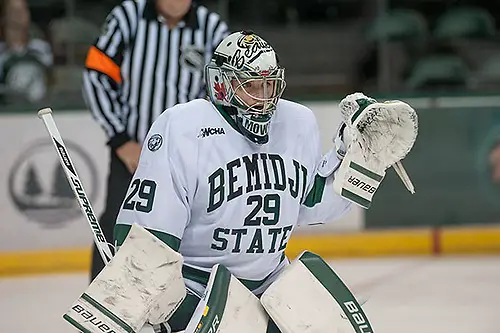 Bemidji State Beavers
USCHO prediction: Fifth
Coaches' prediction: Fourth
Last season: Fifth (21-17-1, 13-4-1-1 WCHA)
The names
Bemidji State wasn't exactly a Cinderella team in coach Jim Scanlan's first season, but it was as close to being one as the league had to offer. After setting a new benchmark for the program in wins with 21 and reaching the conference championship game for the first time, what do the Beavers do for an encore?
One goal was to gain home ice for the quarterfinals, and BSU fell one place short of that, even though it successfully advanced through the first round as a visitor. The task of getting back to the final weekend of the league playoff would be made easier by finishing in the top half of the standings.
"I think it's important to do well here at home," Scanlan said. "That's one thing I learned last year. We lost some home games in the league. If you win even two of those, maybe we get home ice."
With nine seniors on the roster, this shapes up as a key year for the program.
"We do have a veteran team," Scanlan said. "With Brittni Mowat back in goal, obviously that's a great place to start."
Mowat turned in a .945 save percentage with seven shutouts, including two over the eventual NCAA champion, to earn honors that included being named a first-team All-American.
"All of our top defense are back," Scanlan said. "Ivana Bilic, [Alexis] Joyce who had a great freshman year last year, Madison Hutchinson — all played a lot of minutes."
They contributed heavily to Mowat's success by blocking shots and making it difficult for opponents to get pucks to the net.
"Up front, all of our leading scorers are back," Scanlan said. "Stephanie Anderson had an outstanding year, and she parlayed that into a great Team USA experience. Kaitlyn Tougas is back; Kaitlyn has led our team in scoring the last two years. Lauren Miller and Hanna Moher are two more veteran players who will certainly have an impact for us."
The numbers
Even with almost everyone returning, the Beavers aren't very prolific offensively. They scored 86 times on the season, for an average of just over twice a game.
"Scoring is going to be a challenge," Scanlan said. "We talk about trying to be more of a puck-possession team. Those things will help if we can be a puck-possession team or get our D activated."
The prognosis
Bemidji State has the talent and the determination to duplicate or improve upon its performance from last year. The Beavers can be very tough to play against. However, it doesn't figure to be easy for BSU either. Teams should be a little more aware of what awaits them in Bemidji.
A better performance versus Ohio State — the only WCHA team BSU didn't defeat — would go a long way toward earning the Beavers home ice.