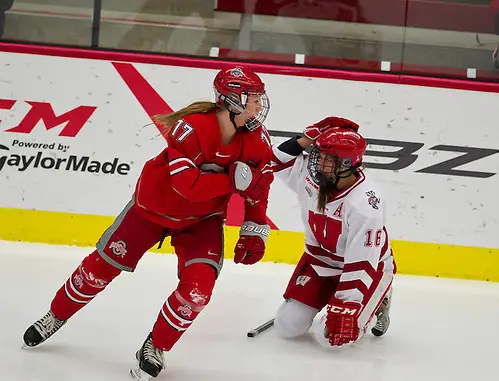 Ohio State Buckeyes
USCHO prediction: Sixth
Coaches' prediction: Sixth
Last season: Sixth (17-6-3, 12-13-3-1 WCHA)
The names
In March, Bemidji State became the sixth different WCHA team to play in the league's championship game. Ohio State has been there — back in the conference's second year of competition.
That was so long ago that the Buckeyes' new coach was only halfway through her own college career. What will it take to improve coach Jenny Potter's new team such that it can achieve such goals?
"I don't know if there's any simple formula, besides recruiting, and coaching, and developing hockey players," Potter said. "It's not simple, and it's not going to be easy. But I'm very confident in my abilities as a coach and getting my players to train hard and work hard."
At this point, she isn't too concerned by exactly what type of players she has inherited.
"You've always got to coach to the players that you have on your team," Potter said. "I'm still trying to figure out the team I have, but ideally, I'm looking for players that number one, love hockey, number two, are great students, and great people. If you have those three things, I think you can have a pretty successful team."
Last year's Buckeyes saw their season come to an end three minutes into the third overtime of a quarterfinal at North Dakota. A number of key contributors from that squad are gone, as five of the team's top seven scorers graduated.
"We have a very strong freshman class," Potter said. "Going into this year, I strongly expressed to the players that it's a clean slate for everyone. I think everyone has been working extremely hard. Obviously, I want the freshmen to have an impact right away, but I also think the upperclassmen that have been here, they kind of know what it's about."
One of the country's most anticipated freshmen is defenseman Jincy Dunne, after she appeared in two U-18 World Championships. Dunne scored in overtime to clinch the gold medal for the United States in January. Her arrival is timely, after Ohio State graduated a pair of offensive defensemen, sisters Kari and Sara Schmitt.
The numbers
As a player for UMD, Potter had 12 goals and 26 assists versus the Buckeyes in three years.
The prognosis
This may be one of those seasons that lays the groundwork for the future at Ohio State, because I don't think there are any vulnerable teams that the Buckeyes can pass in the standings.