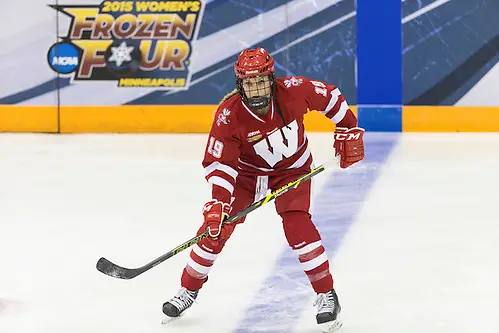 Wisconsin Badgers
USCHO prediction: Second
Coaches' prediction: Second
Last season: Second (29-7-4, 19-6-3-1 WCHA)
The names
After a drought of three years without a tournament crown, Wisconsin was able to claim a trophy at the WCHA Final Face-Off in March.
"It was definitely an exciting time for us," coach Mark Johnson said. "As any coach will attest to, any time you win a championship, wherever it may be or whoever it may be with, it's a special time for your players, because they're not easy to win."
There will be a lot of familiar faces wearing Wisconsin uniforms this season.
"We're only bringing in three players this year," Johnson said. "We've got a couple of forwards (Sam Cogan and Sophia Shaver) and a defenseman (Mikaela Garder)."
The freshman class may have quality over quantity, as all three have competed in the U-18 World Championships.
"The senior class is going to be relied on to do some things offensively, to contribute to hopefully help us with our success," Johnson said.
Senior captain Courtney Burke had the opportunity to play with the United States Development Team this summer.
"I think she's excited to really have a breakout year going into her last year at Wisconsin," Johnson said.
Much of the strength of the Badgers' roster is found in the middle two classes.
Junior Ann-Renée Desbiens responded with a .941 save percentage and a 1.15 goals-against average in her first season as the starting goaltender. Classmate Sarah Nurse was the Most Outstanding Player at the WCHA Final Face-Off. Juniors Jenny Ryan and Mellissa Channell joined with Burke to give Wisconsin three defensemen with 20 or more points.
The sophomore class offers up at least two stars and some solid contributors. Annie Pankowski proved to be worth the wait of an extra year as she led the team in scoring and was named conference Rookie of the Year. Among returning players, Emily Clark ranks second in points.
The numbers
With the coaching change at Minnesota-Duluth, Johnson becomes the longest-tenured coach in the WCHA. He's also the league's winningest active coach with 360 wins as he begins his 13th season with a career winning percentage of .811.
The prognosis
Minnesota has won an unprecedented three consecutive regular season titles. Wisconsin looks to be the likely team to break that streak, but it may have to wait one more year until Minnesota's senior class graduates.