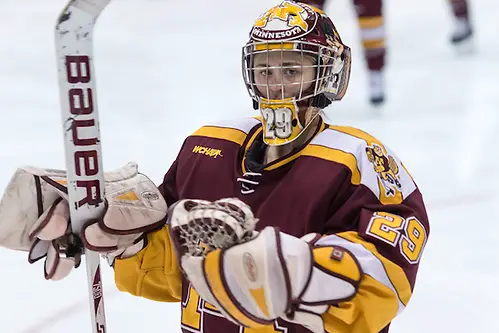 Minnesota Golden Gophers
USCHO prediction: First
Coaches' prediction: First
Last season: First (34-3-4, 22-2-4-2 WCHA)
The names
Coach Brad Frost has the Minnesota roster in such good shape that last season it was able to shake off the disappointment of the NCAA title game defeat in 2014 and the loss of star Amanda Kessel to lingering concussion symptoms and still earn the program's sixth national championship.
The team graduates three regulars, including two-time WCHA Defensive Player of the Year Rachel Ramsey, but on paper it looks to be improved.
"We have seven freshmen and one transfer in, so we'll be getting them up to speed as quickly as possible," Frost said. "For our returners, they know how we think and how we like to operate. We'll continue to make tweaks in regards to things that we do on a daily basis and in regards to our systems. We do that every year, just to try and be as good as we can be."
The additions increase the number of skaters to 21 after going through much of last season with only 17. Frost said the depth was needed because at times as the injuries mounted, the team couldn't conduct the kind of practices it wanted.
"There are certain ones that we have pegged to play more of a significant role," he said. "Certainly, Sophie Skarzynski from Chicago, Sarah Potomak is arguably the top Canadian kid to come out this year, and Taylor Williamson, Ms. Hockey [in Minnesota]; we expect some big things from those three and expect them to contribute right away."
The Gophers will continue to rely on their veteran nucleus. Three-time Patty Kazmaier Finalist Hannah Brandt is the NCAA's leading active scorer with 221 points in her first three seasons. Junior Dani Cameranesi is coming off a breakout season that saw her point total jump to 65. The blue line is fortified by a pair of second-team All-Americans, Milica McMillen and Lee Stecklein. Senior goaltender Amanda Leveille is on pace to set new NCAA career marks for winning percentage (.910) and save percentage (.949), and her goals-against average (1.13) is just shy of Christine Dufour's record of 1.09.
The numbers
Minnesota lost more games last season, three, than in the two previous years combined. More surprising was that it was shut out in all of those losses, after not being blanked for nearly three years and having the country's second best offense, averaging 4.49 goals per game.
The prognosis
The difference between Wisconsin and Minnesota has closed to a razor thin margin, but as long as the Gophers continue to dominate the head-to-head meetings, the race can only end one way.