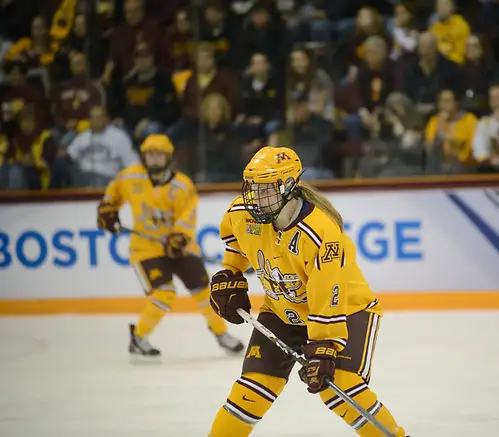 Change is rampant in the WCHA, but that was the theme of my preview a year ago. Rather than reprise that column, let's pick another theme.
How about a theme of Minnesota-Duluth? The Bulldogs were woven into just about every storyline this off season.
The country's dominant program for much of the first decade of the NCAA tournament, UMD had become little more than a footnote on the national stage over the last five years. That cost Shannon Miller, who had built that program from scratch, her coaching job, although she and two other coaches from the school have sued the university, claiming the decision was based on discrimination, not performance.
Meanwhile, the UMD players have the opportunity to get back to hockey, minus the distractions that hung over the end of last season, as the Bulldogs won only three of their last 11 games. Former Harvard assistant Maura Crowell is the new boss, charged with returning the program to the prominence it once enjoyed.
With 93 points, Jenny Schmidgall was the leading scorer of Minnesota-Duluth's first varsity team in 1999-2000. After a couple seasons away to train and compete for the United States in the World Championships and Olympics, get married, and start a family, she returned to UMD to complete her college career and won an NCAA title in 2003 as Jenny Potter. Now the four-time Olympic medalist returns to the WCHA as head coach at Ohio State, succeeding Nate Handrahan, who resigned after complaints of sexual harassment after four seasons at the helm. Last season, Potter was the head coach at Division III Trinity College.
Minnesota State is the third program in the league with a new head coach following the resignation of Eric Means. John Harrington becomes the fourth coach in program history. Like Potter, Harrington played his college hockey at Minnesota-Duluth and won Olympic gold for the United States. His last college coaching gig was at Division III St. John's, where he was the head coach for the men's team.
Of course, the league also has many of the usual subplots. Minnesota and Wisconsin figure to joust at the top for conference supremacy. North Dakota, UMD, Bemidji State, and Ohio State will battle it out for the two remaining home ice spots. How will it shake out? The coaches' poll looks to be fairly accurate, but then those polls usual just echo results from the previous year. We seldom see change coming.
Anyway, until Wisconsin proves it still knows how to defeat Minnesota, and someone other than North Dakota can mount a charge into the top three, I'll go with the following for projected regular season standings:
1) Minnesota
2) Wisconsin
3) North Dakota
4) Minnesota-Duluth
5) Bemidji State
6) Ohio State
7) St. Cloud State
8) Minnesota State