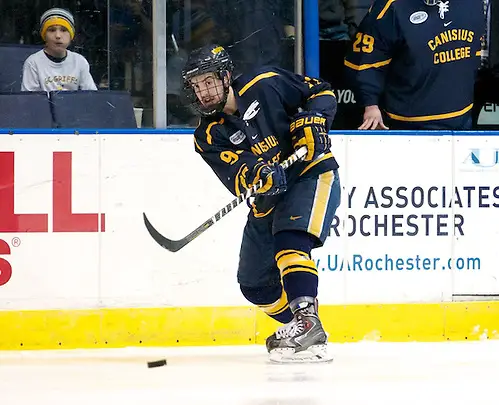 After getting to Rochester for championship weekend in Atlantic Hockey each of the past three seasons — winning it all in 2013 and losing in the title game in 2014 — expectations for the Canisius Golden Griffins have changed.
But the dreams of high-stakes playoff games, league titles and NCAA appearances have always been there, even during the lean years. Lately, those goals have become achievable. It's easier to visualize something when you've done it before.
"We have confidence," said Canisius coach Dave Smith. "This time of year everybody feels good about their team. For us, it's the goal of making the [conference semifinals] four years in a row."
Being there has helped Smith's team prepare to get back.
"It's knowing about the energy it takes," he said. "We talked about a vision, a dream.
"Getting to the [league] final four means a good chance of getting to the NCAA tournament. It's a fine line but we're confident we're on the right side of that line."
Last season, Canisius posted the second-best winning percentage in the school's Division I era thanks to record-setting goaltending by Keegan Asmundson and solid leadership from a large senior class.
Now what lies ahead is the biggest rebuilding project Smith and his team have had to face in years.
"We return some key pieces," he said. "But we have a lot of new players. The type of players that we brought in are significant pieces of the puzzle."
The Golden Griffins look to replace four defensemen, including last year's captain Doug Jessey and power-play specialist Chris Rumble, who was a medical redshirt his rookie season and graduated with a year of eligibility left. He started the season on the Binghamton Senators' roster in the AHL.
"We have four new defensemen with a great compete level," said Smith. "We lost a lot of good role players that did exceptionally well in those roles. [This year], we wanted to bring in some guys that are a little better skaters with higher-end foot speed."
Up front, Ralph Cuddemi looks to build on a 22-goal junior season that included eight power-play tallies.
"Ralph is a go-to guy that we know will be ready day one," said Smith. "He's the horse that's pulling our cart.
"We need Ralph to produce, and that will come but the biggest contribution is his drive and his character, the work ethic he brings."
In net, sophomore Reilly Turner, who backed up Asmundson last season, is expected to take over the starting job.
"We started to prepare Reilly last season, knowing Keegan was leaving," Smith said of Turner, who had a .915 save percentage in 13 games last season. He's the guy."
Last season
18-12-7, 15-7-5 (second) in Atlantic Hockey. Lost to RIT in the league semifinals.
Names to know
Coming off a 22-goal season, senior Ralph Cuddemi has established himself as one of the league's premier forwards. Playmaker Shane Conacher has 60 points through two seasons. Sophomore Reilly Turner inherits the starting goaltender position from the departed Keegan Asmundson.
Three questions
1. Can this small senior class make it four-for-four in trips to Rochester?
2. Can Turner fill the (literally and figuratively) very large skates of Asmundson, who set school records for career save percentage (.930) and GAA (2.08)?
3. Who will run the power play now that Chris Rumble has left for the pro ranks?
Crystal ball
This is a tough call because many of the pieces are in place for the Golden Griffins to contend for the title. It may come down to goaltending and how much Smith gets out of his rookies. Even if this team is down a notch from last year's version, a top four finish is likely.