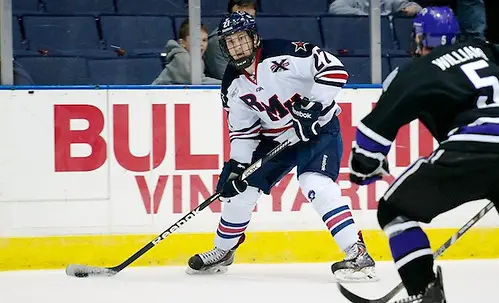 Every preseason seems to bring an overarching theme. Last season, Atlantic Hockey welcomed a new scheduling format after the departure of Connecticut, introducing an unbalanced slate of games for the 11 member institutions.
The end result was another season of western dominance. Four of the top five slots in the league finished with teams from the old western scheduling pod, and the four teams reaching the conference semifinals all came from west of New England and West Point.
It was the second time in a row that all four playoff semifinalists were from the western part of the league, and the third time in four years. In all, since the championships moved to Rochester, N.Y., in 2007, the eastern schools (including the departed Connecticut) have averaged just one of the four semifinal slots (nine out of 36) per season.
As the 2015-16 season dawns, a new theme is starting to emerge. Despite the perceived dominance by western programs, Atlantic Hockey remains as competitive as ever. Four points separated Bentley's fourth-place finish — resulting in a home quarterfinal series — from Holy Cross and Air Force's tie for sixth place.
Sacred Heart advanced to the quarterfinals for the first time since 2011. Niagara became the lowest seeded team (last/11th) to win a three-game playoff series. And Atlantic Hockey, once again, remained a beacon of competition and unpredictability.
"It's amazing how many teams can fit into the last five or six slots," said Bentley coach Ryan Soderquist. "It's going to come down to the last two weekends, and hopefully we're going to be in the mix."
While their league slates remains as unpredictable as ever, Atlantic Hockey teams are gearing up for an unprecedented amount of home games. Owing to scheduling needs of other conferences, AHC teams will take part in some of their highest profile games to date.
American International will play in the Alaska Goal Rush in Fairbanks and take on Massachusetts at the MassMutual Center in Springfield.
"We're putting our feet right in the fire coming out of the gate," said AIC coach Gary Wright. It's a good opportunity to see where we stand."
Bentley is playing Northeastern, Merrimack and Rensselaer at home while traveling to Boston University for the second time in three years.
Army West Point will face Boston College among its home games, and Sacred Heart will host Arizona State in the Sun Devils' first year as a Division I hockey program. Quinnipiac heads to Holy Cross, and the Crusaders also draw a game at the defending national champion Providence Friars.
"More home games are going to lead to more nonconference wins," said Air Force coach Frank Serratore, whose Falcons will host Denver and Colorado College. "There's more good teams in our conference that can knock off any team in the country. We've got good coaches — they work hard, they're smart, and they stay on top of things."
Rochester Institute of Technology proved it again last season when the Tigers knocked out top-seeded Minnesota State in the first round of the NCAA tournament, the first time a No. 16 had defeated a No. 1 in tournament play.
"A tough nonconference schedule prepares you for those games," said RIT coach Wayne Wilson, whose Tigers will host Colgate and Bowling Green and travel to Boston College. "We saw a lot of good teams in the regular season so there was no fear of the unknown."
Of course, it helps to win those nonconference games, which has been a struggle. The league was just 13-52-4 last season against nonconference opposition. That ruined the chances for an at-large NCAA bid for Robert Morris, which had a stellar record but was upset by Mercyhurst in the conference semifinals. The Colonials weren't high enough in the PairWise Rankings to make the tournament field. That was largely thanks to the conference's abysmal record out of league.
"It's very hard to win both a regular season and playoff championship," said Robert Morris coach Derek Schooley. "In our league, you can't just do well for 90 percent of the year."
Another move that will help level the playing field is an increase of the league's scholarship limit from 13 to 14 this season; it was 11 four years ago. The rest of the Division I leagues have a limit of 18.
"Going from 11 to 12 to 13 to now 14, it certainly gives us the ability to attract better players," said Mercyhurst coach Rick Gotkin, entering his 28th season behind the Lakers' bench. "It's a small part of us continuing to grow and getting better. Some of it is [new] facilities. Out-of-conference scheduling, getting more games at home. Scholarships certainly contribute, but it's just one factor."
The road to Rochester is almost always filled with twists, turns, heart-pounding moments and clutch results. For 2015-16, it's almost assured that it won't be any different.
Who is the dark horse? Every year tends to produce one or two teams coming out of nowhere. Can that team make a run all the way to the conference championship?
Can Bentley finally break through? The Falcons are the league's eastern-based powerhouse, but playoff disappointments crashed their hopes each of the last two seasons. Is this the year they break a seven-year drought and return to the semifinals?
Is Robert Morris still the team to beat? The Colonials won the league title in 2014, then ran away with the regular season crown last season. Can they reclaim the mantle in 2016?
Home, home on the range. Does more home games equal more out-of-conference wins and in turn get a second Atlantic Hockey squad into the NCAA tournament?
Here are our picks for the final standings in Atlantic Hockey for the 2015-16 season. Click on each team for a more detailed preview:
They're big. They're talented. And they're mature. That should pave the road back to the NCAA tournament for the "Sons of Schooley." Read more
The hallmark of a Ryan Soderquist team is all-around, gritty, solid play. One of the deepest teams in the league is poised to become even deeper and finally grab the elusive brass ring. Read more
Last year's league champion completed the first "double," winning the AHC men's championship and the CHA women's championship. Can the Tigers do it again? Read more
The Golden Griffins are the team that never goes away, and they're always a factor in the postseason. Read more
A blossoming power returns nearly all major components, and it looks like the Pioneers are ready to break through and gain footing as a top AHC program. Read more
The Lakers lost 12 seniors from last year's team, but that's never really seemed to matter for Rick Gotkin, one of NCAA hockey's most experienced and successful coaches. Read more
Trips out west typically are good for three or four additional wins for the Falcons. In a tightly-packed AHC, that could be the difference in if they're home on the second weekend of the playoffs or not — and who has to make that trip to Colorado. Read more
The Purple Eagles finished 11th a year ago, but late-season success seems to follow them wherever they go. Read more
Life after Matt Ginn begins for David Berard, and the Crusaders will look to redistribute the goalie's production among its entire team. They'll have to answer the question as to just how valuable Ginn was to that squad. Read more
It's a testament to how tight the league is that the Black Knights could be as talented as they are and still possibly finish 10th. A second straight strong recruiting year has this team poised for total breakout soon enough. Read more
There isn't a soul in this league taking the Yellow Jackets lightly. Absolutely no team does a better job of punching up and potentially punching out opponents. Read more