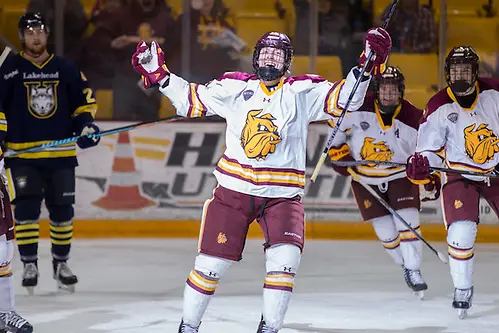 In just its second season, the NCHC stepped forward as a powerhouse conference in college hockey.
Six of the league's eight teams advanced to the NCAA tournament, and five played in regional finals. Omaha and North Dakota advanced to the Frozen Four before falling to Providence and Boston University, respectively.
The chance for an all-NCHC Frozen Four was very real. While Providence defeated Denver 4-1 in the regional final, that game was essentially a one-goal contest, decided on a power-play goal during a five-minute major to Joey LaLeggia late in the third, with the final two goals coming into an empty net. Minnesota-Duluth gave up the winning power-play goal with 2:24 left in its regional final against BU.
All of the league's coaches talk about the grind involved in playing some of the toughest teams in the country week in and week out.
"It gives you more gray hair, I know that," laughed Minnesota-Duluth coach Scott Sandelin. "I think when you have a strong conference and you are playing those opponents, and our team has been doing it for two years, you know how difficult it is. You stay pretty focused as you get prepared. They know there are no easy games."
Denver sophomore and NCHC rookie of the year Danton Heinen echoed Sandelin: "We think it's the best conference in college hockey as well. That looks good for you, but you still have to go out and play, so it doesn't mean much. It's definitely tough playing all NCHC teams. Every night is a battle and you can't take any nights off, so it's a grind, but you want to be playing against the best."
Looking ahead to the start of the 2015-16 season, all eight teams have some interesting question marks, but most observers expect the NCHC to be standing tall again. Four NCHC teams are in the top 10 of the preseason USCHO.com Division I Men's Poll, while Miami was ranked 11th and St. Cloud State ranked 17th.
Will the conference return six teams to the NCAA tournament? Several squads enter with questions marks, whether it's a new coach at North Dakota, the loss of seven seniors at Denver, the loss of an offensive star at St. Cloud State or the loss of the top two scorers at Miami. The NCHC, however, is what Air Force coach Frank Serratore refers to as a "reload conference." Six squads back may be tough, but they will all be in contention.
Can Colorado College or Western Michigan finish higher? CC has 14 freshmen and lacked any sort of consistent scoring except for Cody Bradley last season, so the odds are against it. Western Michigan is more likely to challenge St. Cloud, Omaha and Miami in the standings.
Will the Penrose Cup come down to the final week or two of the season? The last two years, the league's regular season champion has been crowned on the final weekend of the season. With the conference being so competitive, this seems likely again.
Here's a look at the NCHC's teams in alphabetical order, with predictions on the regular season finish by Candace Horgan and Matthew Semisch:
Candace and Matthew both pick the Tigers for eighth.
Ten players are gone from last year's squad, and only some to graduation. The team's best player, Jaccob Slavin, left early for the NHL, while several others went back to juniors. With 14 freshmen in the lineup, this is a rebuilding year at CC. Read more
Candace picks the Pioneers for second; Matthew picks them for fifth.
The Pioneers graduated seven important seniors from last year's team, including All-American defenseman Joey LaLeggia, but with three of their top five scorers back and the same goalies in net, Denver still looks like a tough out. Read more
Candace picks the RedHawks for sixth; Matthew picks them for third.
Three of the NCHC's best forwards from last season are gone, but high expectations have again been placed upon the RedHawks. Read more
Candace and Matthew both pick the Bulldogs for first.
The Bulldogs return most of their core players, and are older and more experienced. Duluth enters as the favorite, but can it find the needed scoring punch? Read more
Candace picks UND for third; Matthew picks UND for second.
UND has a new coach and several key pieces missing from last season's team, but plenty of talent remains. Read more
Candace and Matthew both pick the Mavericks for fourth.
Question marks surround the Mavericks despite coming off of their first Frozen Four berth and the positivity surrounding the opening of the new Baxter Arena. Read more
Candace picks the Huskies for fifth; Matthew picks them for seventh.
The early departure of Jonny Brodzinski is a blow, but the return to full health of several players, plus the continuing strong play of goalie Charlie Lindgren, bodes well for St. Cloud State. Read more
Candace picks the Broncos for seventh; Matthew picks them for sixth.
The Broncos are young again and lost key pieces to the professional ranks, but Western Michigan is optimistic heading into the new season. Read more