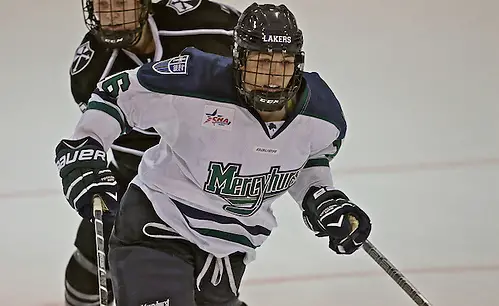 Mercyhurst Lakers
USCHO prediction: First
Coaches' prediction: Second
Last season: First (23-9-3, 14-5-1 CHA)
The names
It would have been the ultimate irony had Mercyhurst been in position to be the final at-large selection to the NCAA tournament, only to be denied an 11th-straight trip by the CHA's first-ever automatic qualifier. Instead, the Lakers saw their record run of national tournament appearances end the old fashioned way; they just didn't win enough games.
While Mercyhurst's mastery of its conference continues over the long haul of the regular season, its grasp of the league tourney has slipped away. The Lakers have worn the playoff crown just once in the last four years, and not since 2013.
Nonetheless, there's no denying what coach Michael Sisti has built and maintained in Erie, and in recognition of that, he was recently rewarded with a four-year contract extension that runs through 2019-20.
"I started this program from scratch and have passed on a lot of opportunities because I believe so much in it," Sisti said.
Over the off season, he looked into some of the coaching openings, including being announced as a finalist for the Minnesota-Duluth position, before concluding that Mercyhurst was still the best fit for him.
Now he starts his 17th campaign at Mercyhurst with a roster that includes veterans plus a youth movement, being bookended by a senior class of seven and a group of eight freshmen plus a redshirt freshman.
When I spoke to him at the Frozen Four, Sisti was very optimistic about the influx of talent that the new arrivals bring. However, at that time it included Under-18 World Championships veteran Jaycee Gebhard, who is not on the current roster. Redshirt freshman defenseman Samantha Fiesler also has international experience, winning gold with Canada in 2014.
Seniors Emily Janiga (45 points) and Jenna Dingeldein (35) have produced well throughout their careers, but some contributions from other sources will be needed, as sophomore Sarah Robello (28) is the only other returning player to reach 20.
Perhaps nowhere would a contribution by the freshmen be more welcome than in net. Amanda Makela graduated, and Julia DiTondo, her principle backup, gave up hockey to focus on her academics. The remaining options are sophomore Jessica Convery and freshmen Kerri St. Denis and Sarah McDonnell.
The numbers
The combined collegiate experience of the Mercyhurst goaltenders is 19 minutes and 49 seconds.
The Lakers have been swept in a conference series in two of the last three seasons. Prior to that, they had never suffered a sweep in league play.
The prognosis
Assuming a solid goalie emerges, Mercyhurst should still come out on top, but its advantage over the CHA field is shrinking.