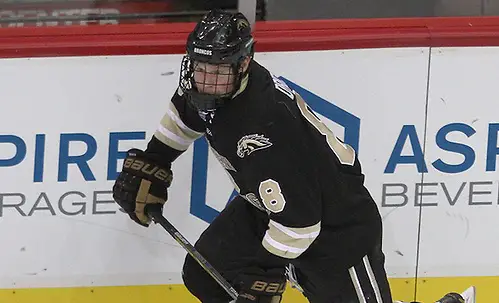 Western Michigan has a different hockey team than it did a year ago, but the Broncos' station in the NCHC hasn't changed since last season ended.
After finishing seventh in the eight-team league last year, Western fell on the road to Miami in the first round of the NCHC playoffs. This time around, WMU has been picked to finish second-to-last again.
There are plenty of reasons why. Western was the most penalized team in the NCHC last season, and it lost key juniors Colton Hargrove (forward; 14 goals, 14 assists) and Kenney Morrison (defenseman; 5 G, 10 A) a year early to professional hockey.
Between those big departures and Western's place in the NCHC preseason poll, Broncos coach Andy Murray is taking it all in stride, and for good reason.
"It is what it is and there's some traditionally strong teams in our league, and we took way too many penalty minutes last year and shot ourselves in the foot a few times," Murray said. "I don't think anyone would tell you, though, that they had an easy game last year against Western Michigan.
"We're young again and every year we've been losing a couple of juniors to the NHL, and that's a good sign. I think it's a sign that you move players onto the next level, and that's what you want. We lose Morrison and Hargrove but that's the way it works."
Also gone is a 26-point senior in forward Justin Kovacs, but plenty of veteran talent returns. Three of WMU's top scorers from last season are back, and goaltender Lukas Hafner (.914 save percentage, 2.42 GAA) will be relied upon to provide senior leadership from the net out.
Last season
14-18-5 6-13-5-4 (seventh) in the NCHC. Lost to Miami in the first round of the NCHC playoffs.
Names to know
Forward Sheldon Dries (14 G, 15 A) led the Broncos last season in scoring as a sophomore and will be expected to lead again, this time with a "C" on his jersey. Senior forward Nolan LaPorte (11 G, 12 A) and sophomore Frederik Tiffels (11 G, 10 A) also will be relied upon heavily, as will Hafner in goal.
Three questions
1. How will Western Michigan address its on-ice discipline issues from last season?
2. Hargrove and Morrison would be big losses for any team in the NCHC. How quickly can the Broncos train other players up into being able to fill those departed stars' roles?
3. Hafner had a decent junior season on a Western team that didn't give him a whole lot of help at times. What does he do for an encore in his final campaign in Kalamazoo?
Crystal ball
Western Michigan will believe that home ice in the first round of the NCHC playoffs is a reasonable goal, and it is if enough factors go the Broncos' way. "If" is the operative word.