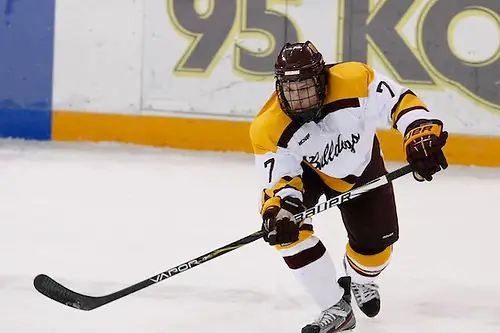 Given the wealth of experience returning in the Minnesota-Duluth locker room, it's no surprise that the Bulldogs were the preseason pick as the NCHC's top team this year. They also ranked second in the preseason USCHO.com Division I Men's Poll.
"I think overall we're a little bit of an older team," said UMD coach Scott Sandelin. "We've got familiarity from a line standpoint. I think depth-wise, we have good depth at forward, and on the back line we've got two or three guys in [Andy] Welinski and [Carson] Soucy that played very well for us at the end of the year.
"We also return both goalies, who have experience. It's a nice problem to have. On paper, everything looks good, but there's a lot of work to be done to try to get better and win games."
One thing that might help the Bulldogs' fortunes would be an increase in scoring depth. Tony Cameranesi led the team in scoring last year with 30 points, only .750 points per game. Dominic Toninato was second with 26 points.
"I think you always hope those guys improve on their numbers, but I see our team being in some ways very similar to last year," said Sandelin. "I think there will be a little more balance, much like last year. I think Tony finally hit the 30-point mark in the regional.
"I think you go in every year hoping that certain guys will improve on their years, and I think personally those guys are going to do that. But to me, as long as we find ways to win some games, it doesn't matter who scores."
The Bulldogs open with a tough month, facing Bemidji State, Minnesota, Notre Dame and UMass-Lowell before diving into conference play.
"We have four of the first six on the road, and obviously I think that's good because you find out how good you are on the road," said Sandelin. "We've been a pretty good road team the last few years. I like the challenge. I think our guys understand how tough each game is, and that's just how we are going to approach it."
Last season
21-13-6, 12-9-3 (fifth) in the NCHC. Lost to Boston University in the NCAA Northeast Regional final.
Names to know
The Bulldogs are led up front by senior forward Cameranesi, have a stalwart defenseman in senior Welinski and get strong goaltending from sophomore Kasimir Kaskisuo. For rookies, Adam Johnson and Neal Pionk, both of whom played at Sioux City in the USHL, are expected to contribute early.
Three questions
1. Can the Bulldogs get any better scoring production from their older players, none of whom averaged over a point a game last season?
2. Will Kaskisuo have the dreaded sophomore slump or build on his brilliant rookie campaign?
3. Can the Bulldogs return to over a 20 percent success rate on their power play, which will improve their offensive numbers?
Crystal ball
All the other teams have more questions, so for now, we'll pick the Bulldogs to win the NCHC regular season and Frozen Faceoff to advance to the NCAA tournament.