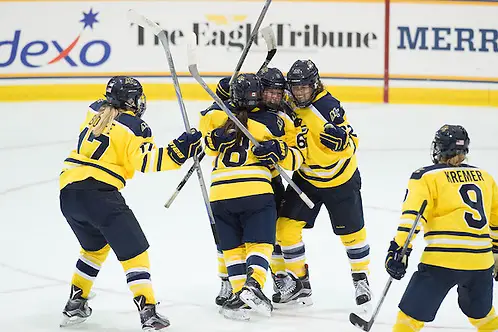 Merrimack Warriors
USCHO prediction: Ninth
Coaches' prediction: Ninth
Last season: This is Merrimack's first season as a varsity program
The names
Merrimack becomes the latest school to join the list of full-time Division I programs, bringing the number to 35.
"I had a lot of conversations with different coaches that have started programs, including BU and Syracuse," coach Erin Hamlen said. "I did take a more aggressive approach than those programs. I was also given more liberty by my administration and some more of the scholarship dollars up front, so I was able to move forward a little quicker, I think, in the recruiting process, but also, a little more aggressively."
The efforts of the coaching staff produced a 21-player roster.
"We've got a lot of young players, most are true freshmen," Hamlen said. "We're all in this kind of same boat together and are able to transition from youth to, hopefully, a veteran line-up by Christmas time."
With no past statistics to go by, only the coach that recruited the players can single out where the biggest impacts will come.
"I could name them all and say they're all going to do a great job, but if you're asking me to name a couple," Hamlen said. "There are some players that have more experience than others, a player like Paige Voight, who played on the Under-18 gold-medal team in January. She's got some experience that a lot of the other players don't. She's certainly a power forward and has done tremendous things for Cretin-Derham Hall, her high school team in Minnesota when she was playing with them. [Junior] Marie Delarbre is a player who transferred in from Minnesota-Duluth, and she's got some experience, so I expect her to step up and have at least the ability to lead by example and also lead in terms of what to expect throughout the season. On the back side, Dominique Kremer, who also has been with the U-18 and just missed that final cut. We've got a goalie, Samantha Ridgewell, who was one of the top goalies at the junior women's hockey league. We expect to be very solid in net between Sam and Kate Kowalchuk, and we've got another goalie, Chaislyn Burgio. So we've got some players that definitely have talent."
What the Warriors don't have yet is a cohesive unit.
"We also know that we need a lot of foundation prior to getting people to do everything as a team," Hamlen said. "We've brought in a sports psychologist already. We're trying to gel on and off the ice, and in some ways, we're still trying to get to know each other. For us, expectation, we're putting a little pressure on ourselves to perform, but at the same time, we know that we've got a little bit of a learning curve here. So we'll start off and build, and get better as the season goes on, hoping that by Christmas time, we're hitting midstride."
Hamlen knows where she'd like to go, but she understands her situation is different than teams that are just filling a handful of holes.
"I would much rather play an aggressive system," Hamlen said. "I put a high priority on hard work and working smart. Ideally, I'd like our program to be defensively sound, like any other coach would want their program to be. But I would really like our program to be able to play a more aggressive system, both defensively and offensively.
"That's the ideal. I'll have to temper my expectations as to how aggressively we play until I see what we have as a group and how well we work together in our systems."
The numbers
The Warriors enter the season with 70 games of NCAA experience, all belonging to Delarbre.
The prognosis
If Hamlen's players are quick studies, it's possible that Merrimack could qualify for the playoffs in its first season and maybe move up to seventh. At a certain point. however, the Warriors will be at a big disadvantage to rosters that have a number of players who have been through the grind of a college season before.