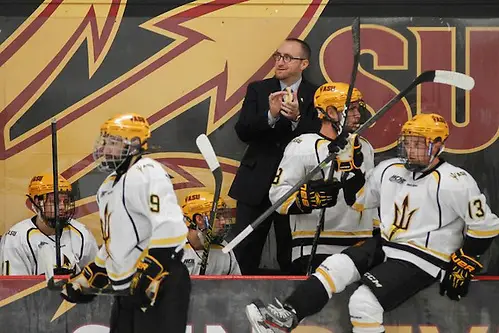 Arizona State's venture into the NCAA Division I ranks this season is hardly a new team stocked with 28 freshmen.
In fact, a handful of Sun Devils players on the inaugural roster have played at the D-I level and transferred to ASU to be part of the brand-new program this year.
Players like Ryan Belonger (Northeastern), Dylan Hollman (UMass-Lowell), Wade Murphy (North Dakota) and Brock Krygier (Michigan State) all have previous college experience, while others such as Ed McGovern (Sioux Falls), Jordan Young (Youngstown), Drew Newmeyer (Indiana) and Connor Schmidt (Des Moines) came to ASU from the USHL.
Another transfer, Garrett Peterson, played at Notre Dame and is joining the Sun Devils to finish out his NCAA career. He said the vibe around the team is contagious.
"This is a group that has all the necessary pieces to achieve success," Peterson said. "The right pieces to the puzzle are here. I think what has made the chemistry happen so quick and easy between the returnees and new guys is just the depth of stand-up gents we have in our locker room. No question marks really that I can think of.
"We've spent some time together now as a full group and are all aware of what is expected and the amount of focus and hard work that it is going to take to achieve success."
Arizona State coach Greg Powers, who guided the school's ACHA D-I program for seven seasons and won an ACHA national title in 2014, likes what he saw in preseason practices and off-ice workouts.
"We expect a lot out of this team, to be honest with you," Powers said. "We have a lot of high-level players that we kept on from the ACHA team that helped build that program. And when you combine them with the guys we recruited, it's really been one big group, one cohesive unit so far."
Schedule-wise, the Sun Devils play NCAA D-I and D-III teams, as well as Canadian schools and the U.S. National Team Development Program. In January, ASU will host the Desert Hockey Classic at Gila River Arena in Glendale, Ariz., (home of the NHL's Arizona Coyotes) and will bring in Connecticut, Yale and Michigan Tech — "quite a big deal for us," said Powers.
ASU opens its Division I slate with games this weekend against Alaska and Alaska-Anchorage in the Kendall Hockey Classic in Anchorage.
The Sun Devils also boast a fair amount of Arizona natives in Newmeyer, McGovern, Young, Anthony Croston and Cody Gylling, in addition to Michael Cummings, who played junior hockey with the Western States Hockey League's Phoenix Knights.
Peterson, Young and Liam Norris will serve as tri-captains this season. Norris is coming off an ACHA first-team All-American season to boot.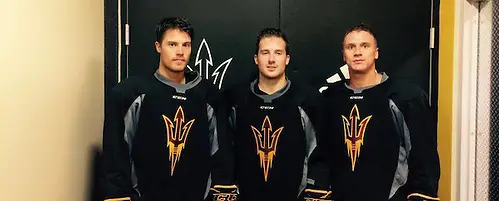 "We expect to be a strong and resilient, well-rounded team that is an absolute pain to play against," said Peterson. "A couple realistic goals we have set are to win the tournaments on our schedule and build a championship foundation and culture. The buzz on campus is electric. I think ASU athletics and the coaching staff are the spark of the buzz and it has certainly dispersed out among the entire student body. The team and myself could not be more amped for this inaugural season."
When it comes to recruiting, one would think the weather would be a major selling point. After all, it is Arizona after all, right?
"If a player wants to come here for the sunshine and the palm trees, they're not the type of kid we want here," said Powers. "We demand a high work ethic out of all our players, and we may not have the best talent or a Frozen Four team right away, but piece by piece, we are building a culture here that says we will not be outworked by anyone on or off the ice."
Powers also noted that success can be measured in any number of ways, but daily improvement and proving the Sun Devils belong at the D-I level are at the top of the list of priorities this season.
"Right now, we're there off the ice, but it remains to be seen where we are on the ice," said Powers. "We're young and energetic and we want to win hockey games. We simply want to be better next spring than we are right now."
Last season
35-4-1. Lost to Stony Brook in ACHA D-I Final Four semifinals.
Names to know
Look for the players with previous D-I and USHL experience to be the difference-makers. Watch for Murphy, Peterson, Newmeyer, Belonger, McGovern, Young and Norris to be key cogs in the Sun Devils lineup.
Three questions
1. How will ASU fare against other NCAA Division I competition?
2. Powers has been successful at the ACHA coaching level, but how will that translate to the NCAA D-I level?
3. Can NCAA D-I hockey work in the desert?
Crystal ball
On paper, this team looks like a serious threat to any team it plays. Is .500 overall a possibility? Sure it is. Based on preseason enthusiasm, the players and coaching staff are psyched to get the season going and to prove that ASU will be a viable addition to the D-I ranks. This team will win more games than it will lose this season. A .600 record is not out of the question, but .500 seems reasonable.