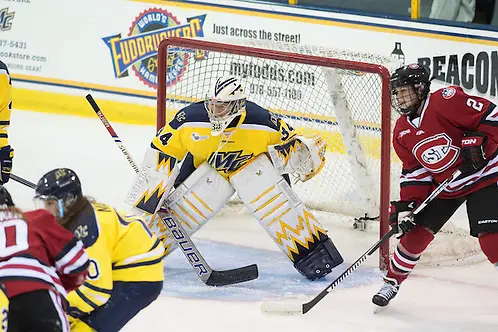 The chorus of the Imagine Dragons song "Warriors" contains the line, "We are the warriors that built this town from dust."
While things aren't quite as bleak as all that at Merrimack — there was an entire college campus and a perfectly good arena with an ice sheet and everything so nobody had to skate on dust — 2015-16 Warriors hockey is certainly forming a team where none existed before.
Doing anything for the first time brings a feeling of discovery that is unique. First season, first team, first practice, first game, first goal — all of it.
"We have a nice, tight, low-number facility," said coach Erin Hamlen, tasked with building a team to reside in J. Thom Lawler Arena, capacity 2,549. "The nice thing about that is we knew coming in that we would have a great ability with our program to pull numbers that are going to be loud in our building, whether it is 500 or what we had on Friday night, which was over 1,700. It was a great atmosphere. The fans were incredible. The people were absolutely incredible as far as their noise level and just the ability to give us support up and down with the ebb and flow of the game."
That adds to the excitement.
"Getting all those fans, the first game we have, we hope that they keep coming back," said Jackie Pieper, who served as the team's captain in its inaugural game. "We tried to give them something to look forward to."
After a scoreless first period, visiting St. Cloud State took a 2-0 lead, but Katelyn Rae scored the first goal in program history on a power play to halve the deficit by the second intermission.
The Warriors power play kept rolling. Paige Sorenson, Pieper, and Paige Voight scored on three straight chance to leapfrog the Huskies and put Merrimack up, 4-2, with 8:45 elapsed in the final period, and opening night couldn't have been going any better.
"I think our D on the point handle the puck well, and they were composed, especially on the power play," Hamlen said. "One of our players on the wall, [Madison] Morey, was an integral part of one of those power plays. She was able to sustain pressure, and hang onto the puck and dish where she needed to dish. That's a lot of credit to a young freshman player, who is able to really handle the pressure on the wall like that. I think we've got some great individual skill, for sure."
Had the Warriors spent a lot of time working on the power play, which clicked on four of six opportunities in its first NCAA contest?
"Honestly, not really," said Pieper. "We had the one [exhibition] last Friday with the two power plays, and we didn't practice them at all. We just know what we're doing out there, and we play smart and we're patient with the puck. That showed [Friday]. I think a lot of people are very impressed with our power play."
For its first series, Merrimack went five of nine on the power play, to lead the country with a gaudy 55.6 conversion percentage. That had the Warriors positioned for a win in their debut effort as the clock ticked under nine minutes remaining.
"We were up, 4-2, and I think the fact that our players are so young, they just don't quite understand what it's like to be up two goals in the third period of their first college game and then be able to settle nerves and not get overly excited and not take bad penalties through the process," Hamlen said.
The Warriors committed three straight infractions, and it was St. Cloud State's turn to capitalize. The Huskies tallied three power-play goals of their own in less than two minutes, and the visitors led by one. SCSU added an insurance goal with under three minutes left and skated off with a 6-4 victory.
"We'll learn from that, and that's the nice thing about having a young team, is it's all a learning experience for them right now," Hamlen said. "They lived, even this past weekend alone, some really great highs and lows, so they'll start to learn how to balance it all out."
Some of the same story lines played out on Saturday. Felila Manu got her first collegiate goal just 25 seconds into play, and after St. Cloud State took a lead by the intermission, Dominique Kremer netted another power-play goal a couple minutes into the middle stanza for a 2-2 tie.
For the second night in a row, however, the Huskies ended the game on a four-goal run, and Merrimack fell, 6-2.
A number of factors worked against the Warriors. A young team lacked the experience of how to deal with certain situations; it may have also just ran out of gas.
"As I went in after the weekend, I told them, they're not conditioned well enough yet," Hamlen said. "They're not to where I want them to be, and it's really hard to make that up in season. So I told them, it's going to be a work in progress all season for us to get where I want to be by the end of the game, so that we've got the energy level and the conditioning to stand through a 60-minute game and then come back and play another one the next day."
It's just another growth area for young kids.
"I think really what it boils down to is that our players weren't fully conditioned enough," Hamlen said. "Part of that is youth and not understanding quite where they need to be in the summer prior to their freshmen year. I think if you look across the board at most programs, you're going to have the freshmen in that position, and they're going to be picked up by the sophomores, juniors, and seniors, and that's where you're going to get the depth having so much value in the late stages of a game."
However, Friday's game was the first NCAA contest for everyone but junior Marie Delarbre, a transfer from Minnesota-Duluth. While the success on the power play for such a young group was unexpected, the struggles on its penalty kill were not, as Merrimack yielded goals on half of its kills on the weekend.
"We have lots of time and lots of ability to grow as a team, and we'll get better in certain areas, and other teams will be better at adjusting to us on the power play," Hamlen said. "We can't hope and pray that our power play stays the way it did against St. Cloud this weekend. I think we have to continue to work on that, but we have to also tighten up on those loose ends that we know we need to tighten up on in terms of our PK."
The other option is to stay out of the penalty box, and the Warriors demonstrated great improvement in that regard from the first game to the second. After being whistled for seven infractions in the opener, they cut it down to three in game two.
Similarly, Merrimack reduced its shots allowed from 44 to 26 by its second game.
"I think there are a lot of pieces that we have, and not necessarily just individual, but we have some great pieces that work well as a team, even in that short period of time," Hamlen said. "I think there's a lot to build on, and I know that power-play wise and special teams will come together even further. So I'm looking forward to tightening up the back end, the PK side of it, and building more on those power play opportunities."
While everyone but Delarbre is a rookie on the ice, not all are freshmen in the classroom.
"The players last year who were on campus with us — we had four of them — and they have emerged as natural go-to [options], as far as our younger players coming in and really looking to them for some guidance," Hamlen said. "Then we had some players on campus this summer, and I think that made a world of difference for those players, but also for the teammates who looked to them for some advice, even on the academic side and where to go for what. A lot of those things are helpful for the young program."
While Hamlen and her assistant coaches, Brent Hill and Kacey Bellamy, will teach and guide the team, she expects help from within the squad itself.
"I do think that there are a few players who are stepping up as true leaders, and I know that we'll settle in to a captain at some point," Hamlen said. "Right now, we're rotating them game to game, so that we give opportunity across the board to all of our players to have the opportunity to lead for a game, and see what comes out of all of that and who the true leaders are and who can really help us with bringing the young group up to speed in the future."
While most of the team is embarking on its first year of college hockey, the experience level isn't uniform. For example, Voight played with the United States team that won an Under-18 World Championship in January. Also, members originated from widely varying areas. The roster represents seven states, four Canadian provinces, and Germany.
Hamlen likes the diversity and would like to keep it moving forward.
"I just think being from a different part of the country or a different country entirely, it brings a different sense of community to our program," she said. "I really enjoy that aspect, so I would like to continue to move into different areas. Every province, every state, has a different mentality about hockey, but also has a different way of going about their training, their preparation, and it's just interesting to have all those different areas. If you talk about the Western Canadian kids, a lot of those kids have kind of a hard-nosed attitude, and they know that they need to go and they need to take care of business. Some of those Minnesota players might have a different level of stick skills. The Ontario kids are used to playing at quite a high level all the time. We've got a little bit of everything from every province and every state. I like that."
Merrimack hosts the final two rounds of the Hockey East Tournament this year, and Hamlen would love for her team to be a participant in it as well as a host. Obviously, that will take a lot of growth for a new team to find a way into and through the quarterfinal round, but their opening performance hinted at potential.
"We're just pleased as a staff," Hamlen said. "We're very pleased with the progress. It's amazing that it's only been two weeks that we've been on the ice with them full time, so that's a very short period of time. We've got a lot of building blocks and a good foundation for the future."