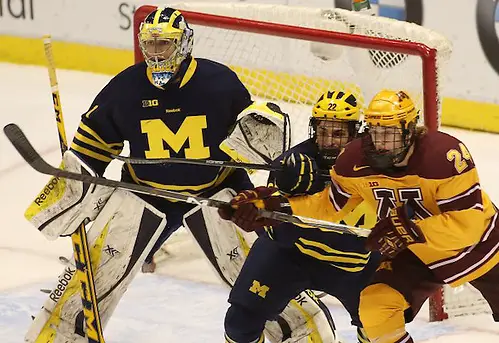 The start of college hockey season is a study in potential and optimism.
"It's that time of year again," said Ohio State coach Steve Rohlik. "Pretty excited to get going."
"We're coming off of a very exciting season for us, both what happened on the ice and off the ice with the program," said Penn State coach Guy Gadowsky, "and now the challenge is to build off of that."
Said Wisconsin's Mike Eaves, whose Badgers finished the 2014-15 season with four wins overall, "The one thing we know about our group is that we have energy and passion."
Energy and passion. Challenges. Excitement. These are nice words and the sincerity behind them is unimpeachable, yet there is another word that the Big Ten should keep in mind at the start of the 2015-16 season, one that Eaves didn't shy away from when describing how his veteran players feel after the worst season in Wisconsin hockey history.
"For the guys that are returning," said Eaves, "I think the thought or word that comes to mind is redemption."
Redemption. After 2014-15, it's an apt concept for a league with the resources, exposure and branding of the Big Ten — a league whose single representative in the 2015 NCAA tournament, Minnesota, bowed out immediately with a first-round 4-1 loss to Minnesota-Duluth.
In a six-team league, especially, the idea that anyone can win a conference championship and advance to the NCAA tournament holds a certain romance in October, but the reality is that every league — even one as small as the Big Ten — has its haves and have-nots.
For the Big Ten's first two seasons, Minnesota has been the team to catch and beat; in 2014-15, even when the race for the regular season championship was much tighter than it had been the year before and the league was experiencing what can only be termed a down year, the Golden Gophers were still the gold standard for Big Ten hockey.
And that got exactly one Big Ten team into postseason play last year.
Energy. Passion. Excitement. Those are great. What the Big Ten needs is scoring, defense, better goaltending and much better results in the nonconference play that fills the schedule before league games begin in earnest in December.
Scoring
Last year, two teams in the Big Ten — the haves, if you will — produced enough goals consistently to remain among the top 10 scoring teams in the country. Michigan led Division I, averaging 3.86 goals per game, with 143 overall goals and six double-digit goal scorers on the roster.
With the Wolverines' top two scorers — Zach Hyman, a senior last year, and Dylan Larkin, a freshman last year who'll start this season with the Detroit Red Wings — departed, also gone are 37 of those overall goals, a mighty big number to replace.
Averaging 3.51 goals per game in 2014-15, Minnesota was fifth in the nation but returns this year without four seniors and a junior — Seth Ambroz, Travis Boyd, Kyle Rau, Sam Warning and Mike Reilly — who together combined for 69 of Minnesota's 137 goals, or half of the Golden Gophers' scoring.
Penn State was 12th in scoring overall (3.22 goals per game), Ohio State 29th (2.72), Michigan State 42nd (2.37) and Wisconsin 56th (1.69). And Michigan State finished second in the league and did not make the NCAA tournament.
And Minnesota — averaging nearly four goals per game all season — scored just one goal arguably when it counted most.
Defense
Those Wolverines that averaged nearly four goals per game to lead the nation? Tied for 38th nationally, having allowed 2.89 goals per game on average.
The Gophers? They were 32nd, having allowed 2.51 goals per game — and they were second among Big Ten schools, nationally, in scoring defense. Second.
Among all six Big Ten schools, only the Spartans had a defense that was solid consistently. Michigan State allowed 2.29 goals per game, 13th-best in the nation.
Goaltending
All-American Jake Hildebrand was the most consistent and reliable goaltender in the Big Ten last season, backstopping Michigan State to its second-place league finish with his .930 save percentage, 10th-best nationally.
But as improved as Michigan State was as a team last season and as solid as Hildebrand was — especially as the season progressed — a goaltender cannot do it all alone. Hildebrand's GAA was 2.18, 26th-best in the country. It was the best in the conference by a long shot.
Nonconference play
Here's a little disclaimer: There was some really good league hockey played among Big Ten teams during the 2014-15 season. Courtesy of the Big Ten Network, fans across the country were treated to some intense games played by highly recognizable teams, which can only heighten the profile of the sport.
But 2014-15 proved that parity in any form can produce equally measured intensity. Conference play was pretty good.
The Big Ten went 37-43-7 in nonconference play last year, a win percentage of .466. Compare that to Hockey East's nonconference record (68-44-9, .599) or — better yet — the NCHC's record (59-30-4, .656), a league with only eight teams to Hockey East's 12.
Each Big Ten team will play between 12 and 16 regular season games against nonleague foes in 2015-16, and nonconference play dominates the schedule until the Big Ten is in full swing come December. Every coach is eager for that start to the season, none more so than Minnesota's Don Lucia.
"We have a very good nonconference schedule," said Lucia. "We're playing some of the top teams throughout the country, and that certainly should help us prepare for the Big Ten season in December."
Preparation for league play is nice. Early season preparation for what comes in March and April?
That would be a nice step toward redemption.
My Big Ten co-writer, Drew Claussen, and I think this is how the final standings will look at the end of 2015-16. Click on any team for its detailed season preview.
The Wolverines need consistent goaltending and team defense. Read more
The Gophers seek to fill roster holes left by graduation and early departures. Read more
The Spartans can use a few more goals. Read more
The Nittany Lions hope for prolonged success. Read more
The Buckeyes look to buck the tradition of early season struggles. Read more
The Badgers seek redemption after an abysmal year. Read more