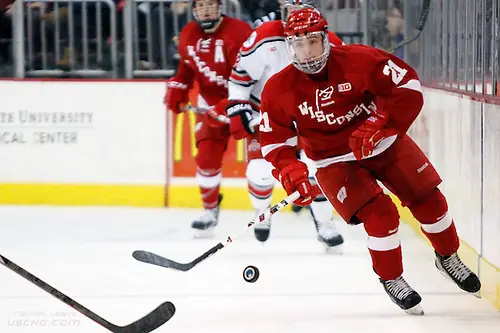 With the amount of point-scorers from the 2013-14 team that were missing from last year's squad, it was predictable that Wisconsin would regress from the level of being a No. 1 seed in the NCAA tournament.
A four-win season, however, was worse than even the most pessimistic fan could have predicted. This year, coach Mike Eaves said that his players are out for redemption.
"Last year was not a typical year for us," Eaves said. "I don't think anybody saw that coming."
Just like last season, the Badgers are once again a youthful group, with 10 sophomores and a dozen freshmen.
"The one thing that we know about our group is that we have energy and passion," Eaves said. "Our task as coaches is to give that energy and passion some direction so that we can improve and find out what we have and improve as a team."
Grant Besse returns as Wisconsin's leading scorer from last season, and Eaves said that he expects the talented forward to take another step forward this year.
"Grant returns as our leading point-getter and goal-scorer and he's poised," Eaves said. "He's going to be a junior this year and that's a year that I think young men can have a breakout year."
It will take more than one player to rack up more than four wins this season.
"Other guys that we look toward to take that next step are guys like Cameron Hughes," Eaves said. "He didn't even turn 18 until October or November of last year, so he had glimpses of doing some really special stuff playing against older guys."
Eaves mentioned forwards Adam Rockwood and Ryan Wagner and defensemen Tim Davison and Jake Linhart as other players who needed to be better for the team to find success.
"We feel like these young men are going to take a step," he said. "We hope it's a big step."
The Badgers also will need to replace Joel Rumpel, who manned the crease for them the past four seasons. Eaves said that there wasn't a concrete plan on what to do with the goaltenders this season.
"It's a process right now," he said. "I think it's a three-way battle."
Last season
4-26-5, 2-15-3 (sixth) in the Big Ten. Lost to Michigan in the first round of the Big Ten tournament.
Names to know
Key returners are Besse and Eddie Wittchow. Wisconsin's roster features 10 sophomores and a dozen freshmen, so there will be plenty of opportunities for underclassmen to crack the lineup.
Three questions
1. Who will replace Joel Rumpel? And while we're on the matter, who will replace Landon Peterson? One of the two aforementioned goaltenders has started the vast majority of games for the Badgers over the past four seasons. Redshirt freshman Gabe Grunwald, freshman Matt Jurusik and senior Adam Miller are the three goaltenders on the Badgers' roster.
2. Can someone step up and help Besse carry the scoring load? Besse had 22 points last season. The next highest point-scorers that are still on the roster were Hughes and Rockwood with 13 points.
3. How secure is Eaves' job? Last season led to the dismissal of assistant coaches Gary Shuchuk and Matt Walsh. Can the bench boss survive another tough campaign?
Crystal ball
The Badgers win more games than last season but finish in the conference's cellar again.