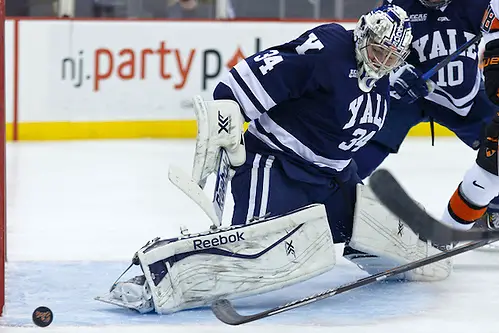 At the start of last season, one of the major storylines in ECAC Hockey involved the players the league lost via early departures.
In 2015-16, it's about those who decided to stay.
Several of the conference's biggest names, including Harvard's Jimmy Vesey and Yale's Rob O'Gara and Alex Lyon, returned this season despite the potential to turn pro.
Vesey led the country with 32 goals and had strong interest from Nashville, who took the forward in the third round of the 2012 NHL Draft. O'Gara (Boston) and Lyon (free agent) were first-team All-Americans last season and likely could have been earning a paycheck to play hockey this season had they chosen that route.
Also back is Rensselaer senior and Buffalo Sabres prospect Jason Kasdorf. Engineers coach Seth Appert said Kasdorf probably could have signed if he wanted to, but decided to stay at RPI for one more season and do something special for the program. Kasdorf was one of the top goalies in the country as a freshman, but injuries have thrown his career off track. He could be a difference-maker this season if he stays healthy.
It might have been a quiet offseason for early departures across most of the league, but Colgate was hit with junior free agents Kyle Baun and Ryan Johnston giving up their senior year to sign professional contracts.
Baun signed with Chicago and made the team's opening-night roster after appearing in three games last season, while Johnston signed with Montreal after attending the Canadiens prospect camp over the summer.
Raiders coach Don Vaughan said he and his staff were prepared for Baun's departure, while Johnston's signing caught them a bit off guard. Johnston was an important member of Colgate's defense, which ranked sixth in the country last year, and also was expected to quarterback the Raiders' power play.
The only other early departure in the league was Harvard forward Brian Hart, who signed with Tampa Bay in July. Despite his loss, the Crimson return 106 goals from last year, the third-most in the country behind UMass-Lowell and Minnesota State.
Harvard and Colgate aren't the only ones with aspirations for a top-four spot in the standings and the accompanying first-round bye. St. Lawrence, Yale and Quinnipiac all appear capable of making a push, which should result in another tight race at the top of the league.
"I don't want to use the term parity because I think it connotes mediocrity," said Yale coach Keith Allain. "We have a great group of teams who are highly skilled. It's going to make for exciting hockey on a weekly basis in ECAC Hockey."
In addition to Lyon and O'Gara, the Bulldogs return virtually all of their top forwards from last year. After giving up the fewest goals per game in the country, Yale should once again be strong defensively.
Down the road, Quinnipiac enters the season defending its second regular season title in the last three years. The Bobcats lost stalwarts Matthew Peca and Danny Federico but have a host of young players that should take another step forward and help Quinnipiac remain competitive this season.
St. Lawrence exceeded expectations last season, finishing second after being picked 11th in both the coaches and media preseason poll. The Saints were anchored by goalie Kyle Hayton but have an exciting group of defensemen and depth at forward.
Harvard should have no problems scoring, with Vesey, Kyle Criscuolo, Tyler Moy, Sean Malone, Colin Blackwell, Alexander Kerfoot and incoming freshman Ryan Donato.
While Donato is expected to develop into an impact player, at the very least it should be an experience for Crimson coach Ted Donato, his father.
"It should make for some quality dinner discussions, I'm sure, and some interesting rides home with some of the crazy parents that live in his house," Ted Donato said.
In addition to Baun and Johnston, Colgate lost defensemen Spiro Goulakos and Brendan Corcoran, along with forwards Joe Wilson and John Lidgett. The loss of Goulakos and Corcoran will hurt a defense that was ranked sixth in the nation last season. Colgate split an opening weekend series at Mercyhurst but allowed nine goals in a wild 9-7 loss on Sunday.
However, the Raiders will have forwards Tylor Spink and Mike Borkowski back at full health, which should help mitigate some of the losses from last season. Still, there will be little room for injuries this season, as Colgate has only 23 players on its roster.
Defense shouldn't be a problem for the Raiders' travel partner, Cornell. The Big Red have a solid goaltending duo in Mitch Gillam and Hayden Stewart and should help offset the graduation of defensemen Joakim Ryan and Jacob MacDonald. Still, coach Mike Schafer acknowledged the Big Red have a lot of unknowns — including finding some consistent scorers to improve an offense that averaged fewer than two goals a game last season.
It says something about the depth of the league — and Union's struggles last season — that the 2014 national champions haven't been mentioned to this point. The Dutchmen finished 10th last season but have a young team that should be better this year. Union will need to find someone to replace Colin Stevens in net if the Dutchmen are to compete.
Capital Region rival Rensselaer is counting on a healthy season from Kasdorf, and on several returners to increase their production. Like Cornell, the Engineers struggled to score last year.
Up north, Clarkson quietly has one of the best groups of defensemen in the league, led by seniors Paul Geiger and Kevin Tansey. However, the Golden Knights will need stability in net, which will allow the offense to take the risks they need to create scoring chances.
It might be a long season for several of the Ivy League teams, as Dartmouth, Brown and Princeton were picked near the bottom of the league.
The Big Green challenged for a first-round bye last year on the strength of a strong senior class, but they have a number of new players who will need to play bigger roles this season. Junior goalie James Kruger should give Dartmouth a chance, but the Big Green might be inconsistent this season.
Brown graduated talented forward Matt Lorito but returns forwards Mark Naclerio, Nick Lappin, Tyler Bird, Sam Lafferty and Max Willman. A healthy defense and improved goaltending will be key if the Bears want to improve on last year's 11th-place finish.
Coach Ron Fogarty enters his second year at Princeton, and things can't be much worse than last year, when the Tigers won just four games and scored 39 goals all season. Princeton has a solid goalie in Colton Phinney, and a few more goals would go a long way toward bringing the Tigers to respectability.
There are several notable games on the schedule for league this year. Colgate and Brown will play in Belfast, Northern Ireland, on Nov. 27 and 28 with UMass-Lowell and Northeastern as part of the Friendship Four. Cornell and Boston University meet at Madison Square Garden on Nov. 28 in the fifth-annual Red Hot Hockey matchup.
Yale travels to Arizona State on Jan. 8 and 10 to take part in the Desert Hockey Classic, while the Garden hosts another game featuring an ECAC team on Jan. 9 when Harvard and Quinnipiac meet in the Rivalry on Ice matchup.
Several programs are celebrating notable milestones off the ice: Union is entering its 25th season as a Division I program, and Clarkson (25 years) and Dartmouth (40 years) mark their anniversaries of their respective arenas, while Colgate prepares for its final season at Starr Rink.
Here are the previews of the league's teams, listed in order of my predicted finish.
The Bulldogs are anchored by goalie Alex Lyon and a strong defense and should be national contenders this year. Read more
A young Bobcats team from last year should be competitive again this season. Read more
The Raiders lost a lot but have one of the most talented senior classes in the league. Read more
The Saints won't sneak up on anyone this year, but they have the talent to be contenders. Read more
This might be one of the highest-scoring teams in the nation, but who plays goal? Read more
Union should be better this year; how much so depends on how the younger players perform. Read more
If the defense and goaltending are solidified, the Bears could finish higher. Read more
A healthy Jason Kasdorf could give confidence to an offense that needs to find a way to score goals. Read more
As usual, goaltending isn't an issue, but the Big Red need to find a way to create offense. Read more
The Big Green graduated a large senior class and could have some rough stretches this season. Read more
The Golden Knights need stability in net and more offense this season if they want to be successful. Read more
Ron Fogarty seems to have the Tigers heading in the right direction entering his second season, but its going to take a while. Read more