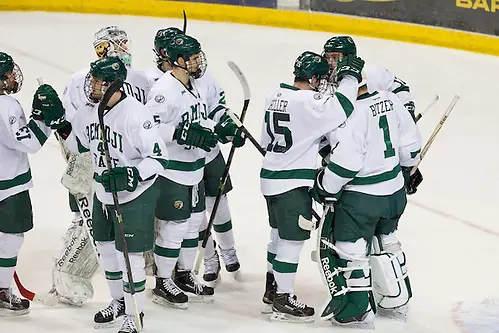 About 26 hours — and countless electricity jokes made — after their originally scheduled game against Minnesota-Duluth at Amsoil Arena was postponed due to a power outage, the Bemidji State Beavers were able to celebrate.
Charlie O'Connor's goal with 22.7 seconds left gave the Beavers a 3-2 win over the Bulldogs in what is starting to become a yearly tradition for Bemidji State — beat the nation's No. 2 team in the season opener. (The Beavers routed North Dakota 5-1 in their season opener last year in Grand Forks, N.D.)
Bemidji State's win, which featured the goaltending acrobatics of sophomore Michael Bitzer as well as a goals from O'Connor, John Parker and Gerry Fitzgerald, should be the perfect starting point for the Beavers, who have a pretty good track record against top-10 teams in the past few seasons.
"It's good confidence for our guys," Serratore said. "We know we have a pretty good hockey team. … We're probably higher on our team than other people are, but I think it carries over from last year. We won a lot of big games last year. The guys got a taste of it last year and it carries over."
Last season, the Beavers were one of the hottest teams in the country in the second half of the season, going 11-5-2 after Christmas break before losing in the first round of the WCHA playoffs.
During Saturday's game it looked like the Beavers had some unfinished business carrying over from their disappointing first-round exit. Although UMD dominated the first period, Bitzer — the WCHA's rookie of the year last season — kept the game scoreless with 12 saves.
And after Duluth's Carson Soucy was ejected for a contact to the head penalty in the first period, the Beavers outshot the Bulldogs 17-9. They weren't intimidated by a team rightfully picked by many to win the NCHC.
Sure, it's just one game, and the Beavers won't get excited about starting 1-0 — especially since they have a typically difficult month of October ahead of them. The Beavers play a home-and-home series with North Dakota this weekend (Friday in Bemidji and Saturday in Grand Forks) before hosting Minnesota State for their first WCHA series the next weekend.
"We have to be able to handle those big games and I think last weekend was just an introduction," Parker said. "I think [beating UMD] helped us going into this game [against North Dakota]."
It's just another tough early season schedule for Serratore, who certainly is never afraid to test his team early in out-of-conference play. Last season, the Beavers started at North Dakota and then traveled to Minnesota.
"There's no question these are challenging games for us," Serratore said. "Every year these teams are ranked high. We play these teams in October, that's when the nonconference schedule allows you to play. It's great for the fans, it's great for the players. I know our players, they get up for North Dakota. It's turned into a great rivalry."
Losses and gains for Minnesota State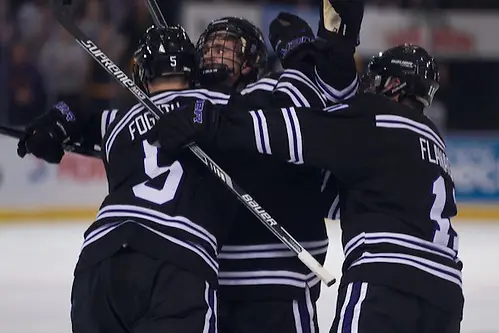 Defending MacNaughton Cup champion Minnesota State got off to a rough start to the season, getting swept at home by nonconference rival Omaha 3-2 and 2-0, but a couple of older players new to the team got showed promise.
The Mavericks had two players in their lineup who were making long-awaited returns to college hockey.
Senior wing Jimmy Mullin, a graduate transfer from Miami, scored a goal on Friday in his first college game in 22 months. He missed the last year and a half with the RedHawks, first due to a knee injury then because of a nerve condition he developed in his shoulder called Parsonage-Turner syndrome.
Mullin said his goal, the 19th of his college career, was special.
"There was a lot of emotion on that shift; you have no idea," he told The Free Press of Mankato, Minn. "It was fun out there."
Mullin has 49 career points. The Tampa Bay Lightning draft pick's best season was his freshman year at Miami when he had 11 goals and 26 points.
Meanwhile, sophomore defenseman Clint Lewis was also back on a college rink. He started his career at Cornell in 2013-14, playing in 32 games. He left the program and spent last season with Sioux Falls of the USHL before opting to go to Minnesota State. He assisted on a goal on Friday for his third career point.
The Mavericks will try to get back on track when they continue their tough out-of-league schedule with a trip to St. Cloud State this weekend.
Ice chips
• The post-CJ Motte era got off to a good start at Ferris State, even if success didn't show up in the wins column. Charles Williams, the heir to the Bulldogs' net after missing all of last season due to injury, stopped 62 of 66 shots (.939) in a 3-2 loss and 1-1 tie with Western Michigan. Three of the four goals Williams allowed were power-play goals.
• Alabama-Huntsville kicked off the season with a split with Connecticut, losing the opener 5-2 and winning Saturday's game by the same score line. It's Huntsville's best start since 2010-11.
• Alaska saw the return of defenseman Justin Woods, who missed all of last season while fighting — and beating — a rare form of bone cancer. Woods was credited with two blocked shots and was minus-2 with two shots on goal in the Nanooks' losses to St. Cloud State and Arizona State at the Kendall Hockey Classic in Anchorage.
• Alaska-Anchorage extended its unbeaten streak in season openers to 14 (11-0-3) after defeating Arizona State in overtime on Friday at the Kendall Hockey Classic. However, the Seawolves' loss to St. Cloud State on Saturday ended an 11-game unbeaten streak in the annual season-opening tournament.
• The Alaska teams will stay in state again this weekend but move to Fairbanks for the eighth annual Brice Alaska Goal Rush with out-of-staters Rensselaer and American International.
• Bowling Green quickly spoiled the good feeling about moving into the top 10 of the USCHO.com Division I Men's Poll on Monday after its season-opening sweep of in-state rival Ohio State by falling 4-1 to Western Michigan on Tuesday. Following the two wins over the Buckeyes, the Falcons were 2-0 for the first time in 12 years.
• Lake Superior State took a 2-0 lead in its season opener against North Dakota at the Ice Breaker Tournament in Portland, Maine. That lead didn't last, of course, and UND ended up winning 5-2. But it was eerily similar to Lake State's game in Grand Forks last season, when the Lakers took a 4-1 lead into the second period before losing 7-4. On Saturday's game in Portland, the Lakers took a 1-0 lead before losing to Michigan State 3-1.
• Michigan Tech is the only team in the WCHA that has yet to play a regular season game. The Huskies started out the season with an exhibition sweep of Laurentian. No. 16 Tech doesn't leave the state of Michigan in October. The Huskies visit Ferris State this weekend then return to the UP where they'll have a home-and-home series with Northern Michigan and then host Ferris State.
• Northern Michigan skated to a pair of ties last weekend against Wisconsin in Madison (2-2 on Friday and 3-3 on Saturday). It's the first time in program history that the Wildcats have opened the season with two ties.
• The first WCHA series of the year takes place this weekend as Ferris State hosts Michigan Tech. Northern Michigan and Lake Superior State will play a home-and-home series, but the games will be considered nonconference action and not count for the league standings.
• This week's WCHA players of the week are Alabama-Huntsville sophomore forward Brennan Saulnier (offensive), Bemidji State sophomore goaltender Michael Bitzer (defensive) and Northern Michigan freshman goaltender Atte Tolvanen.