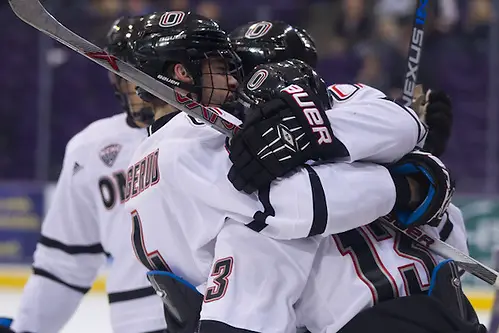 There were only two series that pitted ranked teams against each other last weekend, with No. 7 Providence facing No. 11 Miami and No. 6 Minnesota State hosting No. 10 Omaha. In the latter, the road team earned an impressive sweep behind 3-2 and 2-0 victories.
Omaha's penalty kill unit was particularly impressive, killing off nine of 10 Minnesota State power-play chances.
"I think our guys did a good job of blocking shots and making it tough for them to get the puck through to the net," said Omaha coach Dean Blais. "I know we had over 40 shots blocked in the two games, and the defensemen were really good at getting their bodies in front of the puck. Shot blocking is more than technique; you have to want to block shots, and our defensemen did a great job of blocking shots."
Offensively, the Mavericks were paced by sophomore forward Jake Randolph, who earned NCHC offensive player of the week honors for scoring three goals, more than half his entire goal-scoring output his freshman year. It is part of the effort of Blais and the Omaha coaches to get Randolph to shoot more.
"He's a special player that is so unselfish; he'd rather get an assist than a goal," said Blais. "We have to get him shooting more. He's got a great shot, but his mentality is to pass first and shoot second, and he's got Austin Ortega and Fredrik Olofsson on the wings, so I'm sure that line might be one of the top lines of college hockey this year."
This early in the season, Blais doesn't have set lineups. In addition to platooning his goaltenders, Kirk Thompson and Evan Weninger, he is trying to get all of his players a chance at being regulars in the lineup.
"We played everyone, and it will be the same going into Vermont," said Blais. "It's too early in the season to set your lineups. Everyone deserves a chance, and I don't think there's much difference between the first and fourth lines in college hockey. I think right now, we have great team morale and chemistry to give everyone a chance. The guys sitting out, they may have played a great game on Friday night, they are still sitting out on Saturday because we want to get everyone in the lineup and give them a fair shot at being a regular starter."
This weekend, the Mavericks will take on Vermont in Burlington before their home opener the following weekend in their brand-new, on-campus arena. The Mavericks are a young team, with 18 freshmen and sophomores on the roster, but Blais actually prefers starting on the road than starting at home.
"It brings the team together," he said. "When you are at home, you only see your teammates at practice. When you are on the road, you are seeing people more. You are eating with people, hanging out with them, and I think there is a better chemistry. It's different with an older class, but we have 18 freshmen and sophomores, so the more time they are together the better it is and the more you have a chance to build team chemistry."
St. Cloud State starts its grind
Last weekend, the No. 12 St. Cloud State Huskies went on the road and turned in two impressive performances, beating Alaska and Alaska-Anchorage to claim the Kendall Hockey Classic title.
Looking ahead, those two games marked one of only two weekends in the first half where the Huskies aren't playing a ranked team, and the unranked team, Western Michigan, might be ranked soon.
"That's what we did last year, so here we go," laughed St. Cloud coach Bob Motzko.
Motzko said that the play of his veterans in Alaska was a key to the team's success. Seniors David Morley and Jimmy Murray each notched three points, while seniors Joey Benik, Kalle Kossila and Ethan Prow each had two points.
"I think sometimes teams start out a year and they are a little bit ahead of schedule, a little bit ahead of pace because of returning players," Motzko said. "I think that might be the case for us this year, but what happens is it evens out. Sometimes you need a few weeks to get things going, but with Kossila, [Patrick] Russell, Benik, Murray and Morley, those seniors that have been real successful for us offensively, and also linemates together, and power play intact except for one player, our continuity is ahead of pace. I think that is what we took advantage of up there, and maybe if you replay that tournament in a couple weeks, it doesn't come out the same way."
Several young players also played well. Freshman Robby Jackson played only in the Anchorage game and scored two goals. Sophomore defenseman Nathan Widman notched two assists, earning NCHC defensive player of the week honors in the process, and three other freshmen notched assists.
"I'm rotating some freshmen right now, but you can't look into that," said Motzko. "We're very happy with our freshmen and think it's going to be a very exciting class, and very offensive. Robby is doing what he's done since camp started. He got his chances and knows what to do with them. We just have to get him the puck in those spots and he can make things happen."
One key to the two wins was the performance of the defense, which killed all eight power plays it faced and limited both teams to fewer than 20 shots.
"After one weekend, very happy, but we know it was one weekend and we are still a long way from where we want to be," Motzko said of the defense. "I think it's going to be a work in progress."
This weekend, the Huskies host old rival Minnesota State, which was swept last weekend by Omaha. Motzko knows that the Mavericks will be hungry.
"You are going to get their A game, because I guarantee their coach has their full attention right now," Motzko said. "That's what happens in college hockey, and Mike Hastings is an excellent coach. He will have that squad ready to go."
Western Michigan out of the gate strong
With Western Michigan starting the season minus several of its best players from last year and with six freshmen in the lineup, few would have predicted the success the Broncos have had so far, with a win and a tie against Ferris State and an upset on Tuesday of No. 10 Bowling Green.
Even with those reasons to be excited, Broncos coach Andy Murray is keeping on an even keel.
"I don't want to get too excited about things right now; we've just played three hockey games, and played two good teams in Ferris State and Bowling Green," said Murray. "Our team has played pretty solid, and our goaltending has been good and our freshmen have found a way to get involved, and they obviously have to. When Lukas Hafner is not in the lineup, we've been dressing two seniors. We are a really young team."
Hafner did play in Saturday's Ferris State game, as well as against Bowling Green, a special moment for the senior.
"Lukas is from Toledo, Ohio, so he was very motivated to play well on Saturday because he knew our second game was Tuesday against Bowling Green, and Bowling Green is 20 minutes from Toledo," said Murray. "He wanted to be in that game; he played well at Ferris. In coaching, it's always important to make decisions with your head instead of your heart. The heart would have said start Lukas because he's from that area, but you need to coach with your head, so we looked at him and felt that both goalies had good training camps and played well against Ferris. And then you can let the heart part of it come in, and that was the fact he's from Toledo and he is a senior, so we gave him the start."
Through three games, Western Michigan's special teams play has been stellar. The penalty kill has killed 18 of 19 penalties for a 94.7 percent success rate, while the power play is clicking at 29.4 percent.
"I wish we were talking about football, where they play about nine games, and then we'd feel comfortable and be a third of the way through our schedule, but not even close to that," laughed Murray. "We want our special teams to be better than they were last year, and through three games they've been pretty good, but this is a hockey league, and we have lots of tough games ahead of us."
After the Tuesday game, Western Michigan is off this weekend before going on the road against Clarkson. With the break, Murray said Tuesday's win was even more important.
"It was good to have three games right out of the chute, and our guys were thrown into the fire," said Murray. "We are a young team and we take the schedule as it comes. This time off, for the players, they are very pleased that they don't have this break with a loss."
Players of the week
Offensive player of the week — Jake Randolph, Omaha: A sophomore, Randolph notched three goals to help No. 3 Omaha sweep Minnesota State on the road. On Friday, he scored his first goal of the season less than five minutes into the game and had a plus-1 rating. On Saturday, he scored both goals in Omaha's 2-0 shutout victory, finishing plus-2 and earning the game's No. 2 star. His total of three goals is just two fewer than he had his entire freshman year.
Defensive player of the week — Nathan Widman, St. Cloud State: Widman helped St. Cloud capture the Kendall Hockey Classic in Alaska. In Friday's 3-0 win over Alaska, he had an assist and a plus-1 rating while helping his team limit the Nanooks to 14 shots on net. In Saturday's 6-2 win over Alaska-Anchorage, he was plus-4 and recorded an assist while helping limit the Seawolves to 17 shots. He also helped the penalty kill be successful on all eight tries on the weekend.
Rookie of the week — Evan Weninger, Omaha: Weninger played only in Saturday's contest but stopped all 40 shots fired by No. 6 Minnesota State while helping to kill five Minnesota State power plays. He faced double-digit shots in all three periods, and is the first Omaha player to earn a shutout in his first collegiate game.
Goaltender of the week — Cam Johnson, North Dakota: Johnson started both games for North Dakota, which won the Ice Breaker Tournament in Portland, Maine, with a win and a tie. On Friday, he made 24 saves in a 5-2 win over Lake Superior State, allowing just one even-strength goal. On Saturday against Maine, he made 19 saves, allowing only one power-play goal, helping his team to a 1-1 tie. He recorded a .935 save percentage and a 1.44 GAA on the weekend.