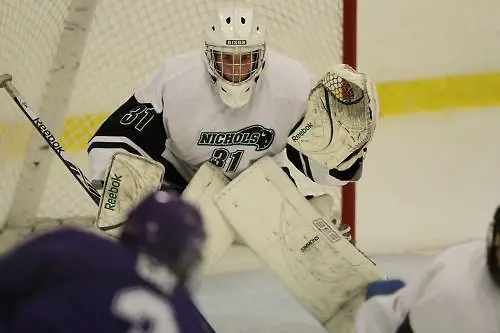 While coach Kevin Swallow has departed last year's conference champion Nichols team for the same position at the University of New England, the expectations remain the same this season.
Parker Burgess takes over in his first head coaching job looking to build on his experience out west as an assistant with St. Thomas.
"I really don't put a lot of stock into the preseason coaches' poll or the USCHO rankings," said Burgess. "Last year was a great year, but that was last year and now we need to focus on working hard and battling every night in a very competitive league. We have a good group back and some new players to work into some new systems that we are putting in with the team.
"We start out with a real challenge at Norwich to open the season, so I think we have the players' attention about being ready to play."
The Favorites
Nichols has been on a solid run and has a few things any coach would love to have in the fold. Goaltender Alex Larson, along with a solid defensive group, returns to provide great statistics and a strong desire to win another conference title and qualify for the national tournament.
"Alex had an exceptional season last year and really amazing numbers," stated Burgess. "When I was at St. Thomas, Drew Fielding had a similar junior season and was the national player of the year as a senior with numbers that weren't quite as good as the prior season. We told Drew and now tell Alex to just give us a chance to win. He doesn't have to try to beat last year's numbers – he just needs to keep us in games."
Johnson and Wales has many aspects of its team that mirror the Nichols squad, including strong defense and goaltending. The ability to take care of the puck in their own end and play close games has coach Erik Noack confident that his Wildcats can compete for the top spot.
"We proved last year that we don't mind playing 1-0 or 2-1 games," said Noack. "We are comfortable playing in low-scoring games, but certainly wouldn't mind if our offense was a little more productive to create more opportunities. This league is going to be tight, so it will take some goals if we want wins."
The Dark Horse
While Salve Regina should be right there in the mix at the top half of the standings, there has been great anticipation around the inaugural season of Endicott and coach RJ Tolan.
"RJ has had a whole year to set up his team for this season," noted Noack. "Endicott has built a great facility and RJ has won championships – he knows what it takes in this league. There are a lot of high expectations for that team coming into the conference."
The Gulls open their season at Division II Stonehill before commencing league play on Nov. 4 against the defending champions from Nichols.
Players to Watch
Becker: Nicholas McKee – forward
Curry: Jake Heisinger – forward; Spencer Cookson – goalie
Endicott: Nick Russo – goalie; Connor Frazier – defense
Johnson and Wales: Joey Ballmer – goalie; Matt Lanzillotti – defense
Nichols: Alex Larson – goalie
Salve Regina: Evan Schultz – forward; Alex Pompeo – defense
Suffolk: Justin Selep – forward
Wentworth: Erik Andersson – forward
Western New England: Dane Genord – forward
USCHO.com Predicted Finish
1. Nichols
2. Johnson and Wales
3. Salve Regina
4. Endicott
5. Curry
6. Wentworth
7. Suffolk
8. Becker
9. Western New England
Many of the teams appear to be strong defensively and will struggle to find offense, so the teams that can make the most of their opportunities while limiting the opposition may surprise the favorites in what could be a wide-open race to the final title in the ECAC Northeast before the move to next year's Commonwealth Coast Conference realignment.