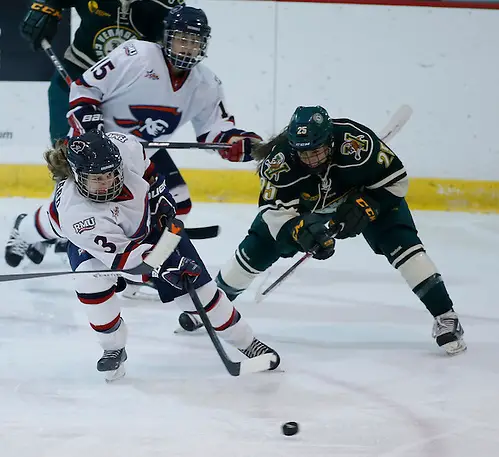 As College Hockey America readies for its first full weekend of conference competition, I'll state for the hundredth time that Mercyhurst has won every single regular-season championship, with an asterisk on the one it shared with Wayne State in 2007-08.
"Every year, Mercyhurst is picked to win the league, and they probably did," Syracuse coach Paul Flanagan said.
What makes this year any different? Maybe it won't be, and I did pick the Lakers to emerge on top in my conference preview. That selection was largely a product of statistics. If you flip a coin more than a dozen times and it comes up heads every time, rather than increasing the probability that the next flip will produce a tails, it just makes me suspect that you might have a two-headed coin.
For the six-team CHA, a die makes a better analogy. Assuming that it isn't loaded to always come up with "Lakers" showing, a die serves as a fair symbol of how this year's CHA race appears — six teams with a nearly equal probability of coming out on top.
Granted, that's an oversimplification. It's not far from the truth, however, and it certainly applies to this year's CHA more than any other league in the D-I history of the sport.
"You've got great programs, great coaching staffs, great players, and when you have quality players competing really hard, playing each other four times a year, that's going to make for an incredibly competitive environment, so I'm not surprised at all," said Penn State's Josh Brandwene.
He may not be, but I am. Just three years ago for the 2012-13 season, Mercyhurst was plus-69 in goal differential for its 20 league games, meaning it was winning by an average of 3.45 goals per game. Conversely, Brandwene's team was minus-59 in its inaugural season. Combining the two, the Lakers were 128 goals better than the Nittany Lions in league play.
"It's past the days of Mercyhurst going 20-0," said Scott Spencer, in his second season coaching Lindenwood. "Newer programs like ourselves, Penn State, RIT are growing, getting more experience. Then Robert Morris and Syracuse, everybody has kind of elevated. It's gotten more competitive, which has hopefully brought Mercyhurst back to the pack."
The numbers bear that out. By 2013-14, the Lakers goal differential had slipped to plus-46, and Penn State had improved to minus-49, so the differential had dropped to 95 goals. Last year, it slid even more. Mercyhurst was still on top at plus-35, but last-place RIT was only a minus-20, for a net of just 55 goals.
So where are we headed in the current season?
"I wouldn't be surprised if the whole league went .500 against each other, where home ice is such an advantage," RIT coach Scott McDonald said. "It makes a difference in our league. Personally, I think this league is up for grabs right now between all six teams."
McDonald can proclaim its virtues, but his Tigers flew in the face of conventional thinking last year by winning the CHA tournament without the benefit of home ice and going a perfect 3-0 in road games. In fact, RIT has managed to travel to Erie, Pennsylvania, and return with a CHA Championship in back-to-back seasons.
Coach Paul Colontino's Robert Morris Colonials were the first road team to cast a deciding vote for parity when they won the CHA Championship four years ago.
"The league itself plays a pretty tight, defensive style of play, so we do have our low-scoring games quite often," Colontino said. "When you have those low-scoring games, whether it's one bounce or one power-play goal or one late five-on-five goal, anybody has got an opportunity to win."
While anybody may have the potential to win, isolating a specific future champion to emerge atop the standings is the hard part. In the preseason poll, the coaches went in a different direction and tabbed Syracuse.
"Now, I think it's totally up for grabs," Flanagan said. "I don't know if they just picked Syracuse's name out of a hat."
If the coaches did, they aren't admitting to it.
"I don't think there's a true, true frontrunner, but I voted Syracuse as the No. 1 team in the league, and they proved it on Wednesday," McDonald said.
RIT traveled to Syracuse a week ago for the only CHA conference game played to date. The Tigers were already riding a three-game losing streak. The Orange came away with a resounding 7-1 verdict, a bit of revenge that didn't quite pay back their overtime loss to RIT in last year's championship.
"I think a big wakeup call for us, honestly, was the Syracuse game, where they stomped us, like bad," McDonald said. "I thought it embarrassed our team. That's been a rival game between the two programs and very close in all the three years, and honestly, Syracuse came out and proved a point right from the start and totally dominated us, everywhere on the ice.
"Thankfully, it was a midweek game and we came back a couple of days later and got to play Union, and I thought we played a lot harder."
RIT rebounded to sweep the Dutchwomen. RIT has had to adjust in the wake of the graduation of a dominant senior class that were NCAA champions as freshmen at the D-III level before crowning their careers with a trip to the NCAA Women's D-I Ice Hockey Tournament.
"It takes some time for new leaders," McDonald said. "Taylor Thurston was a sophomore last year and was a captain on there. Now she's stepped into more of a vocal role, and that'll come with time, so I'm not worried. She's done an amazing job right now kind of reining everyone in, a tough task when you have the nine freshmen on the team."
The league may be up for grabs, but Syracuse has something none of the others have: two points in the standings.
"I guess the trick is just maintaining that first place," Flanagan said.
He has likely the most complete line-up to work with.
"We've gotten a lot of production out of our top line: Steph Grossi, Nicole Ferrera, and Melissa Piacentini," Flanagan said. "Short of calling them the Smurf line, I mean, they're not very big in stature, but gosh, they've been playing well for us. You have Ferrara, who hadn't played in 20 months, recovering from ACL surgery. She's a fifth-year senior, and Grossi is a sophomore, and Piacentini is a senior, so those three really combine to do a lot for us. I don't know the actual statistics, I don't have it in front of me, but probably scoring half of our points so far."
On the blue line, Flanagan looks to senior Nicole Renault, junior Larissa Martyniuk, sophomore Megan Quinn, and freshman Allie Munroe. Behind them, he has a senior in net.
"Jenn Gilligan has been solid," Flanagan said. "She started last year having not played in months, after she transferred. She sat out her third year in New Hampshire and then came here. Seeing her now with last year under her belt, that experience, she's playing that much more confident."
Brandwene is already happy with his Nittany Lions.
"It's early in the season, so we're continuing to make sure that we're growing in all areas with the overall goal of really developing the highest level of consistency possible in terms of playing a complete type of game," he said.
Penn State has already attracted some attention with some of its nonconference results, including staying within a goal of top-ranked Minnesota on opening night and gaining a road split at Boston University, a ranked team at the time.
Brandwene has found bright spots among his returning players. Freshmen have also shown well.
"I'm really pleased with Victoria Samuelsson," Brandwene said. "Her hockey I.Q. is just so high. She's just incredibly savvy with the puck in certain areas. Kelsey Crow has stepped in and is doing a great job in all situations: even strength, power play, penalty kill. Hannah England really has her feet moving and scored her first career goal this past weekend."
Although sophomore Hannah Ehresmann has played half the minutes in net, one can expect senior Celine Whitlinger to get the call in the biggest games.
"So incredibly proud of her continued progression and her craft as a goaltender," Brandwene said. "I've got to give props and a shout out to [assistant coach] Courtney Drennen, because she does a fabulous job with all of our goaltenders, specifically as we talk here about Celine. Just to see her growth, how competitive she is, how steady she is, and consistent she is, and that's a credit to her work ethic and her preparation."
Like Penn State, Lindenwood took its lumps in its early days in the league, but more promising days look to be ahead.
"Right from the start of the year, I felt we've gotten better," Spencer said. "Each game, I thought we had a shot at at least one of the games in both the first series against Duluth and against Ohio State where we kind of killed ourselves with big mistakes that hurt us. But overall, played pretty well against both squads to start the year."
The Lions dropped all four contests, but by much closer scores than in earlier years in such meetings.
"Got a very, very young team still, bringing in six freshmen, Kaitlyn Davidson in her first year since she was a redshirt last year, so seven brand new players playing in those games and playing significant minutes," Spencer said. "Obviously, freshman mistakes come in, so I was happy with how we improved through the first four [games]. Then going on the road to go east to take on UNH and Northeastern, teams that we've never played before. Actually our first games, non-WCHA for nonconference, was a nice change for us. I thought we played two pretty complete games, where one of our focuses was not to make colossal mistakes. "
Those complete games produced a pair of road wins, including handing No. 9 Northeastern its only loss to date. Since that weekend, Lindenwood has had consecutive bye weeks, as it tries to fill holes.
Lindenwood could take a leap forward if it can find another impact player on the order of Shara Jasper, who had 27 points in her first season for the Lions after transferring from UMD. She's off at an even faster pace, with seven goals and four assists through the first half-dozen contests.
The only team currently with a record above .500 is Robert Morris (4-3-1).
"Within the first eight games there, we've seen some nice changes in that the young players are growing, in the sense that they're getting more comfortable at this level and our upperclassmen are adapting to new roles," Colontino said. "So we've seen some really nice progression there. The one really nice thing that we're seeing is as a young team, even though we're making mistakes at times, they really battle through it to the next play and find ways to survive."
The new faces are doing much more than just bouncing back from errors.
"We've seen some huge growth," Colontino said. "We've got a couple freshmen defensemen in Kirsten Welsh and Maggie Lague that are just logging a ton of minutes, and they just seem to keep getting more and more confident every game. With the amount of ice time that those two are logging, its huge with what they're able to do out there. Up front, we've got some great chemistry with a couple of our lines. We've got [Brittany] Howard coming off of her redshirt year playing with [Sarah] Quaranta and Amber Rennie, the two freshmen, and they've shown some great chemistry. Then we've got an upperclassmen line of [Ashley] Vesci, Rikki Meilleur, and Amanda Pantaleo who have been gelling pretty well as well."
At times, the balance of the CHA can get in the way of the learning process, such as finding minutes for an inexperienced goaltender.
"It gets tough, because you don't have at least as many opportunities as you'd like to get different players penalty-killing time or get different players PP time, because literally every minute, every period counts," Colontino said. "Speaking historically, the scores have been so tight with a lot of our games. Sometimes you just can't. You want to. Everybody wants their two points on the night."
Every team has a reason to believe those points can add up to a title this year, because the Lakers look more vulnerable than ever before as they prepare to host RIT.
"Mercyhurst right now is still itching for their first win, but I'm not going to be sleeping on a Mercyhurst team, especially coming up this weekend," McDonald said.
The league coaches are convinced this imminent logjam is about more than just a Mercyhurst slump.
"There's probably more parity in our league than any other conference, and I think all six teams are solid teams," Spencer said. "We sometimes maybe don't get the credit nationally, kind of like with Shara coming here. She didn't get a lot of credit in Duluth and now she doesn't get a lot of credit. I think that goes with the way some of the country looks at our conference. Our conference is in games every weekend; they're tight. Our whole conference is going to compete, they're going to battle – nothing is going to be easy when you play a CHA team."
The competitiveness can be its own reward.
"What more could you want than the competitive environment that provides you the opportunity to be wildly successful every single day?" Brandwene said. "You step on the ice in an environment that you know is also going to be incredibly competitive. So we are so excited to be beginning conference play."
Because the conference schedule has fewer league games than the other circuits, there is also plenty of out-of-conference action remaining. Future opponents better be ready.
"I think we're beyond being the Rodney Dangerfields of our sport," Flanagan said. "I think it's time that people respect our league and our players and our coaches."
As for the prognosticators, they may feel something other than respect.
"I wouldn't want to the be one having to pick games each weekend with [the parity] for sure, because you never know," Spencer said.
Candace, we feel your pain.