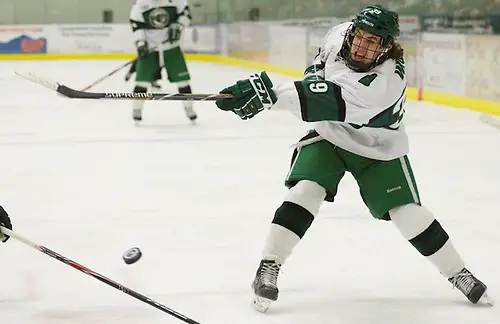 The rest of the MASCAC might want to watch out if the defending champs from Plymouth State address their coach's concern about having "underachieved" last season.
Panthers coach Craig Russell isn't taking anyone lightly and knows his team is going to have to be better to be in the same position again next March.
"We were never really healthy last season up to the playoffs," stated Russell. "We are excited about dressing a full and our best lineup this year and have our sights set pretty high. I think we underachieved – going winless in our out of conference schedule is really unacceptable. We won't be satisfied with just winning our conference and going back to the national tournament, we want to go deeper."
An improved level of competition in the conference will challenge the Panthers and their coach knows to take nothing for granted.
The Favorites
The defending champs have something this year that they didn't have last season that may give pause to the rest of the conference – depth.
"I think our biggest strength going into the year is our depth," said Russell. "We struggled with injuries and lineups last season and feel right now we have much more depth and competition at positions that is a healthy motivator in practice for the players working for playing time. We open with our first three games and six of 10 at home so hopefully, we can have a good start and leverage the seventh man that is the fans in our rink to get wins in and out of conference."
For Bill O'Neill's Salem State squad, which were runner-ups to Plymouth State last season, the formula is going to be the drive to be one win better than last year and knock off the Panthers should they see each other again in this year's conference championship final.
With over 500 wins, O'Neill knows how to get the most out of his roster and replacing some key production offensively and defensively from graduated seniors will be a must for the Vikings to challenge at the top.
The Dark Horse
Massachusetts-Dartmouth had a difficult season last year, winning just eight games, but has reason for optimism entering the 2015-16 campaign. The mix of some returning players, key transfers and incoming freshman has veteran coach John Rolli guardedly optimistic that his team might surprise some of the competition.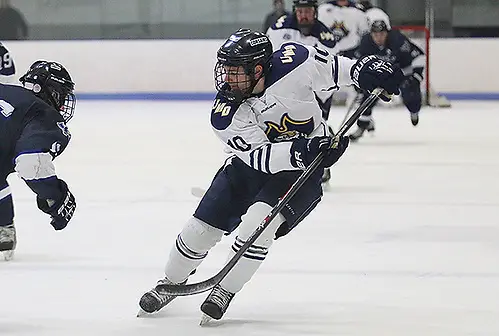 "We aren't talking about championship here after the season we had last year," noted Rolli. "We had a better second half and are optimistic about some of the new pieces building some better results. Brandon Gilmore came in last season and scored 10 goals in the second half before he got hurt and Casey Shea (the 2014-15 conference rookie of the year) is back with some other skilled offensive players. We also have Drew Michals, who last played at Middlebury, here as a transfer goaltender, so if the chemistry and great attitude and work ethic can translate into our holding our own early in the season, then maybe we can turn a large number of home games in January into competing for more in the conference."
Players to Watch
Fitchburg State: Cameron Snyder – forward; John Celli – forward
Framingham State: Vaughn Guetens – defense
UMass – Dartmouth: Casey Shea – forward; Brandon Gilmore – forward
Plymouth State: Andrew Wigg – forward; Gordon Caesar – goalie
Salem State: Michael Casale – forward
Westfield State: Dalton Jay – forward; Jackson Leef -forward
Worcester State: Alex Dewitz – forward
USCHO.com Predicted Finish
1. Plymouth State
2. Salem State
3. UMass-Dartmouth
4. Westfield State
5. Fitchburg State
6. Framingham State
7. Worcester State
While some teams open up play on Halloween weekend, most open up with key early conference matchups in early November. Those early points won't decide the championship in the fall, but could go a long way in determining playoff position and tiebreakers come February.