You hear coaches around college hockey say it all the time: You have to get offense from your defense if you're going to be successful.
For Providence, a team successfully avoiding its national championship hangover through seven games, scoring from the blue line has come in spades.
One look at the statistics for the Friars makes it obvious. Defenseman Jake Walman leads the team in scoring with seven goals and five assists. He is the top-scoring defenseman in the country and is tied for the most goals among all players — forwards and defensemen.
But that's not where the blue line scoring stops. John Gilmour and Anthony Florentino each have two goals; Tom Parisi has one. Of the 32 goals Providence has scored this year, 12 — or 37.5 percent — have come from defensemen.
"Our defensive corps as a whole has really done a great job defensively this year," said Providence coach Nate Leaman. "That's a good sign. It's tough to score at this level and the more multi-dimensional you can be with your scoring, whether it's the power play or getting your D involved, the better team you are you are multi-faceted.
"It's good that we're getting production from the D thus far with Jake leading the way."
Last Friday night, the defensive production — and Walman in particular — hit a crescendo in the opening game of a tough two-game road set at Colgate. The sophomore blueliner, who last year had just a single goal, scored once in each period for his first collegiate hat trick. He added an assist in that game and then another goal and assist in Saturday 4-3 win that earned Providence the weekend sweep.
The defense's impact is proving profitable for the Friars. Providence is tied for third nationally in scoring offense with 4.57 goals per game and is behind only Harvard and Brown, both of whom just began play last weekend and thus have a small sample size.
This for a team that a year ago at this time struggled to score goals. After an opening-night 5-4 loss to Ohio State last season, Providence went 15 games without scoring more than three goals and was held to two goals or fewer nine times in that stretch.
"Last year was a big growing year for our program," said Leaman. "It was a season where we struggled to score for the first part of it and it made us a lot better by getting through that.
"Obviously, it had a good ending but there is a lot of work in there."
Work that didn't just pay off in a national title but also has carried through to a terrific start to this year's campaign.
UMass: 'Learning to win and learning to lose'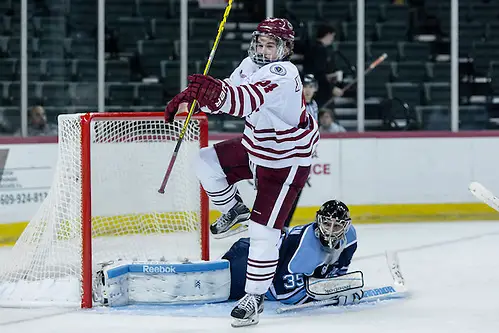 The start to the season for the Massachusetts Minutemen has been nothing short of amazing. Picked to finish dead last in most polls, including the Hockey East coaches' poll, UMass jumped out to a 4-0-1 start, highlighted by thrilling comebacks against Colorado College and New Hampshire.
But after winning a 5-4 overtime decision last Friday night against Maine at the Capital City Classic in Trenton, N.J., UMass has hit a difficult two-game skid.
The Minutemen fell behind 6-0 against Yale, eventually losing 6-1 in Saturday's championship game in New Jersey. Then on Tuesday night, UMass surrendered six goals in the second period to Boston College, losing 7-0.
The math isn't hard — UMass has been outscored 13-1 in the last two games.
UMass coach John Micheletto is quick to recognize that his team, while finding optimism in its early success, still has a lot of lessons to learn.
"I think it's learning to win and learning to lose, and both those lessons are important," said Micheletto. "Right now, we need to learn to manage games well enough that when the other team has momentum, it doesn't put us in such a big hole that we can't come back from.
"We certainly have enough talent that when we play the way that we can we certainly should."
Offensive talent isn't hard to find for UMass. Dennis Kravchenko has seven goals and 12 points and was named Hockey East player of the month for October. Rookie Austin Plevy was runner-up for rookie of the month with four goals and eight points. Shane Walsh is sandwiched between that duo with 10 points of his own.
If there is a major question right now for the Minutemen, it is their back end.
Sophomore goaltender Henry Dill has started four games and has been pulled from his last two. Rookie Nic Reynard was heroic in relief against New Hampshire a week ago when UMass rallied from 6-2 down for a 6-6 tie. But he was pulled in Tuesday night's blowout against Boston College.
It seems clear that if this UMass team is to take the step forward it looks capable of taking, shoring up goaltending and play on the defensive end will be critical.
River Hawks' offense gets going at Duluth
A 2-1 loss for UMass-Lowell last Friday night at Minnesota-Duluth set a milestone for the River Hawks — and not a good one.
It marked the third straight game in which Lowell scored just a single goal. The River Hawks posted back-to-back 1-1 ties with Merrimack a weekend earlier.
It was the first time since coach Norm Bazin took over the program in 2011 that his team had failed to reach the two-goal level in three straight games.
And while many factors can contribute to offensive power outages, one glaring issue was the lack of production from two scoring leaders from a season ago — C.J. Smith and Joe Gambardella — who have been paired together for the majority of games since Smith, a sophomore, arrived last October.
In Saturday night's rematch, Bazin added senior winger Michael Colantone to that line. The hope was that Colantone, known more for his grit and ability to be a pesky forechecker, could battle for loose pucks and help establish puck possession in the offensive zone.
The move paid off. Smith, who entered the game with just a single goal, had a four-point night — a goal and three assists. Gambardella added a goal and two assists, doubling his point total for the young season.
"Michael [Colantone] is a meat-and-potatoes-type player and he got to a lot of pucks first, which helped that line immensely," said Bazin.
Lowell also received three goals from defensemen — they had two all season entering the game — and the power play scored twice after having been held off the board for three games straight.
"When you can contribute on special teams, obviously it helps," said Bazin. "That was the case [on Saturday]."
Don't look now, but …
Anyone who was concerned with the season starts for either Notre Dame or Vermont maybe was to take a quick breath and exhale.
Notre Dame began the season with a split against Penn State and then battled to back-to-back ties with Minnesota-Duluth, starting the Irish 1-1-2. But including those ties, Notre Dame is 2-0-2 in its last four games and dominated upstart Connecticut on Sunday at a game played at the Barclays Center in Brooklyn.
A similar story can be told for Vermont. The Catamounts stumbled through an incredibly difficult opening five-game stretch before taking three of four points against Northeastern last weekend.
Neither team is receiving a coronation just yet, but keep an eye on each in the coming weeks. These teams may be positioning to make significant jumps in the national rankings.
Contributing: Arthur Ballin