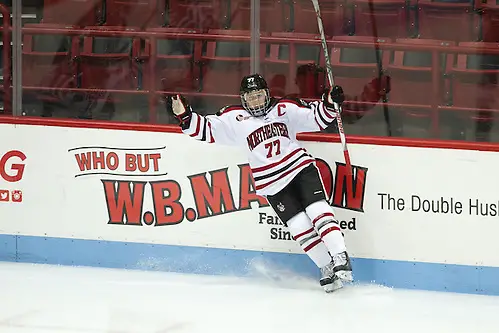 Compared to some other NCAA sports, the leagues in women's hockey don't date back that far. Hockey East is one of the newest, debuting in 2002-03, as did the College Hockey America. Thus, it isn't surprising that much of the league's history is still being written.
Hockey East doesn't officially track records for achievements outside of conference play. Unofficially, Jenn Wakefield became the first player in the league to score 100 career goals when she accomplished that feat during the 2011-12 season. By the time Boston University's season and her career came to an end with an NCAA quarterfinal loss, she had pushed her total to 120 goals.
Her 120 goal total remains the top mark in league history, but it is unlikely to survive this season. After only Wakefield reached triple digits in goals through the circuit's first 13 campaigns, two players joined the conference century club last month, six days apart.
Northeastern's Kendall Coyne scored her 100th goal on Oct. 17 versus Mercyhurst, Coyne's 102nd game for the Huskies. Alex Carpenter of Boston College followed suit on Oct. 23 against Cornell in her 116th contest. Since then, Coyne has upped her mark to 106 goals and Carpenter has reached 104. With both averaging better than a goal per game this season, 120 goals doesn't look far off.
That Coyne got to 100 a little faster shouldn't be a surprise; the 5-foot-2 native of Palos Heights, Illinois, has been getting places faster than everyone else for years.
"I haven't seen another female player as fast," said Northeastern coach Dave Flint. "I coached with the 2010 [U.S. Olympic] team. There were some really great players, some really fast players, but I don't think anybody could match the speed of Kendall. I think even now when they do testing for the national team, when they do their skating testing, she's finishing way above her teammates is the feedback I get from people on the team. I haven't seen any female player as fast on any of the other countries either. So if there is someone out there, I haven't seen them yet."
How does someone get to be one of sport's fastest players, if not the fastest?
"I'd say part of my speed is genetics," Coyne said. "My dad is an extremely fast runner growing up, and he still is. Since he turned 60, my mom no longer lets us race him, but he's still pretty quick."
Genetics provides a nice foundation, but that's just the start.
"It's definitely a lot of hard work," Coyne said.
Not just recently. On YouTube, you can find five-year-old videos of Coyne talking about how she trains and her love of power skating. Even after she switched over to playing girls' hockey, she'd continue to practice with the boys' team.
The resulting skating ability makes her a handful for opponents.
"She's fast and quick, so you have to make sure you're watching her all over the ice," said BC coach Katie Crowley. "You have to make sure that you're focused on where she is, because she can sneak behind you and be in an opportunity to produce pretty quickly. Our defense has to be more focused with her and make sure that they know when she's out there, know where she is."
Even before she enrolled at Northeastern, Coyne was well-known in hockey circles.
"I'd always hear about her growing up playing with our club teams," Carpenter said. "I played with the [New Jersey] Colonials; she was with [Chicago] Mission. But the first time I actually played with her, I actually played for coach Crowley and with Coyner on the U-18 select team. We were out in Calgary for our first three-game series, and I remember playing with her there and looking up to her in Chicago when we played U-18 Worlds there."
That Under-18 Championships provided a rare example of Coyne's speed working against her, when an inexperienced referee was unable to keep up with her on the ice in the gold medal game versus Canada.
"I remember the controversial last goal that we had out there," Carpenter said. "It hit the crossbar and it bounced back into the net, but they didn't call it a goal. We eventually ended up losing it, but I just remember her going continuously, no matter if they called that a goal or not."
After frequently being Coyne's teammate in international play, Carpenter has had to deal with Coyne being on an opposing team in college.
"You definitely want to look out for her out there," Carpenter said. "Everybody is saying, 'You've got to watch out for 77 when she has the puck,' but at the same time, it's just another game and you have to watch out for every player, because everybody at this level is capable of the same thing."
Well, maybe not exactly the same thing. Coyne can do things that hardly seem possible at the speed she's traveling.
"That's just something that I've always been focused on," Coyne said. "You can be fast, but you need to be able to do other things in order to play the game, so I think just being able to have speed and play at high speed, my hands and everything else have had to catch up. I'm obviously not there yet, but I'm still working on it."
If she's not there, she is awfully close.
"It's amazing," Flint said. "I've seen her full stride, one hand pull a puck from behind her, kick it in her skates, and not even miss a beat. The other thing, she can get from zero to 60 so quick, so if she's right on a D and there's a battle for a puck and she chips that puck past the D, they don't even have a chance; she's just gone."
Even when the defense is seemingly in good position, Coyne is able to produce highlight rushes with regularity.
"I remember one last year at BU where she went almost the whole length of the ice and went through three of their defenders, and then somehow put the puck in the net, and I just was scratching my head how she did it," Flint said. "Usually, it's a couple times a year she'll do that. Usually, she scores, too."
With her speed, quickness, and skill, teams have to get creative in an effort to stop Coyne from scoring.
"Some teams, they'll just try to bump her and slow her down," Flint said. "She's not very big, but she is for her size very strong. I'll see a lot of teams just try to bump her and slow her down or bump her off the puck. Even that, she's so hard to knock off the puck. Her center of gravity is so low that it's tough. I've seen teams try to put two people on her, and she'll come off the ice sometimes and be like, 'They're double-teaming me.' We talk about it, 'Well, you've got to move the puck and then go to space, and then get the puck back.' Sometimes, I think she looks at it as a challenge. 'If they're double-teaming me, I'm going to beat two of them.' Those are some of the strategies I've seen, but I've also talked to coaches, and they're like, 'We don't have an answer. We don't know what to do.'"
Teams are able to focus more heavily on Coyne because she's never been surrounded by the depth of offensive talent that some top teams possess; Coyne hasn't had a Northeastern teammate reach 50 points.
"We've had linemates of hers in the past where they thought their job was, 'I'm going to get Kendall the puck and let her go do her thing,' and that's not as effective, obviously, because it's a team game," Flint said. "You can't have one kid just running the show."
Coyne, however, doesn't bemoan any supposed shortcomings of her college teammates.
"Any opportunity you get to play with the best of the best and wearing the Team USA jersey is a special opportunity," she said. "But playing with any of my teammates at Northeastern, it's just as enjoyable. My game's a little bit different at Northeastern than it is at USA Hockey. That's a game that I have to play with whatever linemates that I have that day."
These days, her linemates have been pretty good.
"The big thing for her like this year, she's got another real threat on her line with [sophomore Denisa] Krížová," Flint said. "I put [junior Hayley] Scamurra in the middle of them because she's big and strong, and she's fast. So she's opening up space for those two. In the past, I've had Kendall with some smaller, faster players like her just so they could keep up, but I felt like in smaller rinks against bigger teams, they get knocked around, and they didn't have the space to operate that they needed to. So we're trying to create some space, and she's got two real good linemates that really complement her well this year."
The numbers bear it out. Through nine games, Scamurra has 12 points, Krížová has 19, and Coyne is up to 24.
"They're really starting to click, especially her and Denisa," Flint said. "They talk a lot, which is nice. They come off a shift and they're all talking to each other. Even in practice, if we're doing a line-rush drill or whatever, they always talk about, 'You should be here,' or, 'I'm going to go here next time,' so they're always communicating, which I think really helps."
The Czech Republic native looks to be the kind of sidekick Coyne has lacked until now.
"I think she's someone that she's a go-getter," Coyne said. "She wants to be the best that she can be. Sometimes when you're in the college environment, there's just so much going on that hockey is another on somebody's list of things to do, but with her, she wants to be here. She wants to accomplish a goal. I feel with her being on the national team, she's driven. It's a special bond and I look forward to going on the rink with her every day."
While her teammates may be improved this season, Coyne herself is far beyond the player who first arrived at Northeastern four years ago.
"The maturity, the decision-making, understanding that she doesn't have to always do it all herself all the time I think has really played into her game, and she's really grown as a player," Flint said. "I think she's also a lot better at changing speeds, picking when to go, when not to go. I felt like her freshman year was always going 110 miles an hour no matter what. Now she's picking her speeds and varying her speed. I think she's been a more effective player since I moved her to the right wing a couple years ago. I felt like when she played the left side, she would always try and just drive wide and beat the D wide every time and she'd take bad angle shots. Now, playing the right side, she can get to the middle of the ice a little bit more. I think she's done a really good job of that."
She's learned she can be effective moving slowly, or even not moving at all.
"I think just being smarter with the puck when I am going down the ice with the puck, maybe one on three, pulling up and waiting for my teammates and waiting for help," Coyne said. "That's something that I've had to learn to do over the years."
As a senior, Coyne has found other ways to help the Huskies.
"I was able to coach Kendall as a U-18 player, so I've had that opportunity," Crowley said. "I think that it seems like, and obviously I don't know their team dynamic or anything, but it seems like she's grown up to be a little bit more of a leader than I think she was when she was younger, and that's obviously good for their team. She has always been quick and fast and feisty, but I think she's grown up as a leader and is now one of their leaders of their team and is trying to help their team be successful and get back in that national championship race. They're a team that's feisty, and I think that Kendall leads that charge."
Coyne sees herself as more of a leader these days.
"It's a role that I've improved on, because coming in as a freshman, obviously, you don't have much of a say," she said. "At my time here at Northeastern, I'd say my leadership is something that has improved."
She knows exactly where she wants to lead her team, currently ranked No. 8 with a 7-1-1 overall record.
"I think she wanted to be a big piece of the puzzle when she committed to us, to be part of the first team to ever get to the NCAAs," Flint said. "We fell short her first two years by like hundredths of points in the rankings, and it could have gone either way and we fell short. I think she's remembered that vividly. On the back of the shirts they wear for the games, they have the coordinates for the Frozen Four this year, the coordinates on the map. It's been a big focus for her as the captain, but also, she's let the team know the importance of it, and what it would mean to the program to be the first-ever Northeastern team to make it to the NCAAs."
A big goal piled on top of the 106 and counting that Coyne has racked up as a Husky.
"That's definitely the ultimate goal; that's a dream," Coyne said. "That would leave my career here at Northeastern on the right foot. That's obviously something that's never been done before, and I think as a team our goal is to make the NCAA tournament for the first time in program history."