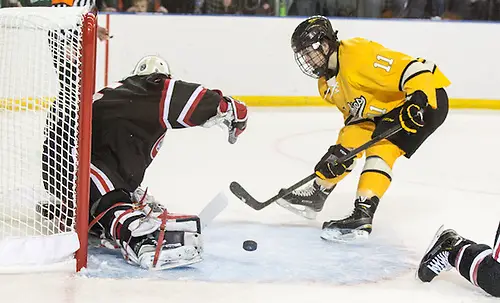 As Michigan Tech and its fan base is learning this season, winning hockey games is hard. Even for a good team — which the Huskies certainly are — starting the season with 10 straight victories takes as much luck as it does talent.
The Huskies did that last season, en route to 29 wins and their first NCAA tournament appearance since 1981.
That's part of what makes this season even more difficult for the Huskies and coach Mel Pearson. Michigan Tech was widely picked, once again, to finish in the top three of the WCHA this season.
And although the Huskies have gotten off to a decent 5-3 start in their first eight games, that doesn't look quite as impressive as 10-0.
"One of the main adjustments we've had to make is that this is the first year since I've been here that expectations have been this high," Pearson said. "Dealing with those expectations has been a little different this season.
"When you get off to a 10-0 start like we did last season, people think it's easy. When you have good years, expectations get high, and as a team you have to learn how to deal with them."
Pearson, in his fifth season with the Huskies, knows as well as anybody how to manage teams that are supposed to do well. He did it for 23 years while as assistant at Michigan.
And now that he has built Michigan Tech into a contender, he's trying to do that in Houghton. Tech split each of its first three series — one a home-and-home against rival Northern Michigan and two against Ferris State — before finally getting a sweep last weekend at Alabama-Huntsville.
Despite the five wins, the Huskies have looked dominant in only one game, a 3-1 win over Northern Michigan in which they outshot their rivals 46-20 and scored twice on the power play. That, however, followed a game in which the Wildcats won 4-1 and had a similarly large advantage in shots on goal.
"You always think you should have a few more wins, but overall, I'm pretty happy with how we've started so far," Pearson said. "I'm not 100 percent pleased, but given the fact that we've played five games on the road and just three at home, big picture, I'm happy with where we started."
Overall, Tech's offense has been solid with 24 goals in eight games. Malcolm Gould leads the team with six points (3 goals, 3 assists) and Alex Petan has five (3 goals, 2 assists), but the Huskies also have contributions from more-unheralded players who Pearson said are stepping in nicely, including Joel L'Esperance (4-1–5) and Brent Baltus (3-2–5).
Defensively, the Huskies have allowed just 19 goals in eight games. Goaltender Jamie Phillips has started every single game and has a GAA of 2.39 and a save percentage of .917.
Aside from being away from Houghton for longer than they'd like early in the season, a quirk of the schedule has also seen the Huskies play eight straight games in conference to start things out. That streak will go to 10 when they host Bowling Green this weekend; they don't step outside the conference until a trip to Michigan State on Nov. 21-22.
Pearson said having no nonconference games so far has been both good and bad.
"You don't get much room for error if you have a bad night or two," he said. "But this early in the year, it's good because it helps you focus on how important every single game is."
And that, considering that the Huskies are still learning to deal with those lofty expectations, might be even more valuable than getting a break.
Century club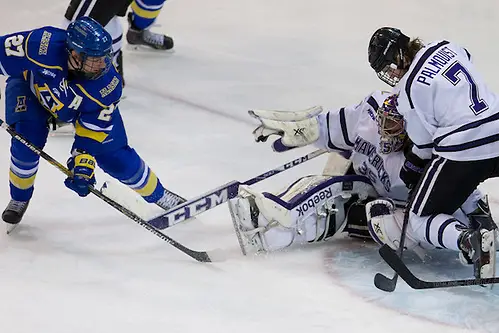 Alaska senior forward Tyler Morley, the WCHA coaches' choice for preseason player of the year, had a five-point series in a split against Northern Michigan last weekend, putting him over 100 points for his college career.
He has 103 points (48 goals, 55 assists) in 107 games and is one of eight current college players and two from the WCHA who have reached the 100-point milestone. Tech's Petan (44-63–107) is the other WCHA player on the list.
Morley reached the mark with two first-period goals and a three-point game in Alaska's 5-2 win last Friday.
"It was pretty special," Morley said in a recap on the Nanooks' website. "After the second goal went in, I took a moment and looked over at my parents because I wanted to get this 100th point for them for helping me through everything in my hockey career. It means a lot to me that they were here and it was super special to get that in front of them and to see their smiles from the stands. I couldn't have asked for a better opportunity to get my 100th point."
His parents must have had a thrilling weekend, as both Morley and his brother, junior forward Brandon Morley, each had a goal on Saturday, although it was a 5-2 loss. It marked the sixth time the Burnaby, British Columbia, natives have done that — and the fourth time against Northern Michigan.
Friday's game also was Tyler Morley's first back after being suspended for a game for an unpenalized hit to the head of Minnesota State's Jimmy Mullin a week earlier.
"I just wanted to bounce back," Morley told the Fairbanks Daily News-Miner after the game. "I left the guys out to dry, not playing there. Tried to come back and have a good start. Our line played well off the start."
As for the league's next 100-pointer on the horizon, Alaska-Anchorage senior Blake Tatchell is just 11 points away.
The Nanooks go back on the road and will spend two weeks in the Midwest, playing Bemidji State on Friday and Saturday and then going to Ferris State before returning home.
Ice chips
• Alabama-Huntsville has the week off, but the Chargers can take solace in the fact that they have one of the most prolific offenses in the WCHA. That's not a typo: The Chargers have scored 25 goals in eight games and are tied with Alaska-Anchorage for first in the league in scoring average. And while sophomore forward Brennan Saulnier no longer leads the league in scoring, he's tied with Anchorage's Tatchell for third overall (6-4–10).
• Bemidji State returns from its bye week to host Morley and the Nanooks. The Beavers are 6-2-1 all-time against the Nanooks, including 3-2-1 since both teams joined the WCHA.
• Following a pair of 1-1 ties with Lake Superior State, Bowling Green goaltender Chris Nell has allowed one goal or fewer in four of his six starts. He ranks second in the nation with a .960 save percentage and is third in the country with a 1.07 GAA. Now that he has more than 1,000 career minutes, he qualifies for the Falcons' record books and is the program's all-time leader in both categories. Bowling Green plays at Michigan Tech this weekend in a matchup of the WCHA's only ranked teams. The Falcons are 15th, and the Huskies are 20th.
• Ferris State finally got the monkey that is Minnesota State off its back, winning 7-4 on Friday to break an eight-game losing streak to the Mavericks. It was the Bulldogs' first WCHA victory over Minnesota State. Six different players scored goals for Ferris State in that win, five more than all of last year, when Kyle Schempp was the only player to score in five games against Minnesota State (he had four goals). The Bulldogs play at Alaska-Anchorage this weekend.
• Alaska-Anchorage returns from a bye week to host Ferris State, a team it has defeated just once in its history. That win was on Dec. 19, 1986, in Anchorage.
• Lake Superior State has struggled since leaving the CCHA, but it has certainly had Bowling Green's number since both teams joined the WCHA. After the teams tied both games last week, the Lakers are 4-2-2 against the Falcons over the last two-plus seasons. The Lakers host Division I newcomer Arizona State this weekend.
• After a 5-1 start in WCHA play, Minnesota State will go back to trying to get its first nonconference victory of the season when it takes on intrastate rival and former league foe Minnesota in a home-and-home series. The Mavericks opened the season 0-4 in nonconference play, getting swept by Omaha and St. Cloud State and getting shut out in three of those games. Since then, however, they are tied for the league lead, scoring 3.33 goals per game.
• Northern Michigan is off this weekend. The Wildcats split their series in Alaska with identical 5-2 scores. And with two goals in Saturday's win, Shane Sooth became only the second Wildcats player to have a multi-goal performance this season. Robbie Payne, who notched a hat trick Oct. 16 against Lake Superior State, is the other.
• This week's WCHA players of the week are Alaska senior forward Tyler Morley (offensive), Minnesota State junior defenseman Casey Nelson (defensive) and Ferris State freshman forward Corey Mackin (rookie).