Before we get started, let me offer a heartfelt thank you to our veterans out there.
I know that's easy. It costs me nothing and so many veterans have paid dearly for the principles they believe in. Many return from the battlefield scarred in ways both physical and emotional. The statistic that 21 veterans commit suicide every day is a horrifying one, and one that should make us examine how little we do to support the men and women who have sacrificed so much.
So thank you. To our politicians: Let's do right by our veterans.
And a special shout out to a loyal reader of this column and Maine fan, Al from Kandahar.
Heady times for Hockey East
The good times just keep coming. Last year, two Hockey East teams met in the national championship game. This year, the signs are pointing to, if not a repeat of that result, at least a strong representation in the NCAA tournament.
Of course, of course, of course, the season is barely underway. Still, the USCHO.com Division I Men's Poll gives plenty of reasons for Hockey East fans to thump their chests.
Defending national champion Providence is ranked No. 1 with a 6-0-1 record. Boston College (8-1) is right behind at No. 2. Massachusetts-Lowell (6-1-2) rounds out the top five.
Also in the top 20 are: Boston University (11th), Merrimack (14th) and Notre Dame (18th).
And in the if-only-it-were-horseshoes category, Massachusetts comes in as the team with the most votes outside of the top 20.
Thump, thump, thump.
I can't wait for Tampa.
Six shutouts!
Two weeks ago, Jim Connelly recounted Boston College shutting out opponents in three straight games, detailing goaltender Thatcher Demko's exploits as well as those of his teammates in front of him.
Well, Demko — who underwent hip labrum surgery in the offseason — and the Eagles are back at it again. After having the audacity to actually allow three goals to Denver, Demko and company responded with another three shutouts.
That comes to an astounding six shutouts in seven contests for Demko, a feat performed only once before in college hockey history. Back in 1994, on the way to a national championship, Blaine Lacher and Lake Superior State became the first to set that mark.
On the way to a national championship. Hmmmm.
Such a string of performances clearly warrants significant mention in this column. The only problem is that Jim covered all the angles so well, there's not much to say that wouldn't be mere repetition.
In other words, ditto to Jim's column.
Except for this perspective from BC's archrivals on Commonwealth Avenue:
"I wasn't aware the league allowed you to put a piece of plywood behind the goalie," quipped BU coach David Quinn. "They've been a great program. They're a great team. That's why they were picked No. 1 in our league [in the preseason]. They've got a lot of good players that came back. They brought in a great freshman class.
"Demko is as healthy as he's ever been. He's also finally 20 years old; some people forget that. He's a junior goalie who's played an awful lot of hockey at our level.
"He's playing with a level of confidence he's probably never played with. His surgeries have really given him a piece of mind.
"I knew they were going to be good, I knew they're a great team, but six out of seven shutouts? You'd think someone would get a fluky goal at some point against him. It's very, very impressive what they've done so far."
Next up for the Eagles: Michigan State at home on Friday.
Tough times on Huntington Ave.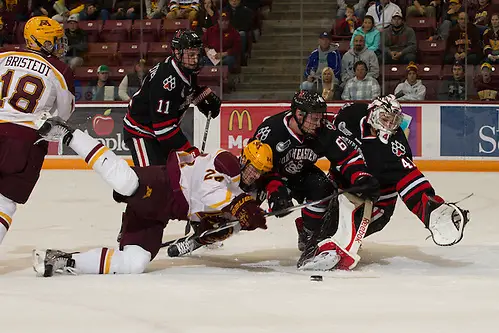 In the Hockey East coaches' preseason poll, Northeastern was picked to finish fifth, barely ahead of New Hampshire and Notre Dame.
Instead, the Huskies rank as the league's most disappointing team in the early going, posting a 1-7-1 overall mark, 0-3-1 in Hockey East. After a season-opening win over Colgate, they've managed only a single tie in the last eight games.
"We haven't been able to put a 60-minute game together where we've played well defensively, we've been good offensively and had special teams going for ourselves," Northeastern coach Jim Madigan said.
"We've also had rough starts. In the first period, we haven't been able to get out of the gate the way we've wanted to. We've been chasing games. In eight of our nine games, we've been down not just 1-0 but 2-0. We've outshot teams significantly in the second and third periods, but every night it's been an uphill battle."
Better starts have been a focus in practice, such as just dropping the puck and starting play right away, but so far to no avail. While Madigan and his staff have held the players accountable, the results haven't been there.
Saturday night's game against BU was a perfect example. Just 1:09 into the game, the Huskies took a (deserved) penalty. They killed that one, but were back in the sin bin at 4:39. BU's power play is too formidable to keep giving it opportunities and, sure enough, the Terriers took a 1-0 early lead via the man advantage.
The goaltending hasn't helped — junior Derrick Roy's save percentage stands at .821; freshman Ryan Ruck's at .894 — but Madigan isn't about to single them out.
"There are some goals that both goalies would want to have back, but our defensive game is predicated on the five other guys in the zone, not just the goaltending," Madigan said. "When you're not winning, you can point to all three phases: goaltending, defense and offense. We've got to be better in all three."
In the offensive end, it's stunning to see Kevin Roy, one of the league's top players and a first-team all-star last year, still looking to get off the goal-scoring schneid. His stat line of 0-4–4 for the season looks like a typo.
But Madigan remains confident in his goal-less star forward.
"Scorers at times go into mini-droughts and that's what he's facing," Madigan said. "Early in the year, he had some opportunities and they didn't go in, so now he might be pressing a little bit more.
"But he's not the only guy. Other teams are obviously paying a lot more attention to him, but Zach Aston-Reese, who's playing well, doesn't have a goal. Mike McMurtry, who's playing hard, doesn't have a goal. Dalen Hedges had 35 points in this league last year; he's got [two] assists. So we can look at our whole offense and we're not scoring to where we should be.
"If you look at last year, Kevin had one goal in the first 11 games last year. He ended up with 19. He's going to get his goals."
Last year actually offers considerable hope for the Huskies. In a near carbon copy of this season, they failed to win their first game until Nov. 15, yet still finished 16-16-4 overall and 11-9-2 in Hockey East.
"I don't like to use the word hope, I like to focus on us controlling our own destiny," Madigan said. "Certainly, the fact that we went through this last year and most of the players are returning from last year [is a positive]. They know what it takes to get out of this. It's hard work, it's effort, it's playing harder and smarter.
"We've got to do that. We were able to do that last year and turn it around by doing those things.
"What we've done to date isn't good enough. That means we've got to work harder and execute better."
Unfortunately for the Huskies, that isn't going to be easy with the gauntlet of upcoming league games, all against nationally ranked opponents: two at 18th-ranked Notre Dame, two against No. 1 Providence, one against fifth-ranked Lowell, and two against second-ranked Boston College.
"To be honest, I'm just looking at Notre Dame," Madigan said. "Every team in our league is a good team. We finished last year in [sixth] place and lost in the playoffs to a team that was in 11th [Merrimack]. The national championship team from Hockey East last year, [Providence], lost in the quarterfinals.
"Anyone can beat anyone on any given night. We're just looking at our next opponent. We know that every team in this league one through 12 is good. So the focus is on Notre Dame."
BU running on all cylinders
Boston University hit a pothole a couple weeks ago, playing poorly in a 5-2 loss to Connecticut. The Terriers followed that up with a much better performance at Merrimack, albeit still a 4-3 loss, but since then have defeated eighth-ranked Denver and swept Northeastern.
"We feel good about how we're playing, especially over the last four games," BU coach David Quinn said. "Even though we lost the Merrimack game, we just felt good about the things we were doing.
"That UConn game was kind of a bottoming out for us. It was probably as bad as we had played in two years.
"Since then, these guys have really regrouped and we've played a lot harder, we've defended a lot better, we've created offense, our penalty kills have been much better and our power play has been good. You're going to go through [tough] stretches of the season. You're not going to play 34 great games. It's going to be [a question of] how you react after a loss."
As has been the case in most successful BU teams of the past, the Terriers are utilizing the considerable offensive skills of their defensemen. Already, the blueliners have totaled 12 goals, led by Brandon Hickey (four), Brandon Fortunato (three) and Matt Grzelcyk (two).
"Historically, we've always had a lot of contributions from our blue line offensively," Quinn said. "It happened last year; it's happening this year. You need five guys involved offensively. You can't survive if you're just relying on offense from your three forwards.
"I think that hurt us early this year, because our two defensemen thought they had to play like forwards as well. You need to find that balance.
"Sometimes the best way to create offense is to play great defense. Against Northeastern Friday night, we scored two goals because we were playing great defense, then all of a sudden — boom! — we went the other way. Our second goal on Saturday night, we were defending Roy's line great and all of a sudden we got a two-on-one with one of our defensemen. Playing great defense means you're going to get to play offense longer.
"Our guys also have God-given offensive abilities. Combine that [with playing good defense] and we're going to be productive from the blue line."
This weekend will present a major challenge in the form of a home-and-home series with top-ranked, undefeated Providence. Many will, of course, view this as a rematch of last year's national championship game.
"A lot of people are going to refer to that game, but we're a completely different team and they're a completely different team," Quinn said. "Anybody who follows college sports knows there's no correlation between one year and the next. We proved that last year. You look at the year we had two years ago and then the one last year.
"So we're looking at it as us playing a team that's the hottest team in the country, as good a team as there is in the country. We love playing that type of competition. I think everyone does, because you want to find out how good you are. We're going to find out how good we are on Friday night."
There's last place and then there's last place
Two teams are sharing the cellar in Hockey East, but there's no comparing the seasons they're having so far. In fact, they're at polar opposites even though both have yet to garner their first league point.
Maine is one unhappy resident. The Black Bears have lost both Hockey East games they've played, although both losses have come at the hands of second-ranked Boston College, so they've got plenty of company in that regard.
More ominous, however, is their 0-6-3 overall record.
"Of course there's concern," Maine coach Red Gendron said last weekend. "What else do you want me to say about it? We're working our tails off to get over the hump and we haven't yet."
At the other end of the spectrum is Providence, ranked No. 1 in the country while being in last place in Hockey East. Of course, that's because the 6-0-1 Friars have yet to play their first league game. In their case, being in the cellar isn't a bad thing at all.
Contributing: Arthur Bailin