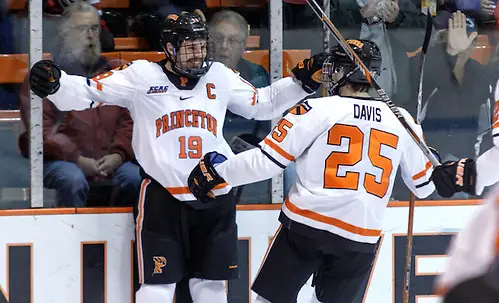 Three things that stood out over the weekend:
Quinnipiac hits a snag
If you even want to call it that. Considering how well-oiled the Bobcats' offense has been this season, looking back at a weekend of close games for this team makes it seem like something's missing — like the scorekeeper, holding another sheet of paper with all of Quinnipiac's goals on it, got lost on his way to the press box.
After leading the country with 52 goals in 13 games, the Bobcats were held to a 1-1 tie with No. 20 Clarkson and a 0-0 tie with No. 14 St. Lawrence. It's about as uncharacteristic as it gets for a team we're used to seeing light up the score sheet every night.
This shouldn't hurt the team's ranking — ties are better than losses, after all. But it's still something to watch as Quinnipiac remains one of the top college hockey teams in the country.
Cornell keeps rolling
It's really, really hard not be impressed with what Cornell has been doing for the past few weeks, and this weekend was no different. With a 0-0 tie with No. 11 Yale and a 1-0 win over Brown, the Big Red have shown that they can play shut down, defensive hockey.
As a reward, they earned the No. 18 ranking on USCHO last week. It's well deserved, considering the team is 6-1-1 through its first eight games. Barring any unforeseen circumstances, it's pretty obvious we can mark Cornell down as one of the ECAC's biggest surprises.
Princeton blanks Clarkson
Clarkson been a tough team to figure out so far. The Golden Knights have done well enough to garner attention — somewhat. Other nights, it seems like the wrong kind of attention.
Take Saturday night, for example, a 3-0 loss to rebuilding Princeton. Sure, Tigers goaltender Colton Phinney was otherworldly with 31 saves and a shutout. But, on paper at least, it seems like a game that Clarkson should be able to handle.
But therein lies the problem — trying to predict Clarkson games seems like the job of a fortune teller or, better yet, a guy on the sidewalk with a coin to flip. The Knights started the season 5-1 with wins over New Hampshire, Western Michigan, Rochester Institute of Technology and Niagara. OK, not the strongest opponents, but decisive wins nonetheless. Since then, Clarkson is 0-3-2, getting outscored 13-4 in a stretch that includes a 1-1 tie to big, bad Quinnipiac. See what I mean?
Buckle up, folks. Clarkson's season is going to be a roller coaster ride.