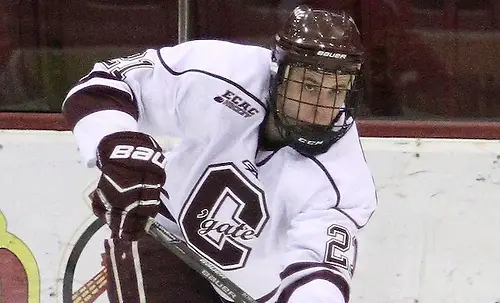 All the talk surrounding Colgate men's hockey in September was of its senior class.
Sure, the team lost forward Kyle Baun and key defenseman Ryan Johnston to the pros. But with Tyson Spink, Tylor Spink and Mike Borkowski returning for their senior seasons, the recipe for success was simple: Let the Raiders' proven offensive production guide them through the regular season, while allowing senior goaltender Charlie Finn to hold down the fort defensively as one of the premier goaltenders in ECAC Hockey.
It all came crashing down last weekend in Belfast, Northern Ireland, as Colgate posted only one goal and allowed 12 in two Friendship Four games against Northeastern and Brown.
The second game, a 7-1 loss to the Huskies, featured six unanswered goals by Northeastern — five in the second period, one in the third — after Willie Brooks scored Colgate's only goal to tie the game 1-1 in the opening 20 minutes. For the third time this season, the Raiders allowed at least seven goals in a game, including a 7-2 beat down at the hands of defending champion and top-ranked Providence and a 9-7 loss to Mercyhurst on the opening weekend.
"It was frustrating," said Colgate coach Don Vaughan, whose team is 4-10-1 heading into December. "Maybe we're a little fragile. We haven't scored a lot lately, and we went down quickly and just couldn't recover. We didn't seem to have energy on our bench. … But I don't want to take away anything from Brown or Northeastern. They played well."
The lack of goal-scoring is a problem, especially on a team that is forced to rely on it so heavily. Colgate's talent is up front, with the Spink brothers, Borkowski and senior Darcy Murphy making up a highly touted senior group that features as much experience and raw talent as any group in college hockey.
Last season, Colgate scored 102 goals while allowing only 82 on its way to the ECAC championship loss against Harvard. Through the team's first 15 games in 2015-16, the Raiders have scored only 37 goals and allowed 55.
"First of all, these things happen in hockey all the time," Borkowski said. "Teams at the pro level go on skids. Maybe it's a little harder to snap out of it in college. But it's not easy going through these droughts. We know we're on a losing streak. … We lose as a team. We're a tight group."
But the bigger concern is the play of Finn, who many consider one of the top goalies in the ECAC. Finn has posted a 3.62 GAA and a .891 save percentage in 15 games. Sophomore backups Zac Hamilton and Bruce Racine have also seen time, but Vaughan seems adamant that his team will live or die this season with Finn in net.
"Charlie is a competitor," Vaughan said. "He knows more than ever how he's played. But we have full confidence in him."
It also doesn't help that Colgate's bench has been short. Minus the Johnston and Baun departures, injuries have also forced underclassmen into heavy minutes defensively.
"We're playing some young guys back there," Vaughan said.
Borkowski said that those in Colgate's locker room remain steadfast that they'll snap out of it. The Raiders have done it before. In the 2013-14 season, Colgate started off 7-9-1 and found some momentum late to make the NCAA tournament.
Six games under .500 is a much steeper hill to climb.
"At the end of the day, we're not content," Borkowski said. "All we want is to put our best product out there. It hasn't gone our way so far. But we can count on our senior leadership; we've been there before. We're not hitting the panic button."
"We have a lot of pride in our locker room," Vaughan said. "It hasn't gone the way we want. Guys like Borkowski, he's really good in our locker room. We know it can swing it the other way. … Especially in our league, you string some wins together and anything can happen."
Colgate will play a struggling Clarkson team (0-3-2 in ECAC play) on Friday and No. 14 St. Lawrence on Saturday.
Around the ECAC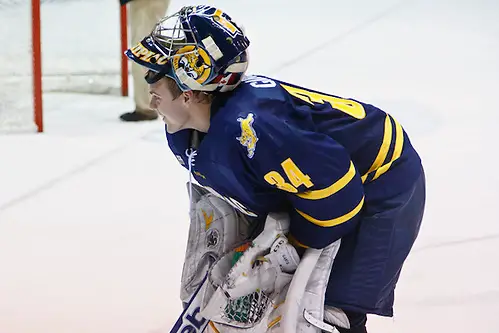 • No. 3 Quinnipiac: The Bobcats' offense returned in full force last weekend with a two-game sweep of Massachusetts. More importantly, however, was the dominating defensive performance on display. It's become one of Quinnipiac's calling cards this season, allowing only 21 goals against and only six in its last six games. Senior goaltender Michael Garteig has been a revelation for the Bobcats, one of the main reasons this team is ranked in the top five in the nation.
• No. 8 Harvard: Problems? What problems? The Crimson made an emphatic statement with wins over No. 18 Notre Dame and Rensselaer, outscoring both 8-1 over two games, at the Shillelagh Tournament. The win over the Fighting Irish was particularly impressive — it was Harvard's first win over a ranked opponent this season. It's hard to imagine Harvard moving in any other direction going forward.
• No. 10 Yale: Give them credit — the Bulldogs put up a good fight against No. 1 Providence last Saturday. Yale took a 3-2 lead into the third period, but two late goals by the Friars sealed the deal. This is a dangerous team going forward. It has the "late-postseason spoiler against top-ECAC team" written all over it.
• No. 16 Cornell: The Big Red continue to impress with a 3-3 tie against No. 11 Boston University on Saturday at Madison Square Garden. Games this weekend against St. Lawrence and Clarkson could seem like a cakewalk compared to Cornell's schedule over the past few weeks.
• Dartmouth: OK, so that 7-0 loss to Michigan last Friday was ugly. Almost as ugly as the 6-2 loss to Quinnipiac two weeks ago. Or the 4-2 loss to Yale on Nov. 7. But the Big Green played Michigan to a 1-1 tie on Saturday. If it feels like a win, it is a win. Right? All's well that ends well.
• Clarkson: Two wins against Arizona State were impressive and dominant, outscoring the Sun Devils 7-3 over the weekend. More importantly, the results ended a long skid for the Knights that went all the way back to Oct. 24. Time to signal the turnaround? Saturday's game against Cornell is their chance to prove it.