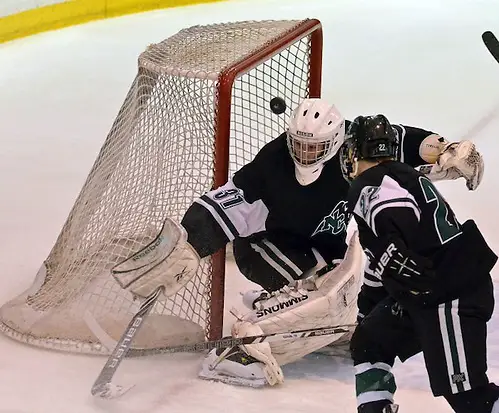 The games are winding down in the semester, but the importance of the matchups seems to be ramping up as we enter December hockey.
Last week, I stumbled with my picks at 3-3-1 (.500), which brings the season record down to 16-7-3 (.673). Like a lot of teams on the ice, I, too, am in search of some consistency, but the schedule isn't making the picking of games any easier.
Here are my picks for the East this week:
Thursday, Dec. 3
Massachusetts-Dartmouth @ Fitchburg State
This rivalry goes years back with two legendary D-III coaches at the helm. Both would like to see more consistency in their teams' game on the ice and both coaches have likely wondered which team is showing up on any given night. The home team has the motivation of earning head coach Dean Fuller his 500th career win and that is strong enough motivation for the Falcons to fly – Fitchburg State 5, UMD 4.
Friday, Dec. 4
Bowdoin @ Colby
This is one of the oldest rivalries in all of D-III and one that carries a lot of passion from the players, coaches, students and alumni. This is the last time around in this historic rivalry for Bowdoin coach Terry Meagher, but don't expect the hosts to be gracious and let the Polar Bears walk away with a win – they have to earn it in OT – Bowdoin 4, Colby 3.
Neumann @ Manhattanville
The ECAC West is a battle on any weekend and this game is no different. Neumann has seen prolific point production form Mike Davis and Jory Mullin early in the season and the Knights will need to produce to beat Manhattanville at the Playland Ice Casino – Neumann 5, Manhattanville 3.
Skidmore @ Hobart
Hobart had the Thanksgiving weekend off and invites the Thoroughbreds in for a two-game weekend series. There might be lots of pent-up energy for the Statesmen, who look to start a new winning streak, but are very aware of Skidmore's giant-killer capability – Hobart 5, Skidmore 2.
Saturday, Dec. 5
Norwich @ Babson
The winner of this series has essentially gone on to win the regular-season title and those have all gone the way of the Cadets. These games are always one-goal affairs and usually low scoring. No difference in this one as defense will dominate and special teams likely decide things beyond regulation – Babson 2, Norwich 1.
Plattsburgh @ Geneseo
The new No. 1-ranked team will be putting its unbeaten record on the line on the road this weekend and if they survive a Friday battle with Brockport, Saturday's game will be a major battle with a Knights team determined to show they are contenders. This one very well could end up in a tie, but I will go with the team with the ability to score goals in bunches – Plattsburgh 3, Geneseo 2.
Nichols @ Wentworth
The Worcester City Shootout winners get back to league action and a Wentworth team that is dangerous on home ice backed by goalie Joel Miller. The Bison just have too much firepower and one of the nation's best in goal in Alex Larson to keep the Leopards at bay – Nichols 4, Wentworth 1.
Big conference matchups abound this weekend and opportunities for teams to make a statement in the conference standings are there for the taking. Nothing comes easy, but the two points from beating an archrival are truly huge at this point in the season – drop the puck!
WEST PICKS – Brian Lester
December has arrived and conference action is heating up in the Division III hockey world. This is the time of the year where the conference races begin to take shape and we begin to see separation between the best and the rest. Check out this week's predictions below.
St. Mary's (6-2-2, 3-0-1) vs. Concordia (Minn.) (3-3, 2-0)
Two of the top teams in the league will go at it this weekend in this series. The Cardinals have won their last three and are led by Bob Kinne, who has come through with eight goals and nine assists. Martin Gruse continues to make big plays and has dished out 13 assists. He has tallied six goals as well. Phil Heinle is 5-1-2 in net this season.
The Cobbers are looking to get back on track after dropping two consecutive games. Concordia isn't a high-scoring offense, having tallied just 14 goals, and Jon Grebosky leads the way with three goals and two assists. Alex Reichle is 3-3 on the year and has given up 19 goals.
Concordia is at home, but considering how competitive the MIAC is, it will be a surprise if one team gets the sweep. St. Mary's 5-2, Concordia 3-2.
Hamline (4-3-2) vs. St. Thomas (5-3-2, 3-1)
This series pits the reigning regular season conference champion and the defending conference tournament champ.
Hamline begins this series at home and is led by the one-two punch of Charlie Adams and Brandon Zurn. Both players have dished out 10 assists apiece. Zurn has scored nine goals and Adams has tallied eight. Those two give the Pipers a chance to win every game they play.
The Tommies have plenty of balance on offense as nine players have scored two or more goals. Jordan Lovick is the top goal scorer with four. He has also racked up four assists. Joe Morris is one of the top goaltenders in the league, fashioning a 5-3-2 record. He has allowed 20 goals. Hamline, 3-1, St. Thomas 5-2.
Marian (4-3-3, 2-3-1) vs. St. Scholastica (4-1-1, 3-1)
Marian has won two in a row as it prepares for a battle with the nationally-ranked Saints, who have been off since before Thanksgiving.
The Sabres are led by Devin Stuermer, who has come through with five goals and five assists. Derek Thorogood has racked up four goals and eight assists. Marian has been effective on offense, scoring 32 goals, including eight off the power play. Mike Gudmandson and Mike Baldwin have split time in goal and have each won two games. The Sabres have allowed 23 goals this year.
The Saints are eager to play again after being off since Nov. 21. They have won their last three games and are led by Brandon Millin, who has tallied six goals and four assists. Dylan Nowakowski has been solid as a playmaker, dishing out eight assists to go along with his two goals. He is one of 11 players on the team with at least two assists on the season. Tyler Bruggeman is 3-1-1 as a starter this year. St. Scholastica 4-3, Marian 3-2.
Concordia (Wis.) (6-3-1, 3-2-1) vs. Aurora (1-6-1, 1-2-1)
The Falcons come into this series riding a two-game win streak and are unbeaten on their home ice, sporting a 5-0-1 mark. They have scored 27 goals, with Stefen Seel racking up four to go along with six assists. Andy Munroe and Jack Romanuik have combined for nine starts and each goaltender has won three games.
Aurora is in dire need of a win after dropping its last four and generating offense will be key. Aurora has managed to score just 19 goals this season. Tom Greene leads the team in goals with three. Concordia should be able to get the sweep. Concordia 6-2 and 4-0.
Wisconsin-Stevens Point (6-2-1) at Wisconsin-River Falls (3-4-1)
It's the conference opener for both teams and the Pointers are determined to bounce back after going winless in its last three games. Stevens Point has scored 40 goals this season and has been impressive on the road, fashioning a 4-1 record. Four players have scored five or more goals, with Joe Kalisz, Lawrence Cornellier and Kyle Sharkey coming through with six apiece.
River Falls has lost three consecutive games and is also in need of a big win. The Falcons have managed to tally only 20 goals and Mitch Kotny leads the way with four. But they have a solid goaltender in Tanner Milliron, who is 3-4-1 and has come up with 161 saves. If he is on top of his game, the Falcons have a chance to come out on top. Stopping the Pointers' high-powered attack will be the challenge. Stevens Point, 4-2.
Wisconsin-River Falls (3-4-1) at Wisconsin-Eau Claire (6-2-2)
River Falls heads on the road to play a strong Eau Claire squad. The Blugolds have racked up 43 goals this season and are led by Adam Knochenmus, who has struck for nine goals. He has tallied four assists as well. Garret Clemment has tallied five goals and nine assists. Eau Claire also has two solid goaltenders in Tyler Green and Jay Deo. Green has won three games this year. Being at home should be an advantage for the Blugolds, who have won two of their last three games. Eau Claire, 5-2.