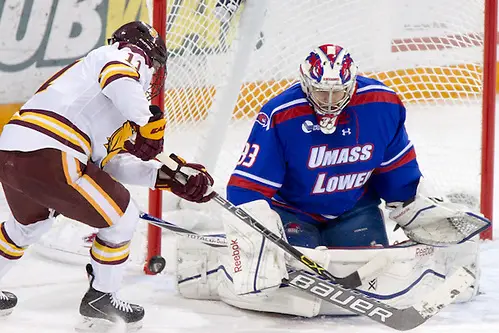 College hockey's first foray away from North America — at least one in which league and nonleague games, as opposed to exhibitions, were played — can be deemed an extreme success.
The Friendship Four and the tournament's prize, the Belpot Trophy, were won by UMass-Lowell with a pair of dramatic victories (the second of which came in a shootout and thus is considered a tie). But the true winner of this tournament might have been college hockey.
The game developed a new global stage. More than 20,000 fans attended the tournament. Games were broadcast locally in Europe as well as back in the U.S. on NESN and across Canada on TSN. Each player who participated was provided what quite possibly will go down as the most unique moment of his collegiate career.
And perhaps most importantly, the city of Belfast further established the game of ice hockey as a key component of the city's healing process after decades of violence stemming from The Conflict.
Since the Belfast Giants arrived in the city in 2000, hockey has enjoyed a role in the lives of many of the local citizens. But unlike most other sports played locally, there was no religious affiliation, no colors that made others think of violence.
That is what The Conflict in Northern Ireland was about. It was Protestants vs. Catholics. And for far too many years, on far too many occasions, it was sporting events that brought out the worst in people.
But hockey is different. The Belfast Giants have brought together fans from both religions rooting for the common goal.
So as the city grows out from The Conflict, hockey is a centerpiece.
"Belfast was a different place when hockey came here 15 years ago," said Shane Johnson, a project manager for the Belfast Giants and one of the tournament's organizers.
Johnson played collegiately at Boston University in the mid-1990s, then professionally in England before being one of the original Giants players in 2000.
"When the Giants came here there was still a lot of tension between religious groups," he said. "It was a sport that wasn't tied to either religion like rugby or football.
"They were very careful when the Giants came around that nobody could say this team was one religion or another."
It was warming, then, last Friday and Saturday to see some of Northern Ireland's most innocent citizens, namely 12,000 school-aged children, come to each day's early game. The opportunity was provided by the city of Belfast, which bussed in the children from miles away. The children created an unforgettable environment.
"Some of us have been around the game for a long time and it continues to give to us," said Hockey East commissioner Joe Bertagna. "Hopefully we're giving something back in the process, but this has been a real treat for everyone involved."
Much credit for the success goes to the people in Belfast — the city and its government, everyone involved in the Belfast Giants and its ownership group, Odyssey Trust, and the fans. All of them had a major hand in creating the experience and making the week abroad memorable for the teams.
"Everything in the building, outside of the building, helping us deliver this product, remembering these were league games [in the semifinals]," said Bertagna. "There are some people at the top who were dedicated to making all this happen.
"This was more than just an athletic event, it was a cultural exchange. It was a business exchange."
The best news to come out of the tournament was that it will take place again in 2016. Four different teams — likely again with two from Hockey East and two from ECAC Hockey — will get the chance to participate.
"One of the things I have to do and Steve Hagwell at the ECAC is find four more teams," said Bertagna. "It's somewhat short notice and requires moving league games on either side. But we've had some schools lobbying to come over here because they've heard about this and want to be part of it."
For now, file this under: International success.
Surging: Maine Black Bears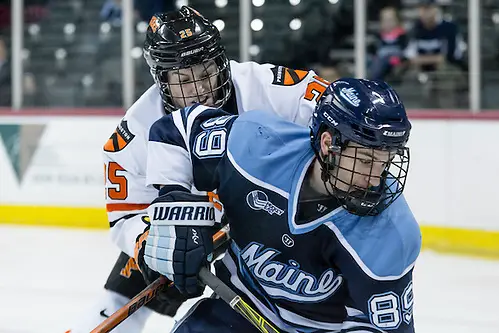 Boston College has the longest winning streak in the country at 11 games. Bowling Green is second at five games.
But what school has the third-longest winning streak right now? Well, it's Maine.
The Black Bears have won four straight after beginning the season on an 11-game skid (0-8-3).
It's a turnaround you might have seen coming. Maine played a number of quality opponents tough, including North Dakota (a 1-1 tie), Michigan State (a 3-3 tie), Boston College (a 2-0 loss) and UMass-Lowell (a 2-1 loss).
Goaltending, at times, has been excellent. Goal scoring, though, has not.
The Black Bears scored just 11 goals in their first 11 games. In the four straight wins, Maine netted 15. Part of the change is due to key players finally playing well (Steven Swavely has four of his five points this season in the last four games). Another reason is other players stepping up to fill key roles, most notably the junior class.
Blaine Byron has four goals and seven points during the win streak. Forward Cam Brown and defenseman Dan Renouf each has five points in his last four games.
Maine coach Red Gendron said his team's last two weekends said a lot about his team's character.
"I'd like to see how many people can handle 0-8-3 really well," Gendron told the Bangor Daily News. "This group of people, led by their leaders in the room, handled it as well as you can handle it.
"They came to work every day, put in the work and effort to make themselves better and now they've won four in a row," said Gendron. "The work that was done four, five, six weeks ago led to these two weekends."
Struggling: Vermont Catamounts
At the other end of the spectrum from Maine is Vermont.
The Catamounts had just a single win in November, posting a 1-5-1 mark. Granted, October wasn't much better, with a 2-4-1 record, but at that point you could excuse the Cats.
October produced one of the toughest schedules in the nation for Vermont. The Catamounts played six of their first eight games against teams ranked in the top 10 of the USCHO.com Division I Men's Poll.
But over the last five games, Vermont has played only a single nationally ranked opponent (No. 20 Penn State on Sunday, a 4-0 loss), blew a three-goal lead at home against Massachusetts and was on the wrong end of Maine's first two wins of the season.
You have to wonder: Did the struggles against a tough schedule early in the season destroy Vermont's confidence?
Special teams have played a major role. Vermont's power play is tied for 56th nationally at a miniscule 9.3 percent. Its penalty kill is ranked 51st at 76.8 percent.
Over the last four games (0-3-1), the stats have been worse. The power play is 0-for-16 over that stretch and the penalty kill has allowed five goals in 14 chances.
As has been a trend in recent years, Vermont will play late into December before taking a short holiday break. The Catamounts have five games left to try to rectify things, although four will be against nationally ranked opponents, beginning with this weekend's two-game set at No. 11 Boston University.