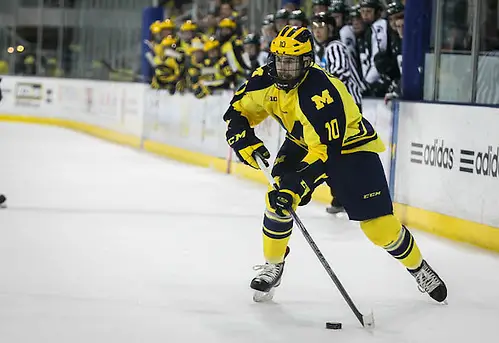 At face value, this weekend's series between Minnesota and Michigan looks like a typical marquee matchup between the Gophers and Wolverines.
Michigan was the preseason favorite in the Big Ten; the Gophers were slotted second. After one weekend of conference action, Minnesota is tied for first and the Wolverines are just one point back. The two teams that take the ice at Yost Ice Arena this weekend, however, are far from unflawed.
Michigan opened the conference part of its schedule by hosting Wisconsin last weekend. The Wolverines scored 12 goals on the weekend but allowed 10. Points are points — and Michigan nabbed five of the six available last weekend — but the team's defensive struggles have become a narrative that it can't shake.
"They came in here and scored 10 goals," Michigan coach Red Berenson said. "We haven't given up 10 goals in a weekend in 20 years, but we scored 12. It was a shootout. I can't tell you that the goalies were terrible, there weren't a lot of terrible goals, but it was just one of those games where every mistake ended up in the net."
Michigan is averaging an even 3.00 goals allowed per game, which puts it at No. 38 in the nation. Before the Wisconsin series, the Wolverines gave up only one goal over two games against Dartmouth. Berenson admitted that the performance against the nation's 58th-ranked offense may have given the team some "false confidence."
"And then all of a sudden Wisconsin came in and changed everything," he said.
As disappointing as Michigan's defense has been, its offense has allowed it to hold an 8-2-3 record and be the No. 9 team in the country.
"I still think that Michigan's the team to beat," Minnesota coach Don Lucia said. "When you can score like they can score, you have more room for error in a game. For other teams that have more difficulty scoring, if you have a breakdown that goal could make a big difference."
Lucia's Gophers captured a couple of overtime wins against Ohio State last weekend and are tied with Penn State, which swept Michigan State, at the top of the conference table after two games. Minnesota owns a 6-7 overall record; its victories over the Buckeyes last weekend snapped a three-game losing streak.
Lucia said that he saw some more improvement from his young team in the sweep of Ohio State.
"I liked the fact that the shots were down, especially five-on-five," he said. "They had a number of shots on the power play each night. We generated more opportunities from an offensive standpoint. In reality, for this group and team, we're not a run-and-gun team. We have to play close to the vest because we're not going to be a really high-scoring team this year."
So how do you avoid getting into a run-and-gun game with a team that's averaging 4.38 goals per contest?
"Taking care of the puck is a big thing," Lucia said. "Michigan is such a good transition team that they'll just shove it right back down your throat. If you start getting into that type of game, the crowd's going to start getting into the game even more. We're not going in there thinking we're going to outscore Michigan. We are going in there thinking we have to out-defend them."
This iteration of Minnesota and Michigan's conference rivalry is in its third year — both have been near the top of the standings throughout the previous two seasons — but they weren't strangers when the conference was formed.
The Gophers and Wolverines, along with Michigan State and Wisconsin, played each other around Thanksgiving from the early 1990s to early 2010s. Michigan was with Minnesota in the WCHA from 1959 to 1981. The Gophers beat the Wolverines on their way to the 2002 and 2003 national championships.
"We tried to play Minnesota every year, even when we were in the CCHA," Berenson said. "We started that Thanksgiving college hockey classic, so every year Michigan and Michigan State would play Minnesota and Wisconsin. Even though you might just play them one game, at least it kept it going.
"I really like playing Minnesota. I think the more we play them the more sense of a rivalry will develop."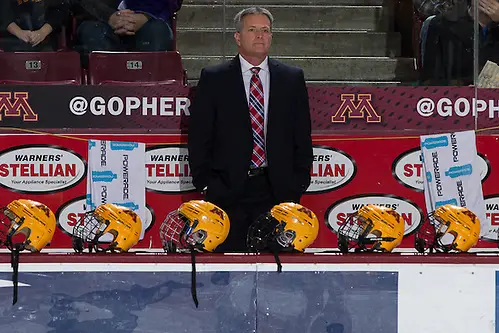 Lucia said that he's always used Michigan as a "measuring stick."
"When I came to Minnesota in 1999, Michigan was on an unbelievable run throughout the 1990s," he said. "It was one of those teams where you said, 'Well, if we're going to be able to win it at the end, we're going to have to beat Michigan.' And then, lo and behold, in 2002 and 2003 we ended up beating them in the semifinals on our way to the title. I always look at Michigan as a measuring stick. They always have elite players and are obviously well-coached with Red and their staff."
Michigan is 3-1 against Minnesota at home in the past four games between the two. When asked what it would take to keep that streak going, Berenson said that he was more focused on his team, not the opponent.
"It's week-to-week and I'm sure Lucia would say the same thing," Berenson said. "Although they're coming off two more competitive-scoring games than we did. Even though we got five out of six points, we gave up 10 goals.
"If we give Minnesota 10 goals this weekend, we're not going to score 12," he added with a chuckle.
Lucia agreed, saying that his goal was simply to leave Ann Arbor in the same position they enter — ahead of the Wolverines in the standings.
"With the youth and how many guys in different situations we have now, our focus is to try and make our own team better," Lucia said. "It still comes down to goaltending, special teams and taking care of the puck as much as anything else.
"Before we beat Michigan, we can't beat ourselves," he added.
Penn State's Scheid suspended
Penn State will be without one of its forwards when it plays Princeton on Friday.
Senior Eric Scheid was suspended one game by the Big Ten for a hit to the head during the final minute of Penn State's game against Michigan State last Saturday.
Scheid has three goals and five assists for the Nittany Lions this season.
Three stars of the week
First star — Minnesota freshman forward Tyler Sheehy: Sheehy's three goals and one assist helped the Gophers sweep Ohio State last weekend.
Second star — Michigan senior forward Justin Selman: Selman had three goals and an assist as the Wolverines took five of six points from Wisconsin.
Third star — Wisconsin sophomore forward Ryan Wagner: Wagner had two goals and three assists for the Badgers last weekend.
B1G in the poll
No. 9 Michigan and No. 16 Penn State represent the Big Ten in this week's USCHO.com Division I Men's Poll.
My ballot
1. Providence
2. Quinnipiac
3. Boston College
4. North Dakota
5. Omaha
6. St. Cloud State
7. Massachusetts-Lowell
8. Harvard
9. Boston University
10. Denver
11. Michigan
12. St. Lawrence
13. Cornell
14. Bowling Green
15. Minnesota-Duluth
16. Penn State
17. Notre Dame
18. Minnesota State
19. Michigan Tech
20. Yale
This week's matchups
Wisconsin at Michigan State (Friday and Saturday, Munn Ice Arena)
Minnesota at Michigan (Friday and Saturday, Yost Ice Arena)
Penn State vs. Princeton (Friday, Pegula Ice Arena)