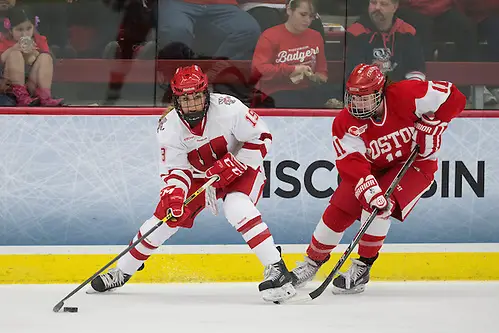 Arlan: ECAC Hockey was full of significant results this week. While the Wisconsin sweep of Minnesota likely has the biggest impact because those teams have combined to win nine of the last dozen NCAA titles and one establishing itself as the best team in the WCHA has national implications, I thought that the Quinnipiac win over Harvard may have been as big as any result that we've seen this year.
The Bobcats haven't had much in the way of success against the Crimson over the years. Harvard made Quinnipiac's NCAA tournament experience last year rather dismal, so even though we aren't talking anywhere near the same caliber of Harvard team at this point, I thought that was a landmark victory for the Bobcats.
The way that Quinnipiac scored the winning goal in overtime is also of note. The play was started by Taylar Cianfarano with a nifty spin move to avoid a defender, and she cut toward the net and put a low backhand on net. Nicole Kosta crashed the net, and knocked the puck loose to Melissa Samoskevich, who buried the rebound. Kosta kind of represents the old guard of Quinnipiac and a link back to the Kelly Babstock teams. Cianfarano is in the top 10 in points per game, ranking a bit above Miye D'Oench, the top scorer for Harvard. Similarly, Samoskevich is outperforming any Crimson rookie. We're used to Harvard being the team with the top offensive talent, but here are a couple of players for the Bobcats with the skill and moxie to make a play with a game on the line.
Just like last year, I expect Harvard to eventually ramp up its play. With each passing week, it becomes more apparent that it likely doesn't have quite as high a ceiling as it did a year ago, but with a strong defense backed by Emerance Maschmeyer, Harvard figures to be a factor before all is in the books.
We haven't talked much about the job that Cassandra Turner has done as interim coach at Quinnipiac, but she and the Bobcats are making it tough for that school to even think about giving the permanent job to anyone else. They are now five points up in the standings, and although Harvard has a game in hand and some other pursuers have more, teams are going to need help to catch the Bobcats, the only team in the race that controls their own destiny. In her comments to the media before the season, Turner said Quinnipiac was going to strive to win championships, and never has that looked more plausible. Do you think the Bobcats can keep it going and earn their first ECAC championship?
Candace: I think it's very likely, yes, and if they do, I don't see how Quinnipiac can't make Turner the coach. Every team in the conference except for Princeton has games in hand, but none are that close. Dartmouth is the next closest pursuer after Harvard, and Quinnipiac shellacked the Big Green Friday, 7-1. Clarkson has two games in hand, but the Golden Knights are in a bad position after losing to Colgate this weekend. Even if the Golden Knights were to run the table in the second half, I don't know if they could make up enough points on the Bobcats.
Looking ahead to the second half, I don't see too many danger games for Quinnipiac. The Bobcats open the second half with games against Yale and Brown. Yale has beaten Quinnipiac once, the Bobcats' only loss, but I don't see the Elis taking Quinnipiac by surprise again, nor do I see Brown managing it. There is a stretch from the end of January to the middle of February where Quinnipiac faces Harvard, Dartmouth, Cornell, Colgate, St. Lawrence, and Clarkson. Even if Quinnipiac only goes .500, there's a decent chance that's good enough to win the conference. If they go 4-2, I'd say the Bobcats capture it for sure.
The one caveat is goaltender Sydney Rossman. She's playing well, with a 1.09 goals-against and a .940 save percentage, and has clearly adjusted to being the starter after being the backup for star netminder Chelsea Laden her first two years. She's also played every game for the Bobcats so far. Can she stay healthy, and can she maintain her level of play without a rest? If I were Turner, I'd be looking to get backup Claire Lachner some minutes, perhaps against Brown, Rensselaer, or Union, or all three. The rest will help Rossman, and it will also be important to get Lachner some playing time on the off chance that Rossman gets hurt.
I really felt that the ECAC had the craziest results of the weekend. Harvard not only fell to Quinnipiac, the Crimson lost in OT Friday to Princeton, 2-1. The Crimson's offense will need to improve. Cornell showed signs of life by beating St. Lawrence Friday, only to get shutout by Clarkson on Saturday. The Golden Knights definitely needed that win after losing in OT to Colgate on Friday, 4-3. The Raiders then followed up that win by beating St. Lawrence, 2-1, on Saturday. The latter particularly impressed me, because often a young team will follow up an emotional win by falling flat in the next game. That the Raiders won the game against St. Lawrence shows to me they may be maturing.
Right now Colgate, Clarkson, and St. Lawrence are tied for fifth in the ECAC, followed by Rensselaer and Yale tied for eighth, and Cornell in ninth one point back of the playoff spot. It should make for a very interesting second half. Do you have any sort of clearer picture than I on the ECAC playoff picture?
Arlan: I'm not sure that there is a clearer picture to be had. The ECAC is starting to remind me of a division in the NHL, where there will be some separation in the records, but it is pretty hard to guess when an upset might occur and if by the end of the season it will still be regarded as an upset. That's a nice problem to have from a competitive standpoint, but it makes it difficult to say with any certainty how it will all sort out.
One thing I find interesting about the ECAC thus far is only Quinnipiac is scoring more than three goals a game in league play, and at 3.20 goals per game, it isn't by much. Conversely, nobody is yielding more than three goals a game. That translates into a lot of close, low-scoring games with unpredictable outcomes.
Colgate makes a nice poster child for the new ECAC. Its games tend to follow a familiar pattern: the Raiders take an early lead, and then the opponent battles back. If they had held all of their two-goal leads, then we'd be slotting them into the national tournament picture. For now, I'm writing that off as just part of being young, but if they start getting more solid defensively, we may have to view them not as a young team, but just a talented one. Colgate is tied with Quinnipiac for fewest losses in league play, so it can be tough to put away, and it has gotten two of the league's tougher travel weekends out of the way, having completed both the Quinnipiac and Princeton trip, as well as the recent one to the North Country. Dartmouth and Harvard remain on the road, but the other formidable weekends will occur on home ice.
Meanwhile, Harvard's offense disappears at inopportune times. The Crimson scored three goals total in the four ECAC games that it has failed to win. Whatever the offensive woes may be, Katey Stone and company now get a month to recharge and try to figure out a solution. They'll need one when their schedule resumes, because they don't have any gimmes in January, and the can't afford too many more misfires before their at-large prospects will dim.
Then there's Dartmouth. The Big Green got off to a promising start, but the trip to Wisconsin looks to have delivered a blow to their confidence, with five straight losses while getting outscored 22-5. In the first four of those, Dartmouth was likely the underdog, but at least earlier in the season, I'd have favored the Big Green even on the road at New Hampshire. However, they trailed for all but about six minutes in falling to the Wildcats on Tuesday, 3-2. That makes Saturday's home game versus Vermont even bigger in terms of ending 2015 on something of a positive note.
The good news for the teams that have hit a rough patch is that just about everyone else has slipped on one as well. Only Brown and Union are truly in dire straits as the break looms. Everyone else is at worst a win away from a playoff spot and two wins could lift that team into being a quarterfinal host. The one negative is that everyone is so tightly bunched that it can be tough to gain ground once the end of the schedule appears. Catching a team or two isn't a problem, because somebody is certain to lose, but they won't all lose.
If we look at ECAC teams that are likely to finish higher in the standings than they are today, I guess the most likely candidates are Cornell and Clarkson, both usually title contenders that have started slowly. However, if I was going to pick a team that might surprise in the second half, I might take Yale. I think the Bulldogs are a team that is better than its current overall record. Whose stock would you purchase now in anticipation of growth in the coming months?
Candace: I still expect both Clarkson and Cornell to make a push. Cornell has shown some signs of life, and I think the Big Red have more potential upside than, say, Rensselaer, so should make the ECAC tournament at the very least. I also believe that Clarkson should be consistent enough to at least make the top four and get home ice. Having said that, the Golden Knights have a pretty brutal January, with Dartmouth, Harvard, Cornell, Colgate, and St. Lawrence twice all on the docket, plus a road set against the Yale/Brown pair to open the second half. The only one of those games I think I could say they will definitely win is the one against Brown.
Clarkson trails Dartmouth by two points for the final home ice spot, but has a game in hand. The Golden Knights are three points behind third-place Princeton with two games in hand, and three behind second-place Harvard (the Crimson are slotted over Princeton by virtue of having played less games) with one game in hand. Clarkson currently owns the tiebreaker against Princeton by virtue of a 3-0 win over the Tigers two weeks ago.
There's a lot of potential for the Golden Knights to make a push. As for Cornell, the loss to Clarkson Saturday hurt, but the Big Red have won four of their last five and are 6-3-1 since starting the season 0-3-1, so I think Cornell can potentially finish top six. It isn't easy, as they start the second half with three straight road games facing Harvard, Dartmouth, and Colgate, but if they can come out of that stretch at least 2-1, expect the Big Red to make the playoffs and possibly move into the home ice picture in the ECAC.
I'm not really sure what to say about Hockey East right now except that no one is going to catch Boston College, barring an epic collapse by the Eagles, and that I'm wondering whether New Hampshire can continue playing well enough to maintain a home ice slot come the Hockey East tournament.
For now, let's move west, where there were some very interesting results. Who would have expected the Bemidji State-North Dakota split to happen with each team winning in the other's barn? St. Cloud showed it might be for real by getting the tie against Minnesota-Duluth.
However, the big result came in Madison, where Wisconsin swept Minnesota for the first time since 2009. After recording an OT win Friday for their first win since 2011 against the Gophers, the Badgers followed it up with a 3-1 win. Wisconsin now controls its destiny, and even if the Gophers returned the sweep when the two play in Minneapolis on the last weekend of the year, it might not be enough for the Gophers to maintain their reign on the WCHA regular season crown unless they get a little help. Wisconsin is off to its best start ever, quite a feat when one considers some of the Badgers' best teams.
Before getting to the other teams, what did you take away from Wisconsin's sweep?
Arlan: Sometimes you'll ask me about a game or series I haven't watched, and I don't have any team reactions, so I don't have all that much to say. In this case, I could fill the rest of our discussion on these teams alone, but given my column this week will focus on Wisconsin in general and Ann-Renée Desbiens in particular, I'll try to limit it somewhat.
I didn't see Friday's game, but from what I heard, both teams played very well, and it came down to who would get a break or make a play to win the game before overtime elapsed. The Badgers were able to do that, with Sarah Nurse forcing the Gophers to commit a penalty, and Annie Pankowski taking advantage of the skater advantage plus a Minnesota player losing her stick to score the winning goal on a deflection. Beyond that, the story of that first game was likely Desbiens and the plays she made to keep her team in it.
Saturday, to my eyes, was more like two different games. Minnesota came out with the determination you usually see from the team that lost the first game, but wound up in penalty trouble after seven minutes, and Wisconsin controlled the majority of the first two periods. Brad Frost after the game said he was disappointed that his team lost its composure over that stretch by worrying about things it couldn't control. The frustration of the Gophers players with certain calls made or not made was visible, and they compounded their problems by committing an obvious penalty or two. That resulted in Minnesota being assessed four of the five penalties being called over the first two periods, and the Badgers used that to take much of the momentum. Brook Garzone beat Desbiens with a shot in the second period that could have tied the game, but it hit the post and stayed out, so Minnesota may have felt like it couldn't catch a break.
I'm sure Wisconsin has felt that way many, many times over the four years where it couldn't beat Minnesota, so now, it was the Gophers who needed to find a way to respond. They did so over the final 20 minutes, and were able to get the game to open up to an extent. Frost complimented the Badgers' ability to lock down the neutral zone, but Minnesota was able to find a few seams and use their speed to generate some things, and that resulted in Sarah Potomak scoring the only goal of the weekend for the Gophers' usually potent top line. Desbiens didn't give them anything else before Nurse hit an empty net. That's the third time this year Minnesota has trailed by two, something it hasn't had a lot of experience doing in recent years. They have rallied all three times, but in Madison, as it did in the Grand Forks, the rally came up short.
The margin between the two teams is very fine, as it was last season, but now it is in a different place. Through her first 10 career starts against Wisconsin, Amanda Leveille was at least as effective as her counterpart in the Badgers' net each time, and usually more so, and that was a big part of why she was 9-0-1 through those starts. Though her first semester may have been subpar, I think Leveille's play this weekend was comparable to what it was versus the Badgers over her sophomore and junior seasons, but Desbiens was better. Minnesota has always had the skater who would step up and make a play to decide the game, but Pankowski accomplished that both days for Wisconsin. Often it has been Hannah Brandt, but until the final period, it didn't look like she was able to exert her will as she could in the past. Whether Minnesota can get more favorable matchups in the February series in Minneapolis or Brandt can heal enough and her line gel to the extent that the balance shifts again remains to be seen, but at least to my eyes, Wisconsin reinforced that it is the best team in the country.
Do you see it that way as well, or are you holding to the belief that BC is the top team?
Candace: I do see it the same way. I voted for the Badgers as top team in my poll this week, putting BC second. Minnesota came into the series with the best offense in the country, averaging close to six points a game. Three of the top five scorers in the country are from Minnesota: Dani Cameranesi, Brandt, and Potomak, while Kelly Pannek is ninth. The Gophers power play is tops in the country as well, averaging an absolutely insane conversion rate of 45.28 percent.
It's often stated in sports circles that a good defense beats a good offense, and we saw that this weekend. Wisconsin has the best defense in the country, giving up only half a goal per game, and the best penalty kill in the country, one that has given up only one power-play goal all season and has a 98 percent success rate. On top of that is Desbiens, the best goalie in the country with a .572 goals-against and a .966 save percentage.
Going into the series, the question I had was how good was Wisconsin's defense in actuality, given that the Badgers hadn't faced anything close to a top offense all year long. I wondered if some of those stats were padded by feasting on teams that struggled to score goals against any team, not just Wisconsin.
This series answered that, and showed that Wisconsin is going to be very, very hard to beat. Minnesota had two power plays in the first game and couldn't score, and then had two more in Saturday's game and couldn't convert. A power play that is used to virtually scoring at will was completely shut down.
I'm beginning to wonder if Wisconsin can match the feat of the 2012-13 Minnesota team that went 41-0. Who is going to beat the Badgers? The only team I can see doing it is Minnesota, and possibly Boston College. Wisconsin has owned North Dakota and Bemidji State, two teams that have troubled Minnesota even when it was rolling over everyone. I guess perhaps North Dakota might find a Wisconsin team prone to a letdown after last weekend when the Fighting Hawks host Wisconsin, but honestly, Mark Johnson is such a good coach that I think he will have his players prepared against that possibility.
Looking to the second half, I don't see any teams that threaten Wisconsin. The Badgers convincingly beat Bemidji once already, and also shut down Minnesota-Duluth, a team they open their second half against. The problem for North Dakota, Bemidji State, and Minnesota-Duluth against Wisconsin is that their strategy is similar to Wisconsin's: shut down the opposing team's offense completely and then get a goal or two. However, Wisconsin does it better than anybody else. A perfect season might come down to the final weekend of the regular season in Minneapolis.
Do you think it's possible Wisconsin could challenge that Minnesota record, and then tell me what you took away from the two 1-0 games the Beavers and Fighting Hawks split this weekend. For me, looking at the WCHA standings as of now, I think the order the teams are in is probably the same order they will finish in, although I could see Duluth and St. Cloud switching spots.
Arlan: I had to laugh at your question, because when I left Madison on Saturday I told Wisconsin SID A.J. Harrison to be prepared for all the questions about an undefeated season to start being asked, and it didn't take long. No coach in the country is more committed to the philosophy of one game at a time, so I can picture just how much Johnson is going to relish fielding the constant barrage of those undefeated-season questions in the weeks to come.
After Minnesota completed that perfect season, Amanda Kessel said that she hadn't thought it was possible to go undefeated, but that the Gophers had made the impossible possible. That season, you started to believe it could happen a lot sooner than I did, and that will have to be the case again. While I give Wisconsin a better chance at winning the NCAA tournament, I think Boston College has a better chance to go undefeated this year than the Badgers do. BC will play a lot of its remaining games against teams that are physically overmatched and have no realistic hope of defeating the Eagles, even if they should happen to get some favorable bounces.
A lot of the stars aligned for Minnesota that season. Wisconsin had one of its weakest teams in Johnson's tenure. Shannon Miller had her only losing season at Minnesota-Duluth. Bemidji State had just graduated Zuzana Tomcikova and other key pieces and won only six games. The big hurdle the Gophers had to overcome that season was North Dakota, who in my opinion was the second-best team in the country, no disrespect to Boston University or Boston College. UND was playing great by season's end and the Lamoureux sisters were on a mission to go out in style. As their triple-overtime game showed, it is tough to beat a great team six times in a row.
Wisconsin may have to do that this year. The Gophers have some defensive shortcomings, but I think they are problems that can be cleaned up. The pieces are there to play a better defensive game than we've seen in recent weeks. The Badgers will have to win twice in Minneapolis to close the season and possibly face the Gophers again in the WCHA tourney. If UW is still perfect, it means that Minnesota would have at least six losses and would likely be on Wisconsin's side of the NCAA bracket. That makes a possible sixth Badgers versus Gophers game likely by the semifinals. Heck, it could even happen in the quarterfinals. If the other WCHA teams beat each other up sufficiently and Minnesota slips to fifth in the PairWise from its current spot at fourth, the selection committee would be only too happy to send Minnesota to Madison to save a precious flight. That shows yet again what a joke the current system is, if the message is, "Congratulations on having an undefeated season and being the top seed, but we can't afford to send the CHA champ there, so play these guys for the umpteenth time instead." At some point, the Badgers would run into the best team from the East, be it BC, Quinnipiac, or some late-blooming club.
Candace: True, and while that triple OT game is one everyone remembers, fewer people remember that Boston College had the Gophers in trouble in the semis, and lost in OT. BC had the lead going into the third period, but gave up the tying goal by Brandt on a power play. When Lexi Bender responded to Becky Kortum's strike with a goal just two minutes later, I started to think the Eagles might pull it out. If Minnesota hadn't gotten the goal early in the OT, I had the thought that as the game went on Minnesota would get tighter and BC would take it.
Speaking of the Eagles, they are also undefeated. Imagine if both Wisconsin and BC met in the NCAA tournament final as undefeated teams. That would generate quite the buzz.
Anyway, back to undefeated teams. I remember first broaching the idea of Minnesota going undefeated sometime in late November. What I saw then is something I see in Wisconsin: a complete team. That 2012-13 Minnesota team had it all: incredible offense led by Kessel and Brandt, a solid defense led by senior defenseman in Megan Bozek and Mira Jalosuo, and an all-world goalie in Noora Räty, one who could stonewall opposing teams.
Wisconsin has impressive offensive players like Pankowski and Emily Clark, a senior defenseman in Courtney Burke who anchors an experienced defense, and an outstanding goalie in Desbiens.
What Wisconsin faces though to stop it is something Minnesota didn't have: an outstanding rival team. Minnesota this season is better than either North Dakota or Wisconsin were the year that the Gophers went undefeated. Wisconsin also might have to contend with a Boston College team that is very experienced as well, and I think better than the BC team that threatened Minnesota's perfect season.
Arlan: When you look at the personnel of the Badgers this year versus Minnesota three years ago, Wisconsin compares well in a lot of spots. Where I think the Badgers aren't quite as strong is on the blue line. They don't have the size of that Minnesota team, nor are they as deep. When Milica McMillen got a game misconduct in the second period of that marathon North Dakota game, the Gophers were able to just keep rolling the five defensemen they had left with confidence in all of them for another four periods. Johnson said that Jenny Ryan played about 30 minutes on Saturday, and if you have to rely on one or two defensemen that heavily, it starts to take a toll. I think we saw that from Blake Bolden for BC in that semifinal that you mentioned; she started to wear down in the third period and had little left for overtime. Perhaps Wisconsin will get Maddie Rolfes back from injury at some point, and that will help the depth.
There are a number of other potential pitfalls for the Badgers. They have to go to Bemidji State, which is a tough place to play. If the Beavers ever get a lead, they are as difficult as anyone in the country to come back against, probably even more challenging than Wisconsin, which is saying something. BSU has trouble scoring, but it might only take one bounce.
There is also bound to be that game where the Badgers just aren't quite as sharp as usual and some opponent takes advantage. Will they be able to wriggle off the hook like Minnesota did in overtime versus Bemidji State in 2013? St. Cloud State, for example, is a team that has caused Wisconsin more problems than expected over the years.
I'd say that an upset this weekend in Grand Forks is possible, because North Dakota has managed to play one really good game every weekend, but Meghan Dufault didn't play versus Bemidji State. Apparently, that was a coach's decision, and if the coach decides she's out of the lineup again, then I really don't like the Fighting Hawks' chances. They need Dufault with Becca Kohler and Amy Menke to give them at least one top scoring line that can scare the Badgers. Not that it made much difference against the Beavers, as UND scored one goal over two games just like it did the first time.
You mentioned that it was unexpected that each team would win in the other's building, but Grand Forks and Bemidji are only separated by a drive of a couple of hours and have developed a passionate rivalry. If you're only going to have one goal scored per game, it's almost a coin flip to decide who scores it. Kohler capitalizes on a power play in Bemidji; Kristin Huber makes a nice play to gain a split for the Beavers. Everything else boils down to defense and goaltending.
As for St. Cloud State, I get another look at the Huskies on Friday, so I'll be interested to see how they've developed, particularly offensively.
Connecticut was able to get its offense going a bit against Boston University. Is that a sign that those Huskies are finding some offense, or just more evidence that the Terriers continue to be vulnerable defensively?
Candace: I think more the latter. Connecticut has shown some improvement offensively, but those goals came against Merrimack and BU. Previous to that, they were blanked by Quinnipiac. I still think for Connecticut, it will be defense that wins. Luckily, the Huskies have Elaine Chuli in net. She'll need to be super on her game when they resume play in January, because the Huskies start their second half against the other Huskies, Northeastern. Kendall Coyne's production has fallen off a little, but she's still averaging over two points a game.
Looking at their second half, Connecticut's fate in the Hockey East tournament may come down to the final weekend of the regular season, a home-and-home with New Hampshire, which used the win against Connecticut in early November as a springboard. After losing twice to Boston College and once to Harvard, New Hampshire has since gone 5-1-1 after beating Dartmouth last night. The Wildcats also start with a tough second half, opening with a home-and-home with Northeastern.
Back to Boston University, the Terriers continue to struggle defensively. Erin O'Neill has a 2.92 GAA, while Victoria Hanson's is 3.52, both terrible numbers. Their save percentages are right around .900 as well, not stellar. The team defense ranks 26 nationally out of 36 teams, a number that clearly won't get it done. I don't know if the trouble is that the forwards aren't backchecking or the goalies are struggling. The defense is experienced, with three seniors and a junior playing regularly, and you would think they would know what needs to get done. Brian Durocher usually has his team playing better defense than that, and he will need it, as the Terriers' first game of their second half is against the high-flying Eagles.
Robert Morris also proved a puzzle this weekend. I thought Jessica Dodds was back to her old self, but the Colonials gave up four goals in each game against Mercyhurst. The Lakers are in pretty good control of the CHA right now, with Syracuse nipping at their heels. However, Robert Morris and Lindenwood are farther back and it will be hard for the Colonials to catch Mercyhurst. Robert Morris had rallied to take a 4-3 lead in the third of the tie game Saturday, only to give up a goal to Megan Whiddon with seven minutes left.
It certainly seems like the new boss of the CHA is the same old, same old, regardless of its early struggles.