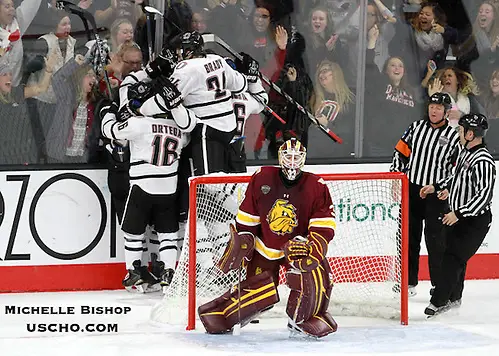 As the halfway point of the 2015-16 season nears, NCHC directors should be reasonably happy with what they've seen, all things considered.
The league isn't as dominant in the college hockey landscape as it was last season, but repeating that would've been difficult. Six NCHC teams qualified for the NCAA tournament last season, but while only three are in such spots for now, Omaha, St. Cloud State and North Dakota make up the Nos. 3, 4 and 5 spots in the PairWise Rankings.
After those three, Denver (tied for 18th) is knocking on the door. Like the Pioneers and the other teams above them, Minnesota-Duluth (24th), Miami (tied for 30th) and Colorado College (58th) all have plenty of time to improve their respective stations.
The first few months of this season have brought up plenty of talking points from around the league. What follows are five that stand out to us.
Mavericks turn Baxter Arena into fortress
A lot of hype surrounded Omaha at the start of this season, and for good reason. After making their first Frozen Four trip last spring, the Mavericks were set this fall to open their new Baxter Arena home.
So far, sixth-ranked UNO (12-3-1, 4-3-1) is a perfect 6-0 in its new home. Minnesota-Duluth, Air Force and Ohio State all fell twice at Baxter Arena earlier this season.
What's even better from the Mavericks' perspective is that they're also holding a perfect record in nonconference play. Two home wins over Arizona State this weekend would see Omaha finish a perfect 10-0 this season in official games outside of NCHC play.
Fighting Hawks keep winning no matter who's in net
With a pair of shutout victories at Minnesota-Duluth last weekend, North Dakota ended the 2015 portion of its schedule three points clear at the top of the NCHC standings. The recently branded Fighting Hawks (16-2-2, 9-1 NCHC) have won each of their past six games and have won 15 times in their last 17 outings.
Much of the credit for that goes to UND's goaltending corps. It seems that, no matter who's in net for the Hawks, the team keeps on doing well.
Sophomore Cam Johnson is on a 138:38 shutout streak and is 6-0 since coming back three weeks ago from an injury. Oft-perceived understudy Matt Hrynkiw was solid early in the season, going 9-2-1 in 12 outings and posting a .911 save percentage.
Lindgren impresses in SCSU's net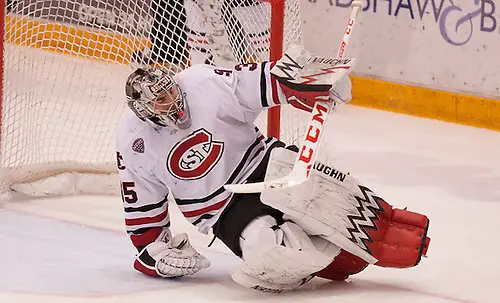 One of the few teams to stop Omaha in its tracks so far this season was St. Cloud State. A big part of the Huskies' success thus far can be attributed to excellent play from junior goalie Charlie Lindgren.
Lindgren is 13-4 in 17 appearances, and his .925 save percentage has provided stability for SCSU (14-4, 8-2) in the Huskies' end of the ice. Through 10 league games, Lindgren's save percentage is just .001 behind that of Minnesota-Duluth's Kasimir Kaskisuo.
College hockey fans who have already opened their 2016 calendars should circle Jan. 15-16. It's then that Lindgren and Kaskisuo's teams will meet in Duluth for a potentially key series.
Miami experiences bumpy first half
Much farther down the NCHC standings than many predicted is seventh-place Miami, which recently finished the first half of this season with a 5-9-2 overall record and a lowly 2-7-1-1 mark in league play.
There have been some bright spots for the RedHawks, the nation's best penalty-killers having negated all but four of opponents' power-play chances so far. Miami is still shipping 2.88 goals per game, however, and their 2.06 goals per outing aren't cutting it.
The RedHawks are in the early stage of a nearly-month-long holiday break. They will hope to get some momentum rolling starting Jan. 2-3 when Rensselaer comes to Oxford, Ohio, for a nonconference series.
Western Michigan shows faith in Murray
Although Western Michigan recently underwent an eight-game losing streak, Broncos officials haven't wavered in their loyalty to coach Andy Murray.
Western snapped that skid last Friday with a 7-3 home win over Colorado College before beating the Tigers again on Saturday 5-3. After Friday's victory, Broncos athletic director Kathy Beauregard professed her faith in Western Michigan's bench boss, who signed a contract extension through 2018-19 in the offseason, the Kalamazoo Gazette reported.
Murray is halfway through his fifth season in Kalamazoo. His first was his best to date, with the Broncos finishing their 2011-12 season with a 21-14-6 record and a CCHA tournament championship.
Western Michigan (6-10-1, 4-6) hopes to build on its modest winning streak Dec. 30 in a nonconference tilt against former CCHA rival Bowling Green.
Players of the week
Offensive player of the week — Kalle Kossila, St. Cloud State: The senior forward picked up five goals last weekend — after scoring only three all season before last week — in a sweep at Denver. Half of his 10 shots on goal against the Pioneers hit the back of the net.
Defensive player of the week — Ethan Prow, St. Cloud State: Prow also had a big weekend against Denver. The senior blueliner posted four assists in the two games and finished the series with a plus-5 rating.
Rookie of the week — Griffen Molino, Western Michigan: The forward had a career weekend in a home sweep over Colorado College. Molino picked up three goals and four assists in Western's pair of wins over the Tigers.
Goaltender of the week — Cam Johnson, North Dakota: The sophomore extended his shutout streak to 138:38 last weekend during a pair of victories at Minnesota-Duluth. Johnson is now a perfect 6-0 since returning to the Fighting Hawks' lineup three weeks ago after being sidelined with an injury.