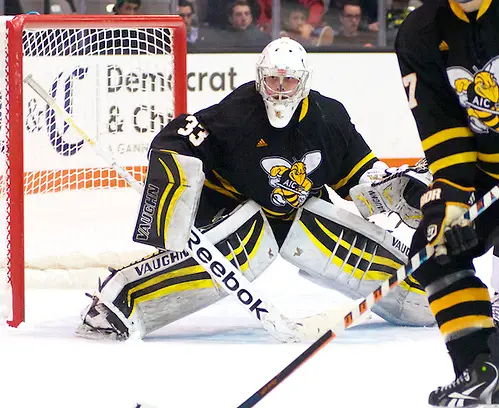 There's a youth movement going on in Atlantic Hockey. Four teams have 10 or more rookies on their roster, and six squads have at least 17 underclassmen, including a whopping 21 at Mercyhurst and 20 each at Canisius and Air Force.
American International has nine freshmen, including seven that play consistently. A fairly large group of sophomores also play pivotal roles, including goaltender Alex Murray.
It's taken a while for the group at AIC to jell, but things are coming together for Gary Wright's team. After opening the season with eight consecutive losses, the Yellow Jackets (5-13-1) are 3-0-1 in their last four games after sweeping Army before the holidays and taking three points from Canisius last weekend.
Wright, in his 32nd season at American International, said recent success has been a result of a young group getting acclimated and the emergence of Murray in net.
"We had a pretty challenging schedule to start," Wright said. "Alex Murray has been tremendous, and his play has permeated through our whole lineup."
Getting some wins under their belts has obviously helped. Before its most recent unbeaten streak, AIC collected some road victories, including one at first-place Robert Morris.
"Even before the Army series, we had pretty good trips to Niagara and Robert Morris," said Wright. "We were able to stay the course during the first semester and keep reminding them that we have a respectable team.
"Alex's play has been a difference-maker."
Murray has been rock steady for the Yellow Jackets, playing 855 minutes to date — second in the league — and posting a .914 save percentage, good for seventh-best in the AHC. He stopped 70 of 72 shots last weekend against Canisius. It was the first time AIC has won a weekend series against the Golden Griffins since the 2007-08 season.
Up front, local product Austin Orszulak's seven goals is off his pace from a year ago when he tallied 22, but still good enough to lead the team. Picking up some of the difference is sophomore Jackson Dudley, whose six goals so far is already triple his output from last year.
"Jackson Dudley's play has elevated him to the first line," said Wright. "We've had some players that have come on so far, and having a better power play has helped."
Unlike the rest of the league, American International still has a handful of nonconference games left, including a visit from Massachusetts-Lowell in February.
"Lowell coming here is pretty special," said Wright. "We also are playing UMass at the Mass Mutual Center [in downtown Springfield, Mass.].
"It's a little unusual to have those Tuesday [nonconference] games sprinkled throughout the schedule. It means a short time to be prepared to play those games, but we like the challenge."
AIC sits in ninth place, but only three points out of fourth. Now that the calendar has turned to January, everyone is keeping closer tabs on the standings.
"I always follow them, and since we're starting to play better I've started to follow them a little more closely," said Wright. "They're more fun to follow when you're doing well."
Goalies back, goalie lost?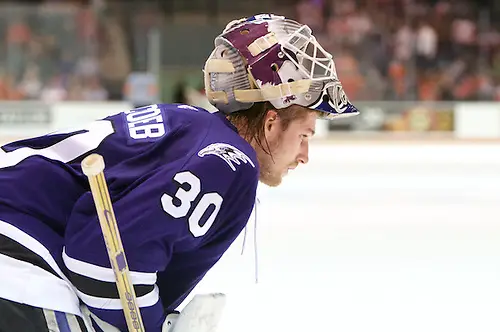 A pair of teams recently got their starting goalies back after extended time missed due to injury, albeit with limited success so far.
At Niagara, Jackson Teichroeb made a successful debut on Dec. 11 with a 24-save shutout at Rochester Institute of Technology after missing the first 14 games of the season due to injury. But he suffered a pair of losses last weekend at Sacred Heart.
Bentley starter Jayson Argue missed nine games after getting hurt on Nov. 13 and returned to the net last Saturday at Air Force. He made 29 saves in a 3-2 loss.
RIT's Mike Rotolo had to leave Sunday's game at Mercyhurst after a collision with Lakers forward Lester Lancaster, who was assessed a penalty on the play. Freshman Christian Short picked up the win in relief for RIT. Rotolo's status is uncertain.
The big house
Despite DCU Center being only three miles from the Holy Cross campus, the Crusaders have played only two games at the downtown former home of the AHL's Worcester Sharks.
The Sharks moved to San Jose at the end of last season, leaving a hockey void in Worcester. So Holy Cross entertained Princeton at the DCU Center last Saturday, winning 4-3. The Crusaders last played there in 1983, shortly after the building opened.
With the win, Holy Cross extended its unbeaten streak to eight games. The Crusaders' 11-6-1 start is their best since the 2005-06 season that saw Holy Cross win the league and register a historic win against Minnesota in the NCAA tournament.
Nonconference woes a little less woeful
The league was just 10-40-3 in league play going into the holiday break, but posted some quality wins as the calendar turned over.
Boosted by Robert Morris' victories in the Three Rivers Classic over then-No. 14 Penn State and No. 8 Massachusetts-Lowell as well as Army's win over No. 20 Merrimack, the league was a respectable 4-4 over the holidays.
Weekly awards
Player of the week — T.J. Moore, Holy Cross: The sophomore had his first career hat trick in a 4-3 win over Princeton. His nine goals ranks second on the team.
Goalie of the week — Brett Magnus, Sacred Heart: The rookie led the Pioneers to a first-ever sweep of Niagara, stopping 75 of 76 shots on the weekend. He's second in the league in GAA (2.32) and third in save percentage (.922).
Rookie of the week — Gabe Valenzuela, RIT: Valenzuela dished out four assists — one on Saturday and three on Sunday — in the Tigers' sweep of Mercyhurst. His 12 points are tied for second on the team and tops among RIT freshmen.
Defensive player of the week — Chase Norrish, RIT: The sophomore had a goal and five assists last weekend, the best for a Tigers defenseman since 2009. Norrish was returning from an injury that kept him out of the lineup for a month.