As the second half of the 2015-16 season begins, nearly the entirety of the Big Ten season stretches before us. It's an interesting dynamic.
Last week, Drew Claussen took a good look at the way the remaining schedule may work for each team. I'd like to add a few observations to his as we begin the second half.
To capture the league, the Golden Gophers will need to be consistent.
Minnesota ended the first half of the season with a road split against Michigan on Dec. 11-12, an 8-3 loss followed by a 3-2 win. The good news — beside the win — is that the Golden Gophers scored three goals in each game. That's solid. That's consistent.
More good news: the ability to bounce back from a loss in which three Minnesota goaltenders saw playing time — "Not a good thing," as coach Don Lucia observed himself after the 8-3 game — and in which the Gophers surrendered six goals in the final 30 minutes of play. To limit what was then the nation's top offense to two goals the following night was also good news.
In the Mariucci Classic, the Gophers again netted three goals in each game, and have done so in five of their last six. Minnesota has yet to put together three consecutive wins and the Gophers have swept one opponent this season, Ohio State.
Nine freshman and sophomore skaters have played 14 or more games for Minnesota, and the Gophers are relying on freshman Eric Schierhorn as their starter in net. After half a season, this team had better demonstrate that it is seasoned — or be prepared to watch someone else earn the Big Ten title.
To capture the league, the Wolverines will need to be road warriors.
Forget the fact that Michigan needs more solid netminding and more consistency in all-around team defense. The Wolverines have 16 league games left and only five of them will be played in Yost Ice Arena.
Michigan has back-to-back games at neutral sites, a Jan. 30 game against Penn State in Madison Square Garden followed by the Feb. 5 game versus Michigan State in Joe Louis Arena. That means that nine of the Wolverines' 16 remaining Big Ten games will be played in opponent arenas.
To capture the league, the Nittany Lions will need to keep on keeping on.
Penn State has a very interesting second-half schedule, with seven home games, 10 games in opponent arenas, that match in Madison Square Garden and every contest counting for Big Ten points.
The Nittany Lions have just three losses so far this season, two to ranked teams — Notre Dame and St. Lawrence — and one to an in-state rival that has bitten them before in nonconference play, Robert Morris.
Penn State has the second-best offense in the country (4.39 goals per game) and the 20th-best defense (2.44), adding up to the fifth-best scoring margin nationally. That is the kind of game that Guy Gadowsky wants to play: a fast offense that takes chances knowing that any mistakes can be mitigated by even more goal scoring. The Nittany Lions take very few penalties and score seemingly at will on the power play (28.9 percent).
The Nittany Lions can rotate two very competent goaltenders — junior Eamon McAdam (2.35 GAA, .923 save percentage) and senior Matthew Skoff (2.45, .914) — an advantage that no other team in the Big Ten has.
To continue to improve, the Badgers need to keep believing in their own redemption.
At the start of the season, coach Mike Eaves said that his seniors were bent on redemption this year, and the improved play of Wisconsin seems to bear out their commitment to the concept.
Even though the Badgers have just four wins this season, it seems as though they are this close to getting over a barrier that prevents them from more success. Three of their seven losses have been by a single goal (or a goal plus an empty netter), and the Badgers have five ties to their credit. I'm no mathematician, but four wins plus five ties is more than seven total losses.
To become competitive again, the Spartans have to remember how they played before Nov. 22.
Through Nov. 22, Michigan State was 4-5-2 and averaging 3.36 goals per game. Since then, the Spartans are 1-8, averaging 1.44 goals per game.
Troubling, too, is the season that senior goaltender Jake Hildebrand is having. In his first three years, Hildebrand combined for a .927 save percentage; this year, it's .903. He looked fantastic in the early going and has struggled as the season progressed.
Hildebrand isn't the reason for the Spartans' decline over their last nine games. There are plenty of players who aren't scoring goals who should be, and overall Michigan State's team defense seems to have become disjointed.
To climb the ladder, the Buckeyes need to figure out who they are — and then show the rest of the league.
Who is this Ohio State team? The team that began the season with a seven-game losing streak or the team that has shown so much promise in its last four games?
The Buckeyes ended the first half with two losses in Minneapolis, but Ohio State took Minnesota to overtime in each game, watching a two-goal lead evaporate in third period of the 3-2 loss on Dec. 4 before scoring two goals late in the third to send the game into overtime of the 5-4 loss the next night.
And just look what the Buckeyes did in Florida on Dec. 28-29. As the only unranked team in the Florida College Hockey Classic, OSU overcame a two-goal deficit to defeat Boston College 3-2 before destroying Cornell 8-0 for the title.
The Buckeyes have that potentially explosive offense, but — like other teams in the league — consistency is a problem.
Steps forward at midseason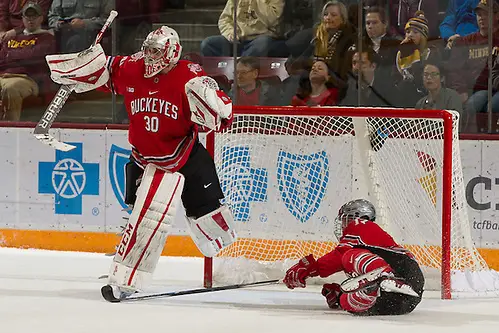 Two Big Ten teams took midseason tournament titles, two more had a single win in their tourneys and one won in exhibition play. One team lost two. More on them in a moment.
I don't think that Ohio State's accomplishment in Florida can be overstated. Not only did the Buckeyes add just their fourth and fifth wins of the season in taking the Florida College Hockey Classic, but Ohio State beat a Boston College team that was No. 4 in the country at the time and No. 9 Cornell. As the Buckeyes are not a team under consideration in the PairWise Rankings, it's hard to see this as a blessing to the rest of the Big Ten — but it is, if only to show B1G teams that they can be competitive against stronger conferences.
Winning a midseason tournament also can propel a team in the second half. The question is whether that will happen for Ohio State. After beating Cornell, coach Steve Rohlik said that he was proud of his team's play in the tournament and added to the Fort Myers News-Press: "We believe in ourselves. It's one game. We'll enjoy these wins but then we'll get back to work."
The other Big Ten team that took home a midseason title is Michigan, which captured its 17th Great Lakes Invitational championship with a 3-2 win over Northern Michigan and a 4-2 win over Michigan Tech.
The Wolverines were down 2-0 to Michigan Tech after the first period of the title game but scored three in the second period and added an empty-net goal. After the game, JT Compher talked about the confidence this Michigan squad has, even when it's down.
"I think we've always had this calmness about us that, even when we don't start well, we know we can come back later in games or in the middle of games," said Compher. "We've done it a couple of times this year."
Michigan has been known to use a GLI title or two to begin to build momentum for a second-half run, but this year, the Wolverines need only to keep scoring goals and solidifying their defense to compete for the Big Ten crown. Aside from their ability to score goals and their overall confidence, another factor working in Michigan's favor is the return of senior goaltender Steve Racine, who was out of commission for the month before the GLI with a lower-body injury. Racine had a solid .939 save percentage in the two games.
"It feels great, getting back in there and helping the team win," said Racine. "The GLI is always fun for us. It's a hard tournament and the last two years, coming out of a victory, it always feels good."
In 2014-15, the Wolverines were 8-7 heading into the GLI. After winning the tournament, Michigan went 10-7, and their two GLI wins began a seven-game win streak for the Wolverines. Michigan finished last season 22-15; the Wolverines are already 11-3-3 this season.
Minnesota and Penn State are the two teams that earned single victories in midseason tournaments. The Gophers beat Connecticut 3-2 in the first game of the Mariucci Classic before losing to ranked Harvard 4-3 in the title game. From what coach Don Lucia said after the loss to Harvard, the tournament was a good barometer for the Gophers.
"Sometimes there's a difference between effort and execution," said Lucia. "All year, the effort's been there but at times it's making a pass, it's making a play and that's the difference between maybe setting up a scoring opportunity or fumbling it into the corner or missing the net. We still have some of those ongoing issues."
In the Three Rivers Classic, the Nittany Lions lost 6-4 to Robert Morris before beating Clarkson 5-1 in the consolation game. Against the Colonials, said Penn State coach Guy Gadowsky: "We did a lot of great things offensively. We had 56 shots on net and some great opportunities, but what we didn't do was keep track of our odd-man rushes, and that's something we did against Clarkson."
Gadowsky said the Nittany Lions didn't have the energy against Clarkson that they had against Robert Morris but didn't give up "huge odd-man rushes against" in the Clarkson game.
"It's nice to have a couple of games under your belt before you get back into Big Ten play, for sure," said Gadowsky.
He said that the Nittany Lions are "a lot further ahead" than they expected to be at this point of the season. "I think the reasons for that are that the freshmen have jelled into the team. I think that's been a big help for the locker room, and as well we've had great goaltending the first half. Any time you have a great locker room and you have great goaltending, good things are going to happen."
Wisconsin tuned up with a 1-0 exhibition win over Trinity Western on New Year's Day, and although the game didn't count in any real way, Eaves said that it was what the Badgers needed before beginning the second half.
"We were playing another opponent, we get to be in the Kohl Center, which was huge to get back to the big ice, and having referees and the pressure of the game, I think it was the best medicine for us," said Eaves. "We got the next day to go out and work on things we didn't do well and work at things we needed to, so I think it was very beneficial."
The only team that didn't pick up a win of any kind during midseason play was Michigan State, which saw two heartbreaking overtime losses in the Great Lakes Invitational. In the 3-2 loss to Michigan Tech in the first game, the Spartans led until the Huskies tied it up at 18:34 in the third. In the 2-1 loss to Northern Michigan, Michigan State was up 1-0 until the Wildcats tied the game at 15:45 in the third.
That is an inauspicious start to the second half for Michigan State, a team that is probably looking for more than a few answers this week as it prepares for a home-and-home series against Michigan.
Three stars of the week
Not a forward in the bunch this week.
First star — Ohio State junior goaltender Christian Frey: Frey was named the Florida College Hockey Classic MVP for his .966 save percentage and 1.00 GAA as the Buckeyes beat Boston College 3-2 and Cornell 8-0. His win over Cornell was his first career shutout and the two wins were his first two wins of the 2015-16 season, period. This is his fifth career weekly Big Ten award and the first for him this season.
Second star — Michigan junior goaltender Steve Racine: Racine had a .939 save percentage and 3.00 GAA as the Wolverines earned their 17th Great Lakes Invitational title, which gave him a place on the all-tournament team. This is his fifth career weekly Big Ten award and his second this season.
Third star — Penn State senior defenseman Luke Juha: Juha scored a goal and had an assist in Penn State's 6-4 loss to Robert Morris in the Three Rivers Classic and had two assists in the 5-1 win over Clarkson in the third-place game, tying him for the Big Ten lead in points for the week with four. He earned a spot on the all-tournament team for his efforts. This is Juha's first career weekly Big Ten award.
My ballot
For what it's worth.
1. North Dakota
2. Quinnipiac
3. Providence
4. Omaha
5. Boston University
6. Boston College
7. St. Cloud State
8. Harvard
9. Michigan
10. Notre Dame
11. UMass-Lowell
12. Yale
13. St. Lawrence
14. Cornell
15. Bowling Green
16. Penn State
17. Denver
18. Minnesota State
19. Michigan Tech
20. Robert Morris