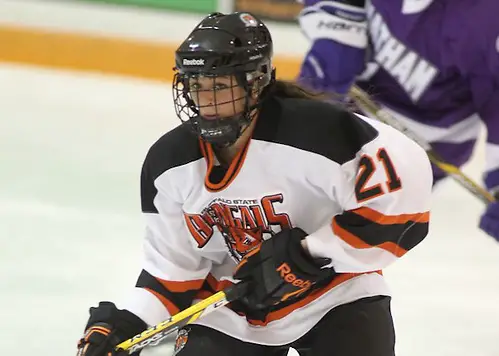 If you're a Buffalo State opponent, it's probably best not to go on a power play against the Bengals.
Especially with Erin Gehen on the ice.
Through the first half of the season, Gehen leads all of Division III women with five short-handed goals; no player in D-I has more than three, and just one player in the D-I or D-III men's ranks has five (Robert Morris' Zac Lynch).
Ask the sophomore from nearby West Seneca, N.Y., though, and she takes a coy approach to the unique stat.
"My short-handed goals came because of the work my teammates do on the penalty kill," said Gehen. "I work hard to be in the right place."
Gehen also has posted two power-play goals and two even-strength goals among her 12 points in 10 games thus far for the 8-3-0 Bengals, who also sit in a second-place tie with No. 2 Elmira in ECAC West play with a 6-2-0 mark. She recorded hat tricks in the season opener Oct. 30 at Nichols and on Nov. 20 at home against Chatham.
"Playing as a team has been the key to our team's success," Gehen said. "We are very close on and off the ice, so we tend to push each other harder. There is always room for improvement, and that is what myself and the team are working for.
"I feel that we are going to come out strong the second half of the season and stay consistent with that."
The Bengals head to Canton for a pair of nonconference games this coming Saturday and Sunday. In the past three games, Buffalo State has been shut out each time, last scoring a goal in a 4-1 win over Chatham on Nov. 21.
Being as local as one can get to Buffalo State, that was one of the attractions Gehen had to joining the program in 2014 as a freshman out of the Cazenovia Chiefs amateur program.
"When I talked to Coach (Candice) Moxley, I immediately knew Buff State was a great fit for me," said Gehen. "I really liked everything she had to say about the program. I have a great thing here. Besides playing on a great team with good friends, I get to stay close to home and keep the support of my family and friends."
Just a sophomore enjoying college life, Gehen is pursuing a business degree and admittedly isn't certain where that will take her after school.
"I am not sure what I will do when I graduate, but I know I want to stay in Buffalo and find something I love to do," said Gehen.
NOTEBOOK
With a perfect 12-0-0 record, Plattsburgh started 2016 where it left off in 2015 – the top-ranked team in the USCHO.com Division III Women's Poll. … Trinity won the annual Codfish Bowl with a 3-1 win Tuesday over Massachusetts-Boston. Endicott beat Canton 3-1 in the consolation game. … Holy Cross toppled then-No. 8 Castleton to win the Rutland Herald Invitational on Sunday with a 4-1 victory. Colby blanked Manhattanville 2-0 in the third-place game. … In a weeknight battle between ranked teams, new No. 8 Middlebury edged No. 3 Lake Forest 2-1 Tuesday night as Anna Van Kula's goal 7:57 into the third period snapped a 1-all tie and stood as the game-winning tally. … Plattsburgh sophomore Kayla Meneghin is the lone player to average two points per game as she has compiled 11 goals and 24 points in 12 games for the Cardinals.