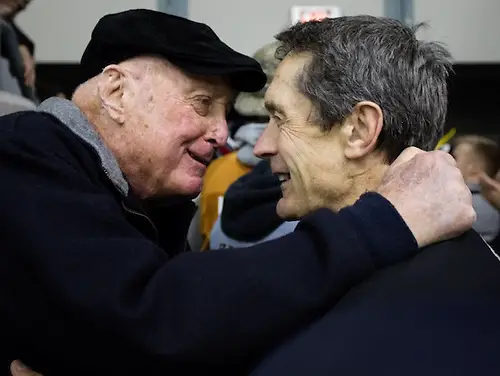 Prior to the season when Bowdoin head coach Terry Meagher announced that this season would be his last behind the Polar Bear bench, the typical questions abounded.
"Do you have any regrets?"
"What would you do differently?"
"What is your favorite memory?"
Those typical questions don't apply very well to a hockey coach who is focused on the now and future of the program. A coach whose primary focus was and continues to be doing things the right way and continuing his focus on his team and his school – the two constants in a 33-year partnership that certainly has Bowdoin among the most respected traditions for excellence at any level of college hockey.
"There was always a lot of thought in making this decision," said Meagher. "There was a lot to factor in the decision and process, but first and foremost, it started with the team that is here and the kids being recruited to come here. I could not, would not in good faith, be able to recruit a student athlete to our school/program without disclosing the fact, if I knew, that this season was to my final one. Knowing that fact made it of utmost importance for full disclosure to the great kids on this year's team and the future students coming to learn and play at Bowdoin next season and beyond."
While he says about every team he has that "this group is special," Meagher is truly savoring each and every moment in this final season with his young and upcoming team and final senior class. The three-week window post-holidays where classes are not yet back in session is a time the coach and his team relish. "Practicing like the pros" at 1 p.m. and using "Arts and Craft" sessions to work on individual skills and offensive moves are all just part of the on-ice comraderie that Meagher creates, permeates into each session and builds off as a launching pad to a successful second half of the season.
"We are young and I guess a lot of teams say that, but we have gone through some valuable learning processes in the first half of the season that should now start to help us win games and compete in this very tough conference [NESCAC] in the second half," said Meagher. "We expect to be a tough out for anybody this half and hopefully, we will be able to better align the timely goals with the timely saves and make a run. Build a little momentum and success – get hot for a good stretch – and who knows where this team can go. I do really like this group and think they have a lot of potential. This stretch of practicing and focusing on just the hockey is great and a lot of fun – we are ready to play everyone starting with a tough Amherst team on Friday night."
Never one to draw a lot of attention to himself, Meagher is uncomfortable with the thought that this season is in some ways a farewell tour. He reminded this writer of his "annual entering the season analogy" of entering the season like going underwater in a submarine where all outside distractions are kept at bay.
Right now, he is focused on running silent and deep without any reason to look out the periscope.
"I am in the submarine," laughed Meagher. "I am just having fun with this group and focused on the remainder of the season and being the best team we can be. Don't plan on coming to the surface for as long as we can go, so we are just staying focused and in the moment."
One of the moments that certainly has been cherished and already impacted the coach in his final season has been Meagher's final installment of the Bowdoin/Colby rivalry.
"It was really special, noted Meagher. "I really respect Blaise [MacDonald] and what he is doing with the Colby program and the games are always so intense for everyone involved from the alumni on down to the students and the teams. It has been a privilege to be part of this rivalry for so long and a greater privilege to have shared it with Sid [Watson] for 57 years here at Bowdoin.
"It was all great with the grandkids there and part of it but what was really special was to have Coach Kelley and Coach Parker there as part of the Bowdoin/Colby weekend. To be a part of the Kelley/Parker coaching tree is something I treasure as part of a very special fraternity involved with a great game and great traditions. I am very proud to be part of that coaching tree and to have them there as part of the weekend meant so much to me in my final Bowdoin vs. Colby weekend."
MacDonald was also an assistant to Parker at BU at start of his coaching career.
While the coach and his team are focused on the tasks at hand and the upcoming second half schedule in a very competitive NESCAC conference, the future of the program and his role in creating the transition is as important to the coach as the on-ice activities are.
"I think the program is in great shape for the future," stated Meagher. "We have great kids here to carry the program forward and I am really enjoying my working with assistant coach Jamie Dumont, who is a real up-and-coming young coach in college hockey. We hopefully have a long way to go in this second half, so I am not looking for the submarine to surface anytime soon.
"I am just going to enjoy the ride with this group and see how far we can go before the voyage is over."