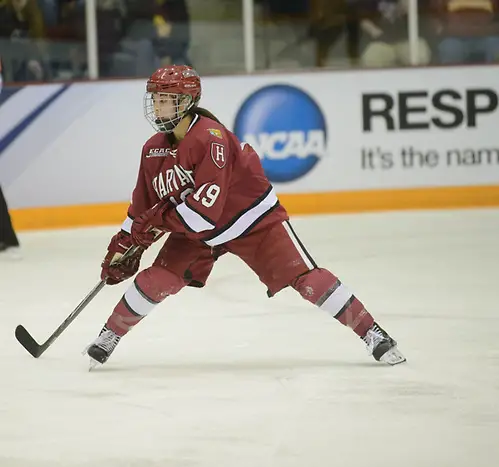 Candace: Well Arlan, the second half has kicked off in earnest, and there have been a few scares here and there and a couple of minor upsets, but for the most part, things in 2016 have started much the way they ended in 2015. Let's start with the top team in the country right now. Boston University threw a scare into Boston College Saturday, but the Eagles pulled it out. It's just the sort of game the Eagles might have lost last year, one where they fell behind in the second period and would have panicked after giving up a goal at 19:32 of the first and another just 1:05 into the second, the latter short-handed. However, BC righted ship, led by Haley Skarupa. Who would have thought we would see a box score where BC scores four times and Alex Carpenter doesn't have a single goal? On the other hand, it has to be nice for Katie Crowley to see her charges get a lot of solid production from the second line.
The Eagles play a home-and-home against Merrimack this weekend and then face their next test right after that, a game against Harvard on the road. Considering the Crimson were responsible for two of BC's three losses last year, is the BU game a sign of a chink in the armor that the Crimson will exploit?
Arlan: From what I've seen of BC, it's very similar to the team we saw last year. The Eagles would grade out as an A or A+ in a lot of areas. Team speed, transition game, forecheck pressure, ability to possess the puck — they're super across the board in such categories, and that's why they're the dominant team we've seen over the last season and an half. The power play looks much improved numerically; I'd guess that's been an area of emphasis. I haven't seen enough of it in action to know how likely it is to remain as potent as it has been so far.
The one area where BC may not be quite as strong as a year ago is that it seems it is more dependent on Carpenter and Skarupa than it was then, at least through the first few months of the season. Perhaps that was in evidence down the stretch last year. There are a lot of people putting up a lot of points, but for the most part, Carpenter and/or Skarupa are in the middle of most of the threats. We've seen a bit more line juggling from BC this year. Carpenter and Skarupa started on different lines, then Crowley put them back together, and now they were separated against BU. There will be a lot of games over the next couple of months where it won't matter. Together or separate, the Eagles are going to win either way. They're just superior to their opponents. They know it, the opponent knows it, so it's just a question of when they win the game, not if.
BU in the last couple of games has at least been able to keep it interesting, but I have yet to see an indication that the Terriers will be able to stop BC from scoring when it counts. They'll blunt the attack somewhat as the season progresses, sure. Brian Durocher has proven to be able to make adjustments and develop his talent to get the most out of it. Unlike last year, I don't think BU will be able to limit BC to a single goal.
As for Harvard exploiting a chink in BC's armor, that's not how I see it. BC isn't really an armored type of team. The Eagles remind me more of the Japanese carrier-based aircraft in World War II, where they sacrifice armor to get more speed and maneuverability offensively. Teams can score on BC, if they can get the puck and take the offensive, but that's a big if. I think the Crimson can defend BC more effectively than BU did, but I don't know that they can produce enough offensively to put much of a scare into the Eagles. If Harvard can't pose a threat, then the Eagles will keep buzzing and attacking, and eventually, Emerance Maschmeyer and company won't be able to hold them off.
I watched a little of the Harvard game versus Cornell, and it wasn't exactly promising for the Crimson if they hope to upset BC. In the end, I'll just chalk it up to being the first game back after break for both teams and assume that they'll play better games than that one. The 6-2 win over Colgate was more optimistic. Do you think that was a sign that Harvard might be ready to generate more offense against better teams, or was it more of the case of the inconsistency we've seen from Colgate over the course of the season?
Candace: I didn't see the game, so I'm only guessing, but I think it might be more of the latter than the former. Harvard hasn't really been an offensive force in years. The Crimson have occasional games where they bust out, but the focus is always defense first and then getting timely goals. Kaitlin Tse scored the game-winner at 18:02 of the second period, putting Harvard up 3-1, and I think at that point going into the third, Colgate may have tried to press a lot and given up more scoring chances for Harvard as a result.
Harvard has gotten good production from senior Miye D'Oench, who leads the team in scoring and averages 1.4 points a game. She had an assist in Friday's game against Cornell and had two goals and an assist against Colgate. Junior Sydney Daniels is second in team scoring, just under a point a game, and she also had an assist against Cornell and then a goal and two assists against Colgate. Karly Heffernan, who had a goal against Colgate, is third on the team in scoring, averaging .733 points a game.
Harvard's not going to be a team like Minnesota or BC that can put up eight or nine goals on its opponents, but the Crimson have posted some strong games. They put up five against Brown and Union, and four against New Hampshire. Perhaps their best offensive performance was the 4-2 win over Minnesota-Duluth, and I think their best result all year was the 3-0 shutout against Northeastern. Colgate has the best overall team defense that Harvard has put up a lot of points on, ranking 11, and gives up on average 2.39 goals a game. I still think that Colgate is a young squad, and is vulnerable to lapses like Saturday.
Speaking of offenses, Wisconsin rediscovered its mojo after the weekend against North Dakota where the Badgers were shutout twice. I had wondered if Minnesosta-Duluth might put up a better effort, and I guess the Bulldogs did, as they at least got a goal in each game this time, but the Bulldogs are still not showing consistency. The Badgers have two big weekends coming up back to back, on the road at Bemidji State this weekend and then the grudge match against North Dakota in Madison the following weekend.
It's interesting to look at the WCHA standings. You've essentially got three races. The only spots I think are set right now are seven and eight, with Ohio State at seventh and Minnesota State at eight. You've got a race between the top two teams, Minnesota and Wisconsin, for first in the league. You've got a battle at three and four between Bemidji State and North Dakota, and then you've got a battle at five and six between St. Cloud State and Minnesota-Duluth. I don't see any of the teams at three through six getting much higher or lower than they are now. In other words, Bemidji State and North Dakota aren't going to challenge for first and second, and I don't think they'll fall to five or six.
Is that how you see it? Do you think Bemidji might be able to get points against the Badgers this weekend?
Arlan: Yes, your breakdown of the WCHA race(s) sounds about right. I wouldn't be too hard on UMD for its performance in Madison. On Friday, Wisconsin was without defenseman Mellissa Channell, but the Bulldogs were missing Lara Stalder, Maria Lindh, and Linnea Hedin. All returned from the Nations Cup for Friday's game, but of course, they hadn't practiced with their teams. Senior goalie Kayla Black didn't dress for either game, so when UMD's Maddie Rooney was pulled after the first period of the series, senior Karissa Grapp was the only other option for the rest of the weekend. The stats say Grapp played well, but Sunday was her first start of the season and only the fifth of her career, so it isn't shocking that the Badgers came out on top. To top it off, Maura Crowell was gone all weekend for the Under-18 World Championships. I'm not going to conclude much about UMD based on that series.
North Dakota had a similar weekend. The Fighting Hawks had two exhibitions, but they were missing a number of regulars, including seniors Becca Kohler and Tanja Eisenschmid, so I don't conclude anything from those games either. I see UND fell a couple of places in the poll; whether it was based on its weekend or voters being impressed by what Harvard and Northeastern did, I can't say.
North Dakota and Bemidji State are done playing each other, so that part of the race will be decided by how the two fare against the rest of the league. The Beavers are a game ahead in the standings and hold the first tiebreaker, so UND is going to need some help. If the Fighting Hawks can repeat their success against Wisconsin and Minnesota from the first half, then they could still pass BSU and wind up third. Both teams have to go to Duluth, so that could also swing the balance. St. Cloud State and Ohio State took points from UND, not from Bemidji, but both did a year ago. The conclusion would have to be that the race for third and fourth still looks fairly wide open.
As for fifth and sixth, the standings show SCSU ahead, but I'd say it is advantage UMD. The Bulldogs are done with Wisconsin, while the Huskies are done with the Mavericks, so I'd expect that will more than make up for the two-point difference.
At the top, I think Minnesota would need to sweep Wisconsin to win the WCHA. Could it happen? Sure, but it isn't as likely as it was when the Gophers were on a winning streak in that rivalry. A healthy Hannah Brandt would help their cause, but she didn't dress for their exhibition or Ohio State games last week, so that might not be feasible. Minnesota has also struggled to put two good games together on a weekend more than in past seasons, so sweeps aren't an automatic.
As for this weekend, can Bemidji get points? Yes. Will that happen? Probably not. North Dakota caught Wisconsin coming off an emotional series. The Beavers won't get that same advantage. I see UW getting back on a BC-like roll. Do you see the Badgers staying on top in the league race?
Candace: I think it's possible, but it depends on a couple of factors. Minnesota controls where it will finish in the standings. Win out, and the Gophers take another league crown. The last weekend of the year has the Gophers and Badgers facing off in Minnesota. The Gophers get a chance to get their second-half skates on against weaker teams over the next two weekends, facing Minnesota State and St. Cloud State, two teams they should beat up, before closing January against Bemidji State and North Dakota. Wisconsin meanwhile, gets Bemidji and North Dakota the next two weekends before playing St. Cloud and Ohio State.
One thing that could affect the series is who the two play the weekend before. Wisconsin has it fairly easy against Minnesota State, a team that hasn't won a game in the conference yet, while the Gophers face Minnesota-Duluth on the road. If you are right that the Bulldogs have more than they showed this weekend, the Gophers could end up a little beat up before the series with the Badgers, and any fatigue could play a big role in the outcome.
Of course, there is the X factor to talk about too, which I wanted to address with you. Minnesota has been without Maryann Menefee all year, and it came out recently that she had been booted from the team at the start of the year. Menefee could have helped, and I do wonder what led her to missing her last year of playing.
The bigger X factor that I wanted your opinion on is the potential return of Amanda Kessel, who won the Patty Kazmaier Award and led the team in scoring the last time she played with the Gophers. Kessel announced her retirement from hockey last summer due to lingering concussion symptoms after the Sochi Olympics. It was a seemingly tragic end to the career of one of the best skaters in the game. However, a story in today's Grand Forks Herald revealed that Kessel has been skating with the team again, eyeing a possible return to the ice in her last semester of eligibility.
Minnesota coach Brad Frost was quoted as saying, "Amanda was the best player in the world when she played here last. One of the things we wanted is to get her as healthy as possible." That isn't hyperbole, though there are a few players right now who could possibly challenge even a fully healthy Kessel for that nomination, such as Alex Carpenter. However, given how well the Gophers have done without Kessel, her return could certainly be the thing that could lift them to the WCHA crown once again, especially if Hannah Brandt continues to have health issues.
Any insight on either Menefee's dismissal or Kessel's return?
Arlan: The Gophers are always difficult for me to discuss when it gets to off-ice matters. There are the official releases and quotes from the team, and often, those tend to say little if anything. Then there are items I learn from hearsay conversations with people close to the team. Are they true? Probably, but I don't know them to be a fact, and I don't want to come on here and say, "A guy said that he'd heard that …"
So I don't know for certain what the exact deal with Menefee is, but I wouldn't phrase it as "booted" or "dismissal" from the team. Coming into the season, she wasn't meeting team expectations in some area. I could speculate, but that would be all it would be. That kept her out of uniform. I did get the sense that over the course of the season, it became apparent that her situation was bigger than hockey, and my guess is that all those concerned came to a mutual agreement that she wouldn't return. Others could be correct in what they're saying, but I don't think "booted" is quite accurate. I've seen players kicked off the roster in the past, and it was much more definite with the team issuing a release. This was more like the departure of other players over the years, where you hear stories about the player dealing with personal matters, but the team never comments.
The Gophers have a fairly crowded roster this year, even though it wasn't full this weekend with Brandt out, Paige Haley out after being injured in a car accident over break, and a couple of defensemen each missing a game of the series for violation of some team rule. Without Menefee, Brandt, or Milica McMillen, only Brook Garzone and Amanda Leveille of the expected senior class coming into the season played on Sunday. Leveille faced one shot in 20 minutes before leaving with a 4-0 lead, so the team that defeated Ohio State 9-0 was close to being what they'll have next year, minus the incoming freshmen, and there's several of those. Add in transfer Nicole Schammel, who did some nice things at Minnesota State as a freshman, and it's possible that the Gophers will be deeper next year than this. I wouldn't have thought that would even be remotely possible coming into the season. The question will be goaltending, because Leveille has played all the major games over the last three years.
Will Kessel play? I don't know. There wasn't a lot of lead up to Josephine Pucci playing last season, and then there she was for the second semester. The two were dealing with similar issues, so maybe it is a case of feeling better and starting to consider the possibility. There is still a difference between skating with the Gophers and playing with them. Schammel skates with them all the time, but she won't be in uniform this year. Kessel has been a student at Minnesota and was frequently in attendance at Ridder Arena over the first semester, so that is progress from a year ago, when it didn't seem that she was capable of that. If the name Kessel pops up on the roster, then that's one thing. But as for now, there isn't an "8" on the roster, so I'm not expecting to see her on a line chart, and will just assume that Minnesota's final results will depend on the people whose names already appear on the team statistics.
Looking to other contenders, what are we to make of Quinnipiac's tie with Rensselaer? Is that another sign of improvement from the team that battled North Dakota tougher than expected to open the season and knocked off Clarkson back in November, or the first danger sign for a Bobcats' squad that has often stumbled in the second half?
Candace: I'm honestly not sure. I don't think we'll have a definitive answer either way until the end of January, by which time the Bobcats will have played two against Robert Morris and one each against Boston University, Harvard, and Dartmouth. The Bobcats that we saw in the first half should go 4-1 or 5-0 in that stretch. If they go 3-2 or even 2-3, then we'll know more. For now, I'll just chalk it up to outstanding play from RPI goalie Lovisa Selander, who stopped 40 shots in the game. By contrast, RPI only got 15 shots on goal, so it would seem a lot of the play was in RPI's defensive end. Quinnipiac only had one power-play opportunity. On the other hand, it's not like Quinnipiac was short, as its leading scorers, Taylar Cianfarano, Melissa Samoskevich, and Emma Woods were all in the lineup. You would think one of them could have gotten at least one puck past Selander, but she stood strong.
Selander has shown talent that way, blanking Robert Morris, holding Clarkson to a single goal, holding Harvard to two goals, and holding Mercyhurst to two. However, she's a freshman, and that inexperience showed this weekend, as she gave up three goals to Princeton the night after the scoreless draw with Quinnipiac. Meanwhile, the Bobcats responded with a 5-0 whitewashing of Union, so that might help them get back on track ahead of this weekend's series with Robert Morris.
Speaking of the Colonials, what are we to make of the ever-present puzzle in the CHA? RIT got shut down pretty hard by Providence over the weekend. I know the Tigers have come from nowhere to win the CHA tournament the last two years, but that was a team that had Ali Binnington in net. I have trouble seeing this year's group accomplishing that. Lindenwood put up a respectable effort in two losses to Bemidji last week, but again couldn't get the win.
Robert Morris opened its second half with two blowouts over Providence, 6-1 and 4-1, again an indication that RIT isn't ready for prime time, but the Colonials have shown a stubborn one step forward, one step back trend this season, and they'll need to be at their best to even get a split in Hamden against the Bobcats this weekend. Robert Morris trails first-place Mercyhurst by only three points, but the Lakers have two games in hand plus a series win against the Colonials in December, so overtaking the Lakers will be a tall task.
All CHA teams will have the same number of games played after this weekend. Penn State gets a chance to beat up on RIT, but the other series pits Mercyhurst on the road against Syracuse. The Orange trail the Lakers by two points, and this is the first series between the two this year. What do you think happens in the CHA this weekend, and going forward? Can the Colonials put up a fight against Quinnipiac, and will Syracuse overtake the Lakers?
Arlan: Robert Morris got a series win in Hamden a couple of years ago, so I think that stylistically, it matches up well against the Bobcats. RMU had that tie in Bemidji early this season, and Bemidji State and Quinnipiac aren't radically different. The Colonials are an interesting team, in that I think they have more upside than some CHA squads, but their results haven't been that consistent. My guess is that one of their games at Quinnipiac will be close and the other less so, but I don't think that the Colonials get more than a tie for their efforts.
As for Mercyhurst at Syracuse, the goaltending for both teams has been all over the map this year. I'm not sure that either is steady enough to get a sweep. I do expect the Lakers to get at least a split. They look to be a little deeper. I doubt that there have been too many times over the years where the Lakers head into a conference series where the opponent has a more potent top line, but that looks to be the case, although apparently Jessica Sibley has taken over for Stephanie Grossi on the line with Nicole Ferrara and Melissa Piacentini. Their numbers are roughly a wash, so I like the first line for the Orange with either configuration. Sarah McDonnell's save percentage isn't much over 90 percent, but that's still appreciably better than Jenn Gilligan and the other options in the Syracuse net. Mercyhurst has a slight edge both on the power play and the penalty kill, so if the Orange are going to win, I think their top line will have to make it happen. It will probably be a split, but if anyone is going to get a series win, I think that will be Mercyhurst. The Lakers have gotten it done in these type of series pretty consistently over the years.
As for Penn State beating up on RIT, about the only thing that is certain in the CHA is the uncertainty. When we think some result is bound to happen, there is usually an "unless" clause that comes into play. The Tigers expected senior goalie Jetta Rackleff to play more this season, but she's been injured and just made her fourth and fifth starts of the year at Providence. If she finds her form, that could change how we view RIT to some degree.
The teams near the bottom of Hockey East are almost as unpredictable as those in the lower reaches of the CHA. Maine is a club that really seems to have fallen on hard times, and is now just a game ahead of upstart Merrimack. I think everyone expected the Warriors to have some struggles, but they've had some players give very good accounts of themselves in their first season. Forward Paige Voight has given them some scoring pop up front, but the offensive production drops off too quickly. There are just three other players with more than six points: defenseman Paige Sorensen and forwards Katelyn Raie and Jackie Pieper. Vermont seemed to be improving, but then the Catamounts had that puzzling OT loss to Merrimack last week. Providence, after looking dead in the water early on, has shown decent offensive balance of late. Could the Friars knock off Connecticut this weekend, or will the Huskies' goaltending give them an edge in their home-and-home series?
Candace: I'd never discount the goaltending of Elanie Chuli, but Providence has shown some decent scoring prowess over the last month or so. The Friars tend to get overrun by teams that have good offenses, but Connecticut isn't a scoring powerhouse, so I think both games will be close. The Huskies are led offensively by sophomore Justine Fredette, who averages .857 point a game, then by Theresa Knutson, who averages .76 points a game. UConn's offense ranks 26th nationally out of 36 teams, so it's in the bottom third. UConn wins by having a stingy defense led by Chuli, who always gives them a shot.
Providence's offense is marginally better, averaging 2.33 goals per game, and is 17th nationally. Freshman Christina Putigna has emerged as a potential force for the Friars, with six goals and 14 assists. Bcking her up is sophomore Brooke Boquist, who is averaging almost as many points per game as Fredette. Providence also has a good power play, one that succeeds on 18.52 percent of its chances. Connecticut's power play is also effective, succeeding on 22.39 percent of its chances. UConn's PK is slightly better than Providence's, so that might be what decides the series, how well each team's power play does against the other's penalty kill.
I'll be intrigued to see how Providence fares tonight against Northeastern. That's the one game in hand the Friars have on Connecticut, so it probably won't make a difference in the logjam of the Hockey East standings, where UConn and New Hampshire are tied with 10 points each, but Connecticut is in fourth by virtue of three games in hand. Then you Vermont with nine points, having four games in hand on New Hampshire and one in hand on Connecticut, and Providence in seventh with eight points and three games in hand on New Hampshire after tonight, then Maine in eighth with seven points for the final playoff spot. Anyway, that will certainly be quite the battle for positioning as the season winds down.
There's also a potential battle for the second and third spots in the Hockey East standings. Northeastern will likely have a five-point lead on Boston University after tonight's game with Providence with the two having played the same number of games. The final weekend of the year sees the two playing a home-and-home against each other, and even if BU were to sweep, it wouldn't get them past Northeastern in the standings without some help. Of course, Boston College could provide that, as the Eagles and Huskies face off the weekend before the BU-Northeastern series. Do you see the Terriers surpassing the Huskies on the last weekend of the year, or do the top three finish in the order they are in now?
Arlan: I expect it to wind up the way it currently is. Northeastern has looked more in control while beating the teams that it is supposed to beat. The NU loss to Lindenwood and the BU stumble against Penn State kind of even out, but the Terriers have been more vulnerable against lower teams in Hockey East, even in games that they ultimately won. Of course, there is also that one glaring head-to-head result where Northeastern spanked BU, 7-1. A difference in how I view the two may be that the Huskies seemingly figured some things out more quickly. Dave Flint put Kendall Coyne together with Denisa Krížová and Hayley Scamurra early on, and that trio is a big reason why Northeastern averages almost a goal more per game than BU. Conversely, several of the Terriers' top threats needed some time to find their scoring touch.
Brittany Bugalski emerged as the goaltending starter at Northeastern in mid October, and that has given the Huskies a bit more stability. If anything is going to shift the balance of power between the Huskies and Terriers, I'd expect it to be something regarding the goaltending. Sometimes the confidence of a freshman goalie can take a hit from a shaky game or even one bad goal allowed. Bugalski has shown an ability to bounce back quickly from adversity, so she doesn't look like she'd be vulnerable on that front. It's a long season, and dings and tweaks can also compromise a goaltender's effectiveness. Over the final month last year, Victoria Hanson looked to figure some things out at BU. If she or Erin O'Neil can have a similar finish, that would help the Terriers close the gap with Northeastern.
While it won't impact their Hockey East positioning, the Huskies and Terriers also meet in just under three weeks in the Beanpot. That game figures to reveal if BU is at least moving in the right direction in attempting to become more of a factor in Hockey East. They haven't taken well to the Beanpot stage, but perhaps having it at home will give the Terriers extra incentive.
That night will also see a second installment of BC versus Harvard, so the team that comes out on the short end next week will only have a couple of weeks to wait for a chance at some payback. Given that brief period before the rematch, I doubt we will see the dramatic change in fortunes that we saw between November and the Beanpot a year ago, but one team should gain motivation beyond a shot at a Beanpot title.