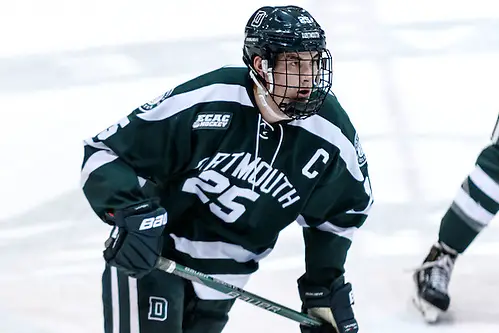 Dartmouth coach Bob Gaudet was faced with a lot of unknowns entering the season. The Big Green graduated their top three scorers from last year as part of an eight-man senior class, meaning a number of returning players were going to see time in different roles.
"It's been a work in progress," Gaudet said of his team's play this season. "We've played some really good hockey and there's been some that I'd like to have back."
Lately, it's been mostly good for the Big Green (6-8-1). After some tough losses in the first half, including 7-0 setbacks to Harvard and Michigan, Dartmouth is 3-1 since New Year's Day. That includes a win over Holy Cross on Sunday, snapping the Crusaders' nine-game unbeaten streak, and a win over Merrimack on Jan. 3 to win the Ledyard Classic. It was the first time since 2008 that host Dartmouth won the tournament.
"Since the new year, we've been a much more consistent team," Gaudet said. "We've found a style of play that benefits us."
Gaudet said captain Brad Schierhorn and assistant captain Geoff Ferguson have helped bring the Big Green up to speed this season.
In addition to being more consistent, Dartmouth has improved its defensive play as well.
"It's a tough game nowadays to score," Gaudet said. "The defensive game has to be something that guys really rally around. We've made some tweaks with some things structure-wise that benefits our guys and it takes a little while. As a coach, every team is different. … You have to tweak things that best suits your team."
That improved defensive play has benefited senior goalie Charles Grant, who has started all four of Dartmouth's games in 2016, allowing four goals with a .959 save percentage.
Grant's emergence comes after he played in only seven games last year behind classmate James Kruger, who set program single-season records in save percentage and GAA.
"It's been interesting," Gaudet said. "I think Jim Kruger was the victim of circumstances earlier in the season. We weren't at the height of our game and we left him out to dry a little bit."
While Gaudet said it's hard to play with three goalies, he said the Big Green have three good ones on the roster, with sophomore Devin Buffalo joining Grant and Kruger. Looking into the future, Gaudet said he believes Buffalo will be a "fabulous" goaltender for Dartmouth in the coming years.
Regardless of whom is in net, Gaudet said Dartmouth needs to continue to focus on what it can control. While that might not always guarantee a win, the Big Green should be a better team in the second half of the season.
"I know that if we play to our potential, we can be a tough team to beat," Gaudet said. "I want guys to continue to battle and get better each time we are out there. We're chipping away. … We'll see what happens."
Princeton getting adjusted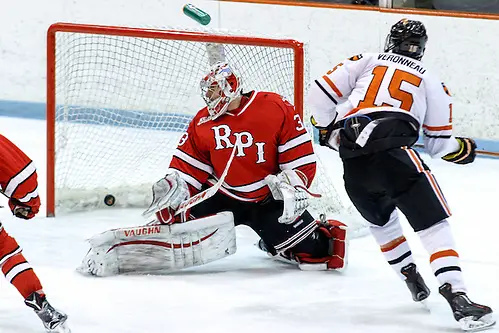 It can take a while for a new coach to bring a program up to speed. Princeton coach Ron Fogarty is in the midst of his second season with the Tigers, but the program is showing some slow signs of improvement.
Fogarty said last year was spent putting his new system in place; this season, it's been about it playing out on the ice.
"You can put systems in place, structures in place, but if you're not doing things well with the puck, you're not going to get opportunities," he said.
Even with the improved play, wins have been tough to come by for Princeton, which enters the school's exam break with a 4-12-2 overall record.
"You have to have goals set up through the season," Fogarty said of keeping his team committed to his system even as the losses continue. "It's not just one game and you win a season or lose a season. We want to be peaking at the end of February."
The Tigers led Quinnipiac 3-1 after one period on Dec. 30, matching the Bobcats' speed and taking advantage of several turnovers. While Quinnipiac rallied for a 4-3 win, Princeton showed the ability to play an up-tempo game.
Last weekend, the Tigers tied Rensselaer and Union at home, but held leads late in the third period in each game.
"It takes time; it's a learning process," Fogarty said. "When the upperclassmen learn a system for 1,000 days or 600 days, it takes time to change it and gain the trust and put guys in different spots than they're used to."
It doesn't hurt having junior Colton Phinney in net. He's averaging 36 saves a game and enters the break with a .925 save percentage.
Rivalry renewed
Tuesday's matchup between St. Lawrence and Clarkson at Cheel Arena was the 201st meeting between the rivals, but it wasn't lacking for drama. The Golden Knights got their first conference win of the season with a 3-1 win over the Saints.
Saints goalie Kyle Hayton was given a roughing penalty at 7:29 in the second period after punching Clarkson forward Ben Dalpe. Hayton, an energetic goalie who has never been shy about showing his emotions on the ice, could be hearing from the league office.
Around the league
• It was an impressive weekend for Cornell, as the Big Red swept Merrimack at Lynah Rink to move to 11-2-2. The 11 wins match Cornell's total from last season. It was also the first time the Big Red swept back-to-back home series since the 2008-09 season.
• Harvard holds a top-four position in the PairWise Rankings and has arguably one of the top forward groups in ECAC Hockey, if not the country. However, the Crimson's defense hurt the team last week, as Harvard gave up three goals in the closing minutes in a 6-5 loss to Boston University on Thursday, and then trailed 4-0 against Quinnipiac on Saturday before losing 5-4 in overtime. Harvard plays a fast-paced style and it's difficult to ever count the Crimson out of a game, but more defensive lapses like these could prove costly later in the season. It's worth noting that goalie Merrick Madsen, who started Thursday before giving way to Michael Lackey on Saturday, has a .940 save percentage this season. Can't stop them all, though.
• One of the problems for Yale over the last year has been finishing off its scoring chances. The Bulldogs look like they may have found a finisher in the form of junior forward and Chicago draft pick John Hayden, who has six goals in his last five games, including back-to-back two-goal games.
• Quinnipiac's Travis St. Denis and Union's Mike Vecchione both reached 100 career points within the last week. St. Denis reached the mark with two goals and an assist against the Dutchmen last Thursday, while Vecchione had an assist Saturday against Princeton to reach the milestone.
• St. Denis was named the conference's player of the week, while Cornell's Anthony Angello (rookie) and Mitch Gillam (goalie) won the league's other weekly awards. Angello leads the Big Red with eight goals, a mark reached by only two players on last year's team.