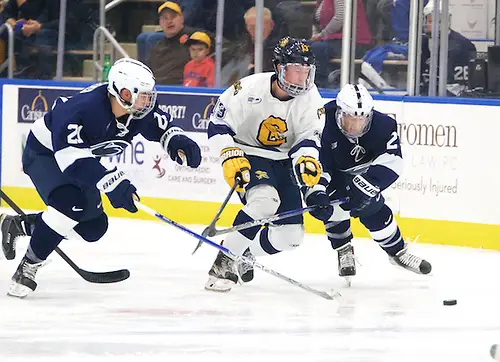 Canisius has undergone some growing pains this season, as is to be expected with 11 freshmen and nine sophomores on the roster. On any given night, the Golden Griffins will dress only three or four upperclassmen.
That means ups and downs. Canisius (7-14-3) has yet to string together consecutive wins but has taken at least one point in all nine league series so far this season.
Dave Smith's team has beaten the top five teams in the Atlantic Hockey standings: Robert Morris, Holy Cross, Rochester Institute of Technology, Air Force and Mercyhurst. But the Golden Griffins have captured only five points in eight games against the bottom three teams, including a win and a tie with last-place Niagara last weekend.
That puts Canisius right in the mix, in sole possession of seventh place, four points out of third but also five points away from 10th.
For Smith, it's been a balance between using his proven top line of senior Ralph Cuddemi (28 points), junior Shane Conacher (33) and sophomore Ryan Schmelzer (20), and giving valuable minutes to his crop of rookies.
Through the Griffs' first 20 games, the Schmelzer line produced 75 percent of the offense, with the large freshman class contributing just 20 points total in those 20 games.
But the last four contests, series with RIT and Niagara, have seen the rookies start to contribute more. Led by Dylan McLaughlin's seven points, freshmen have chipped in 16 points total in those four games, including six goals.
"We monitor every player's minutes," Smith said in describing the balance between youth and experience. "There are expectations for each player that, if they live up to them, will result in more playing time. That goes for established players as well as the new guys.
"If they keep producing, we'll put them out there."
That's meant more opportunities for McLaughlin, who has seven points in his last four games, including three goals.
"We challenged Dylan to make those around him better," said Smith. "He was putting in the effort early in the season but the points weren't coming. But when he focused on making everyone around him better, the goals started to come and he got rolling."
Rookie goaltender Simon Hofley has shared duties with sophomore Reilly Turner, and Hofley has seen the majority of time in net lately. He's started the Griffs' last five games, posting a 2-2-1 record.
"We don't have a starter and we don't have a backup," Smith said of his goaltending situation. "Right now, Simon is playing well and has gotten the opportunity. But Monday at practice it's right back to seeing who can help us the most and taking it from there."
Smith said all of his players are coming up to speed on what it takes to be successful in the league: consistency.
"The players these days spend time watching the standings and the rankings, maybe more than even the coaches do," said Smith. "And one thing they've observed is that in this league, anybody can beat anybody."
The next challenge for Canisius is a weekend series at Holy Cross, which split an earlier series with the Golden Griffins in Buffalo, and is 7-1 in league play at the Hart Center.
"They play hard and they're well-coached," said Smith. "We're going to prepare like we prepare for every game. We know we're going to have to be at our best to be successful. We're going to go in guns blazing and give it our best shot."
Offensive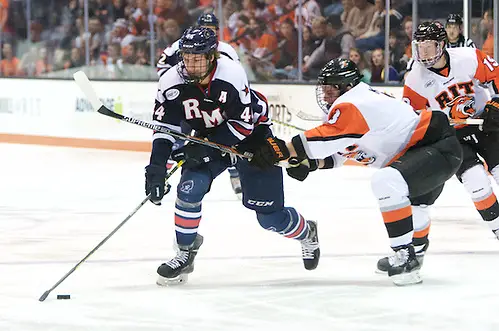 Nothing was settled in last weekend's showdown between Robert Morris and Holy Cross, who occupy the top two spots in the standings.
The teams split in their only meetings of the regular season, leaving the Colonials ahead of the Crusaders by two points, with Holy Cross holding two games in hand.
But Robert Morris is clearly head and shoulders above the rest of the league in one category: offense. The Colonials are averaging 4.29 goals scored per game, second in the nation and ahead of the next closest conference opponents by almost a full goal per game.
If the Colonials can keep up the pace, it will be the best offensive season for a team in conference history. Mercyhurst's 4.17 goals per game average in 2005-06 is the all-time best.
The key to the Colonials' offense is their power play, which is also on record pace. Robert Morris has been able to maintain a success rate with the man advantage of over 30 percent this season, currently clicking at 33.98 percent, best in the nation and over 5 percentage points better than anyone else.
Robert Morris has four players with at least five power-play goals, led by senior Brandon Denham with seven.
The Colonials' top four scorers are seniors, including Zac Lynch, who leads the team and the conference in points (35), and linemate Greg Gibson, whose 18 goals leads the conference.
Hobey hopefuls
Lynch, Gibson, and Conacher have all put up impressive statistics so far this season, but how do those numbers stand up nationally? Are there any legitimate Hobey Baker Award contenders in the league this season?
In the 11-year history of the conference, there have been nine Hobey finalists, including one Hobey Hat Trick member.
Here's the list along with their season statistics:
• 2015: Matt Garbowsky (forward, RIT) — 26 goals, 28 assists for 54 points in 40 games (1.25 PPG).
• 2015: Cody Wydo (forward, Robert Morris) — 20 goals, 23 assists for 43 points in 37 games (1.16 PPG).
• 2013: Carsen Chubak (goalie, Niagara) — 1.91 GAA, .939 save percentage in 35 games.
• 2012: Tim Kirby (defenseman, Air Force) — 12 goals, 16 assists for 28 points in 39 games (0.72 PPG).
• 2011: Paul Zanette (forward, Niagara) — 29 goals, 25 assists for 54 points in 35 games (1.57 PPG).
• 2009: Jacques Lamoureux (forward, Air Force) — 33 goals, 20 assists for 53 points in 41 games (1.29 PPG).
• 2008: Simon Lambert (forward, RIT) — 21 goals, 30 assists in 37 games (1.38 PPG).
• 2007: Eric Ehn (forward, Air Force) — 24 goals, 40 assists in 40 games (1.60 PPG).
• 2005: Reid Cashman (defenseman, Quinnipiac) — 13 goals, 32 assists in 37 games (1.22 PPG).
Lynch is averaging 1.50 points per game; Gibson and Conacher are at 1.38. Dark horse Max French of Bentley has 27 points in 19 contests (1.42 PPG) after missing the first five games of the season due to injury.
All four are certainly in the ballpark in terms of numbers for a forward.
There isn't a goaltender in the league near the top nationally in either GAA or save percentage — Sacred Heart's Brett Magnus is 24th in GAA (2.25) and the top save percentage belongs to Robert Morris senior Terry Shafer (.926), good for 20th nationally.
With no defenseman standing out in terms of national numbers or recognition, it looks like Lynch, Gibson, Conacher and French are the leading candidates at this point.
Weekly awards
Player of the week — Justin Danforth, Sacred Heart: The junior had a hat trick last Saturday in a 6-4 win over Mercyhurst. He had two short-handed goals as well as a power-play tally. His 12 goals this season are already a career high.
Goalie of the week — Shane Starrett, Air Force: This is the fourth time this season that Starrett has been honored. He was previously named rookie of the week (Oct. 20), goalie of the week (Nov. 24), and goalie of the month (November). This time out, the freshman made 49 saves on 50 shots to help the Falcons to a win and tie at rival Army West Point.
Rookie of the week — Mark Logan, RIT: Logan scored his first two collegiate goals, one each night, in a Tigers sweep at Bentley.
Defensive player of the week — Alexander Kuqali, RIT: The senior captain had a goal and was plus-4 on the weekend in the pair of RIT wins.