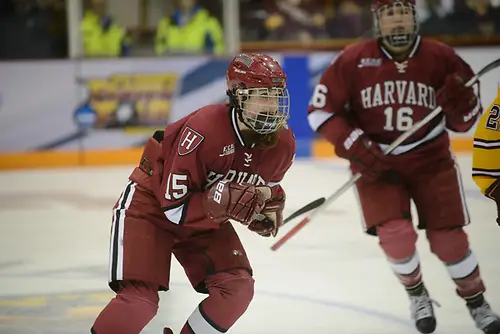 Arlan: It seemed to me like there was an abundance of close games this week. At the Under-18 World Championships, the United States defeated Canada in overtime for the gold medal for the second year in a row. Last year, it was Ohio State's Jincy Dunne who was the hero, and this time, Connecticut recruit Natalie Snodgrass came through for the Americans.
As if inspired by that drama, the next day, six of our games went to OT. Seven of the eight WCHA contests this weekend were one-goal games. Although Colgate was able to pull away from Brown, the Raiders always seem to be in a back-and-forth battle with someone. Highly ranked teams like Minnesota and Quinnipiac found themselves in tight games against unranked opponents. Even Boston College let upstart Merrimack hang around in their first-ever meeting.
In terms of impact, Mercyhurst bouncing back to get a split at Syracuse was likely as big as anything. That keeps the Lakers on top of the CHA, with the knowledge that the second series with the Orange will be in Erie.
Close behind would be Harvard's trip to the North Country. After coming home without a point, the Crimson sit fifth, eight points behind Quinnipiac with only one game in hand. I'd picked them to win the league, but they have work to do just to host a quarterfinal. There continues to be a jumble lower in the standings, and right now, Dartmouth and Yale are positioned to be the teams in the hunt that would fall short of the playoffs.
Earlier in the season, we discussed whether I was expecting too much of Harvard. I guess so. Its biggest problem has been scoring consistently, and the offense disappeared entirely in Canton on Friday as it was shut out by St. Lawrence. The next day in Potsdam, the usually dependable defense had an off day, and allowed Clarkson 33 shots and five goals. Emerance Maschmeyer is one of the top goaltenders in the country, but her personal record sits at just 6-7 after last night's loss to Boston College. For The Crimson as currently configured, they likely need Maschmeyer to be close to perfect against teams like BC. She made big saves, but the second goal allowed can't happen for her team to have a chance. I expect that the defense will eventually come together, but Miye D'Oench is the only point-a-game contributor offensively. Does Harvard miss Mary Parker that much when she's out?
Candace: I think they miss her scoring and her leadership, but I think there's more at play. Parker led the Crimson in scoring last year, a year when she was the only Crimson player averaging over a point a game. D'Oench was second in scoring, averaging .942 points a game, and Samantha Reber was third, averaging .888 points a game. Compare that to this year, where D'Oench leads the team in scoring with 1.29 points a game, Sydney Daniels is second with .812 points a game, and Lexie Laing is third with .75 points a game. It's not that much difference.
However, there was a lot more secondary scoring last year for Harvard, which averaged 3.64 goals per game, versus this year's 2.59 goals per game. Last year's team had role players like Lyndsey Fry and Hillary Crowe who played well both offensively and defensively, and averaged over half a point a game. If you compare the top six scorers from last season to this season, the points per game averages are similar, but the points per game from 6-12 were higher last year, so I think there was more depth.
The Crimson also had more depth on defense with players like seniors Sarah Edney, Marissa Gedman, and Josephine Pucci, and then Michelle Picard, who is a senior on this year's team. I think that senior leadership on the blue line is one thing the Crimson really miss, and accounts for the increased goals allowed by Maschmeyer, from 1.47 last season to 1.73 this year.
I still think Harvard will at least get home ice for the playoffs. Yes, they are in fifth right now. However, they are only one point behind Clarkson and Colgate, though those two have a game in hand, and they trail second-place Princeton by four points, but have a game in hand. After this weekend, the games will be even. Harvard hosts Dartmouth, a team that hasn't won a game since December, so I think the Crimson will keep pace. How Harvard does in the last weekend in January when it hosts the Quinnipiac/Princeton travel pair will tell us a lot more.
Out west, North Dakota posted an impressive road sweep of Minnesota-Duluth and moved into third place in the WCHA, three points ahead of Bemidji State. This weekend, North Dakota travels to Madison for a rematch against the Badgers, whom they got a series win over in December. I'm sure the Badgers are highly motivated, but it seems like North Dakota might finally be developing some consistency to go with some of its earlier good results, such as beating Minnesota and Wisconsin. What do you make of the Fighting Hawks so far in the second half?
Arlan: We basically have just the one series to go by, because North Dakota was missing a lot of people from its roster for the exhibition series the week before. That was UND's first sweep ever in Duluth. They've won series there in recent years, but the Bulldogs have been able to at least get a tie. This weekend was heading in that direction as well until Gracen Hirschy scored with 35 seconds left in overtime. In terms of the people that both teams really rely upon, the Fighting Hawks are a bit deeper with more veterans. This is a big season for them, with Meghan Dufault, Becca Kohler, Tanja Eisenschmid, and goaltender Shelby Amsley-Benzie included in their senior class. UND and Bemidji State are going to be younger next year, so this is a season of opportunity for both.
Duluth, on the other hand, isn't going to graduate as much. UMD will miss Michela Cava next year, and this is goalie Kayla Black's final year, but she has yet to play in 2016, although she did dress after being out for the Wisconsin series.
So subconsciously, there may be a touch more urgency for the Fighting Hawks. The Bulldogs are either going to finish fifth or sixth, and there won't be a monumental difference between the two. I guess they could still get to fourth, but that is looking like a stretch. Coach Maura Crowell was on the U.S. staff at the U-18 World's in St. Catharines, Ont., so she likely barely made it back for the Saturday game. Thus, one can't expect too much from UMD so far in January, and it is hard to measure any team against the Bulldogs only.
UND is the only WCHA team that I haven't seen in person as of yet. Amsley-Benzie's numbers aren't as gaudy as they were during her junior season, but Brian Idalski says she is playing well. At the other end, the Fighting Hawks scored six goals on the weekend, and that is as good production as they've had in quite a while. They've crept back to just below the PairWise bubble, but now they face a vital stretch. Two of their next three weekends are in Madison and Minneapolis, and UND can't afford to lose all of those games. Wisconsin promises to be very ready when the North Dakota bus rolls up to LaBahn Arena, so it's going to be tough for UND to get points out of that series. If UND gets too focused on the Badgers and Gophers, then there is a potential trap series in between when an improving Minnesota State goes to Grand Forks.
North Dakota's task is made all the harder because Northeastern has been riding a hot streak. The Huskies have rattled off nine straight wins, and at this rate, they could move into the home-ice picture for the NCAAs. Kendall Coyne is the leading scorer in the country, and has teamed with Hayley Scamurra and Denisa Krížová to form a formidable top line. I realize there is somewhat of a soft underbelly in Hockey East with five of the bottom 10 scoring defenses, but are you surprised at just how explosive that trio has become?
Candace: A little. The increased point production from all of them over last year is substantial. We've always known what a talent Coyne was, and she did play on the Olympic team in 2014. I hadn't realized her point production last year was down until I looked it up. She averaged two points a game in her sophomore season, and slipped last year to 1.68. This year's mark is currently at 2.42, up again after being down from her high mark earlier in the year. She's been particularly hot in the last few games against some of Hockey East's poorer squads, with 15 points in four games against New Hampshire, Providence, and two against Maine.
What's impressive is how she's also elevated the production of her linemates. Both are scoring at .700 points per game more than last season. We saw flashes of what Krížová could do with Coyne last year when they teamed up in the second half of the season and she had at least a point in each of her last eight games, as well as four multi-point games, but she's still putting to lie any sign of a sophomore slump, Scamurra has never been as prolific as she is this year.
Of course, as you pointed out, many of the Hockey East squads are poor defensively. In that same stretch of four games in which Coyne has 15 points, Scamurra has 11 points and Krížová has 10. Northeastern also has more balanced scoring than some other teams, with Paige Savage and Jordan Krause both averaging around .80 points a game and Shelby Herington at .72.
That point production will likely continue through January. Northeastern has a home-and-home against Connecticut this weekend and closes with New Hampshire. Normally, I'd saw Elaine Chuli of Connecticut might be able to slow Northeastern's top line, but she couldn't do much when they played a couple of weeks ago, losing 5-1. After January though, Northeastern has a tougher schedule, and can that top line and the supporting players continue at that pace? They didn't produce much in the two games against Boston College and one against Harvard in the first half, so they'll have to be sharper down the stretch.
As for home ice in the NCAA tournament, I'm not sure that Northeastern can get it. Harvard has dropped to 11 in the PairWise, so Northeastern's only shot at gaining on Clarkson and Quinnipiac is to beat BC and hope that those ECAC squads falter a little. I think Northeastern has to be more concerned with making the NCAA tournament. The Huskies are currently sixth in the PairWise. There are only seven spots, since the CHA has an auto-bid and no CHA team is in the top seven in the PairWise. If there are two upset winners in the conference tournaments, Northeastern would be on the outside looking in, which would be a shame, because I'd really like to see Coyne make the NCAA tournament, especially since I think she's having a good enough season to be a Patty Kazmaier Award top three finalist.
Speaking of the Kazmaier, have you given any thought to who might be announced in the initial list? I'd say Alex Carpenter, last year's winner, is a lock, as is her teammate, Haley Skarupa, who was a top 10 finalist last year. Krížová is a strong possibility, and I like Hannah Brandt and Dani Cameranesi to make it again, and Taylar Cianfarano might as well. As good as Annie Pankowski is playing, I think Ann-Renée Desbiens is a more fitting choice, though I'm not sure her season at this point is good enough to become only the third goaltender, after Wisconsin's Jesse Vetter and Brown's Ali Brewer, to win.
Do you think Carpenter could become the first to win back-to-back Kazmaier's? Jennifer Botteril won twice, in 2001 and 2003, but not consecutive awards.
Arlan: In terms of winning back-to-back awards, Wisconsin's Sara Bauer likely came the closest. She won in 2006 while leading the Badgers to the NCAA title. In 2007, the Badgers were more dominant, but Bauer, who was battling injury, lost out to Julie Chu of Harvard.
That could serve as a precedent for this season. In addition to being the returning Kazmaier winner, Carpenter is the best player on the most successful team, just as Bauer was then. Coyne is more vital to her team's success. We wouldn't be using Northeastern and NCAA tournament in the same sentence if the Huskies didn't have Coyne, while BC still reached the tournament two years ago when Carpenter was away. Coyne would get a boost from getting the Huskies to their first NCAA tournament.
On the other hand, if the Eagles remain perfect, then Carpenter will be tough to beat. We saw a trio of Minnesota players as finalists the year the Gophers had their perfect season, and I'd expect a similar voting boon for BC as long as all the news is good news in Chestnut Hill. Carpenter's play certainly hasn't dipped this year, and she'll get to pile up points against those vulnerable defenses just as the Northeastern players did. For Coyne to move past Carpenter in the voting, her performances versus BC would need to be more heroic than we've seen to date.
Earlier in the year, it looked like the top three would come down to Carpenter, Coyne, and Brandt, but the latter has battled injuries, and it is hard to win awards wearing street clothes. If she doesn't make the top three, then I expect that Desbiens will. You questioned whether her season has been good enough, but to date, she's stopping 96 percent of the shots she faces and allows fewer than seven goals for every 10 games played with a .932 winning percentage and 11 shutouts. If that isn't a good enough season, then I doubt any goalie will ever win again.
As for the initial list, I don't think they even made it public last year. That has often been an uneven group, because some leagues have more strong candidates than others, so some top performers don't even get a nomination. The 10 finalists make for better speculation. I could see both Pankowski and Desbiens being on that list from Wisconsin. Pankowski had a monster series against Minnesota, and performance in the clutch is one of the considerations. Beyond that, I think too much can still change in the coming weeks before the coaches pick the 10 finalists.
Turning back to teams, Mercyhurst got the split it needed at Syracuse. The Orange haven't gotten the strongest goaltending, and they won on Friday by limiting the Lakers to 16 shots and earning a 2-0 decision. On Saturday, Mercyhurst had 10 shots in the first period and two of them found the net. The Lakers added a third goal early in the second period, and wound up with a 3-1 win despite being outshot, 40-14. If freshman Sarah McDonnell can stop 39 of 40 shots, then Mercyhurst is going to be tough for any CHA team to beat. As far as star power goes, or more accurately, lack of star power, this Lakers team stands out, but they still look like they are on their way to yet another CHA season title. Michael Sisti always says that every team has its own way to win hockey games, and it looks like he's found what this team needs to do to win, not with the frequency that we've come to expect from Mercyhurst, but often enough that it is positioned as the team to beat.
Did anything stand out to you about that series in Syracuse?
Candace: The shot differential is the first thing that really stands out. Prior to the weekend, Mercyhurst hadn't been held under 20 shots all year. They had piled up 38 against Rensselaer in their previous game. The Lakers have actually been averaging 27.4 shots a game, and got 32 and 30 against Northeastern and 30 and 28 against Princeton. To be held to 16 and 14 in two games by Syracuse shows the Orange are committed to defense. Syracuse has given up on average 21 shots a game, a stat that is very impressive given that they gave up 37 and 34 to Clarkson and 38 to Boston College, so they are committed to working their own end, or trying to dominate puck possession, or some combination of the two.
I guess the other thing that stands out is the old cliche about how important special teams are. Syracuse got its game-winning goal on a power play from Nicole Ferrara in the second period of Friday's 2-0 win, while Mercyhurst's first two goals in Saturday's 3-1 win were on power plays, so both teams were good at shutting the other down in even-strength situations. Given that Ferrara scored Syracuse's lone goal Saturday at even-strength, Syracuse actually beat Mercyhurst in even-strength play 2-1 on the weekend.
It will be interesting to see how the CHA plays out. Mercyhurst leads the league with 16 points, and Syracuse is right behind the Lakers with 14 points, while Robert Morris is in third with 11. Penn State missed a golden chance to move into sole possession fourth place and a home ice spot for the first round of the CHA tournament when it lost to RIT Friday, 3-0. The Nittany Lions and Lindenwood are tied with eight points, but Lindenwood is ahead by virtue of a series win against the Nittany Lions in October. The two play again on the second-to-last weekend of league play, and that might determine the home ice slate right there.
Robert Morris faces Penn State this weekend, but I still think the Colonials, despite having the best overall winning percentage in the league, are behind Syracuse and Mercyhurst as far as likelihood to win the CHA tournament. The Colonials got swept this weekend by Quinnipiac, and despite losing by only a goal Friday, were really overmatched.
One team that posted an impressive result to me was Minnesota State, losing two one-goal games to Minnesota. What did you make of that series? Is it cause for alarm in Minneapolis that they couldn't score much? You questioned earlier about Harvard missing Mary Parker; is the same true for the Gophers missing Brandt, who hasn't played since Dec. 11 against St. Cloud? In its four games without her, Minnesota has been held to three or less goals three times, down from its season average of 5.39 goals per game.
Arlan: In 141 career games, Brandt has 110 goals and 152 assists, so yeah, I think it might be safe to say that her absence is felt. To accomplish anything notable this year, Minnesota is going to need her in some capacity. Even if she is limited in what she can do as she was through much of the first half, she has that ability to make other people better. Brad Frost was talking about how the team missed her on the power play, and this was after a series where it converted on three of six opportunities. Compounding Brandt's absence, third-line center Taylor Williamson also was out this weekend. While it obviously isn't the same type of hit to the offense, it does mean that the team was missing two of its regular three centers. Sophomore Cara Piazza played in the middle for half of her freshman season, so she moved back there with Brandt out. Sophie Skarzynski moved up from defense to fill Williamson's spot, so there may have been some continuity problems as people adjust to each other. Also, the Gophers just played four defensemen for much of Sunday's game, although that may have helped them offensively, given those four are able to create many of the team's chances.
The two MSMU at Minnesota games were quite different. I've watched the Mavericks play four times this season, and all four have been one-goal games. Despite their record, I don't think they are one of the worst teams in the country. They're just very young, and as for many teams, scoring is a struggle. I didn't think either team played that well on Saturday. Minnesota didn't have a lot of spark, and they didn't get on the scoreboard until a five-on-three power play in the second period led to three quick goals. At that point, they seemed to lose interest, and the Mavericks got a couple of late goals to make the final score interesting. I thought Sunday's game was very well-played both ways. The Gophers came out determined from the opening faceoff, and controlled play, with the exception of when MSMU went on a power play and scored on their first shot of the game 6:26 in. For the next 40 minutes, the game was basically Minnesota trying to score and Minnesota State trying to stop it.
The Mavericks approach was a little like Bemidji State, only a far less-experienced version. A lot of blocked shots, and even more tying up sticks and clearing pucks. Frost said after the game that even if Minnesota had lost, he'd have been proud of his team, and he didn't know if they could have played much better. So if there is cause for concern, that would likely be it, that even their best almost wasn't enough, although Amanda Leveille didn't play yesterday, and the Gophers obviously need her as well to be at their best. To their credit, they didn't panic, and eventually they got a couple of goals from defensemen to pull out the win.
So my conclusions are that Minnesota isn't a championship-caliber team as currently configured, but the big story of the weekend was the improvement of Minnesota State from the 11-1 debacle the first time these teams played. If the Mavericks continue to play as hard as they did yesterday, they're going to win some games in the league.
On the topic of improved teams, Colgate continues to make strides. After what could have been a crushing 6-2 loss at Harvard, the Raiders have bounced back with three straight wins. All were at home and all against teams from the lower half of the conference, but with the way the ECAC is this season, it is vital to win the games that you're supposed to win. Six of their remaining 10 games are at home, including all of the games against the top teams. They've already settled for ties hosting Union and Rensselaer, so nothing is a sure thing, but I'm starting to believe. When I talked to captain Katelyn Parker early in the year and she said the team's goal was to get home ice, I thought good luck with that, but Colgate might prove the doubters wrong. Do you think the Raiders will hold on to a top-four spot?
Candace: I think it's possible, but it will probably depend on how the Raiders do in the next four games. After this weekend, Colgate and Harvard will have played the same number of games. It would help Colgate's cause immensely if the Raiders can beat St. Lawrence this Friday, and even more if they can at least tie or beat Clarkson on Saturday. The Raiders made a North Country trip at the beginning of December and swept, beating Clarkson in OT and using that momentum to scratch out a win over St. Lawrence. If Colgate can at least get a win this weekend, they will still have a one-point lead over Harvard with the same number of games played. Sweep, and they are up at least three points, possibly five if Dartmouth beats Harvard.
Looking at their remaining games, both Colgate and Harvard have games against the Princeton/Quinnipiac travel pair, and both are at home, both play Brown and Yale, and both play Rensselaer and Union. Whether Colgate can claim home ice may come down to the final weekend of the year, when the Raiders host Harvard on Friday and close their season on Saturday against Dartmouth.
By the by, as important as it is for Colgate to get points this weekend, it's equally important for Harvard to beat Dartmouth. Even a tie could be crushing for the Crimson right now.
There are a couple of other interesting ponderables in the ECAC. Can Princeton stay in second? The Tigers have a three-point lead on Clarkson and Colgate, but the latter two have two games in hand, so it's possible both could pass Princeton at some point. The Tigers beat Colgate in their first game 3-2, and got blanked by Clarkson 3-0, so I'd think that Clarkson still has an edge, but Princeton has now won 10 games in a row, even if most of those games are against teams they should beat.
Can anyone displace Quinnipiac at the top? It's looking less and less likely. The Bobcats were impressive in their sweep of Robert Morris last weekend. They are off this weekend, before closing January on the road at Harvard and Dartmouth. Another win over Harvard would probably secure the Bobcats the top spot in the ECAC, barring an epic collapse in February.
At the other end of the spectrum, Cornell has moved into a playoff spot, just as I thought the Big Red might. They are currently tied with Dartmouth with 11 points, but have played one less game and the Big Green are in free fall. Can Yale move up? That is also looking less and less likely. I think one question is whether Cornell can move past Rensselaer into seventh, or even pass St. Lawrence for sixth.
It certainly seems to me to be the league with the most question marks. Do you agree? What's your take on the positioning races?
Arlan: No. No. Maybe. Yes. My apologies if those were all rhetorical questions. As for positioning, the race is so wide open that it almost makes me wonder if it even matters that much beyond the four teams that get left out. For the eight that advance, each team likely believes that it has a shot against any of the other seven.
I think it is safe to conclude that two of those that will miss the postseason will be Union and Brown. Dartmouth's 10-game losing streak included five conference losses, and that radically changed the complexion of the race for the Big Green. Despite that, they have 11 points and some very winnable games remaining, particularly in February, so it isn't out of the question that they could wind up with about 19 points if they can remember how to win hockey games. At first glance, that would seem to be more than enough points to get Dartmouth into the playoffs, at least going by recent history. In the last four years, the team that finished ninth never had more than 14 points. But if we look back farther, the ninth-place team in the ECAC had 18, 19, 17, and 16 points looking back five to eight years. When you have a season where the bottom two teams are very weak and no team dominates, there is a large field with a good number of points, and that's what we see now. Only four games separate second place from Dartmouth, the team tied for eighth, and thus, effectively ninth, and the Big Green have a game in hand. That suggests that the picture can change in a hurry, and a good or bad weekend can shift a team two or three places accordingly.
A poster in the RPI Engineers thread runs a simulation projecting the final ECAC standings, and right now, Rensselaer would finish eighth with Yale and Dartmouth as the two teams coming up short. That certainly is believable with Dartmouth's long skid, but they didn't look that bad at Clarkson on Friday. If the Big Green can get moving in a positive direction, it wouldn't surprise me if they move back into the field, likely at RPI's expense. The Engineers have scored only 18 goals in conference, which is considerably less than any of the other contenders. Conversely, they've allowed fewer goals than anybody but Quinnipiac and Clarkson, so goalie Lovisa Selander's impact on the program is being felt. I just wonder if they can keep it up. RPI's games at Yale this week and versus Dartmouth in February figure to be huge in determining its fortune.
As for the top of the league, my best guess is that Quinnipiac and Clarkson will finish first and second, likely in that order. Princeton has the Golden Knights on its home ice, but I'd still favor Clarkson. Quinnipiac's defense looks to give it the edge most days, it's already done with Princeton, and I haven't seen anyone else string together enough wins to make a rush to the top from too far back.
But overall, I agree that just about everything in the ECAC comes down to some sort of a guess. It's like trying to forecast the CHA postseason, but with more teams. At least in Hockey East it is only in the bottom half where chaos reigns. Speaking of which, has 2016 provided any more clarity as to who winds up where once we look outside of Boston?
Candace: They way it's looking right now, I feel fairly comfortable predicting that Connecticut will wind up fourth. The Huskies have three points more than fifth-place New Hampshire and sixth-place Vermont, and have a game in hand on both. As for the bottom four teams though, I don't know. I'm beginning to wonder if Merrimack can move past Maine into the final playoff spot. New Hampshire and Vermont both have 10 points, but since New Hampshire beat the Catamounts back in October, the Wildcats are ahead. Those two have a weekend series in Durham, New Hampshire, in the first weekend of February that will likely decide who finishes sixth and who seventh.
That same weekend, Maine hosts Merrimack, and the Black Bears would really solidify their playoff hopes if they can at least get a series win. Conversely, if Merrimack gets a series win, it sets the Warriors up for a possible playoff berth.
Having said that, this weekend presents a huge opportunity for New Hampshire to put some distance between it and Vermont. The Wildcats play two in Orono against Maine, while the Catamounts are in Boston against the first-place Eagles. It's entirely likely that New Hampshire will at least split in Maine, and possibly get a series win or sweep.
Overall, I think Vermont and New Hampshire's schedules are a wash. Vermont has all three games left against BC, but New Hampshire has one left against Northeastern and a home-and-home against Boston University. They both host Connecticut for a pair. New Hampshire beat Connecticut in their first game, while Vermont lost, which says to me that the Wildcats might at least get points out of that weekend.
The question then becomes can Providence move up into sixth place, ahead of Vermont? Providence currently has nine points, and has a game in hand on New Hampshire and Vermont. However, I don't think Providence has a favorable schedule. They still have two against BU and BC, plus a single game against Northeastern, and are also on the road for a one-off against Connecticut. Even if Providence sweeps its series against Maine and Merrimack, the Friars may not win any other games down the stretch, and that likely means they might pass Vermont, but not New Hampshire, so sixth or seventh.