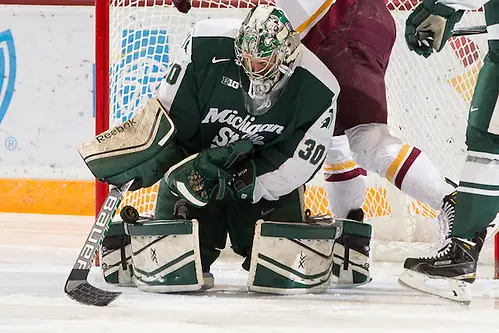 There are some strange happenings in Big Ten hockey this season, happenings that don't appear to bode well for the league in the NCAA tournament.
While three B1G teams are in the top 16 of the PairWise Rankings, only Michigan is in the top 10. Penn State has dropped to No. 15 and Minnesota has risen to a tie for No. 16, but we know that those bubble positions mean very little come tournament time, given the upsets that may occur and the awarding of six separate autobids for conference playoff championships.
Last season, the Big Ten had one representative in the NCAA tournament, Minnesota, and the Golden Gophers folded in their first game to Minnesota-Duluth 4-1. Last season, the Big Ten was perceived as having a down year.
So what's going on in 2015-16? Some interesting scores, for one.
"More so than other years for sure," Wisconsin's Mike Eaves said in his news conference this week. "You don't know if that's a reflection on goaltending, play away from the puck, offensive people that we have in the league now, but … there's been a lot of high scores."
How high? In the past two weeks — 12 conference games in six conference series — Big Ten teams have scored 90 goals for a league average of 7.5 goals per game. Let's compare that with three leagues that clearly have an edge on the Big Ten: Hockey East, the NCHC and ECAC Hockey.
Just this past weekend (Jan. 15-16), Hockey East played its first full weekend of conference-only action. There were 65 goals scored in those dozen games for an average of 5.42.
In NCHC conference-only play in the past two weeks — since Jan. 8 — NCHC teams scored 60 goals in 12 games for an average of 5.0, and in that same span in league ECAC teams scored 66 goals in a dozen conference games for 5.5 goals per game on average.
There are some leagues around the country that are paying at least adequate attention to defense. An argument can be made that the Big Ten isn't among them.
The Big Ten team with the best scoring defense nationally is Penn State, which gives up on average 2.59 goals per game and ranks No. 21. After that, it's No. 31 Minnesota (2.81), No. 43 Michigan (3.10), No. 47 Ohio State (3.30), No. 49 Wisconsin (3.35), and finally No. 56 Michigan State (3.62).
Some of this can be traced to goaltending, which is middling at best — for the most part — throughout the league. Eight goaltenders have played at least 33 percent of their teams' minutes in the Big Ten this season, and the lot of them has a combined overall save percentage of .907. There are two with significantly better save percentages — Penn State's Eamon McAdam (.932) and Ohio State's Christian Frey (.925) — but each splits time in net with another goalie, and Frey is injured.
Two goaltenders — Michigan State's Jake Hildebrand (.894) and Ohio State's Matt Tomkins (.892) — are below .900. (And, no, I don't know why Hildebrand is having the season he's having after combining for a save percentage of .927 in his first three years.)
In conference-only play, five of the league's eight goaltenders who have played have save percentages below .900.
The overall numbers are slightly better than last season, when seven goalies had a combined .905 save percentage for the league, but at least there was more consistency in 2014-15, with the five middle goaltenders posting averages from .902 to .909.
The league cannot rely on offense alone in national play — even if it sometimes works within the confines of Big Ten hockey.
The curious case of the Wolverines
Michigan baffles me. I've seen the Wolverines play tight team defense maybe two or three times this season, and if I were a goalie in the Michigan net, I'd be feeling very, very lonely for stretches — not because of the lack of action, but because of the lack of support.
In six of Michigan's wins this season, the Wolverines have had to make a significant effort to come from behind, and in two ties they've had to do the same. The Wolverines are outscoring opponents 40-14 in the third periods of games this season, and mostly because they have to.
Last Friday, Michigan scored three third-period goals to lead Ohio State 5-4 in Columbus until the Buckeyes' Anthony Greco scored the tying goal with the goalie pulled and seven seconds left in regulation. That game ended in a 5-5 tie with the Buckeyes taking the extra point in the ninth round of the shootout.
Then on Sunday in Ann Arbor, the Wolverines beat the Buckeyes 8-6, scoring five unanswered goals in the third period to bring the score to 8-5 until Kevin Miller scored with the extra attacker at 19:41 to give the Buckeyes six goals. In the second period of Sunday's game, Ohio State outshot the Wolverines 27-16. It was as though there were no Michigan defensemen on the ice.
"We're trying to play better defensively, but that's what you get tonight," Michigan coach Red Berenson said after Sunday's contest. "They had too many shots and too many chances. We had 40 shots against after two periods tonight and that's unacceptable, but that's the way the game was played so you've got to play it the way it's played."
In addition to having to come from behind in the third period, the Wolverines relied nearly exclusively on their top line of Kyle Connor, JT Compher and Tyler Motte to accomplish the task. Motte, a senior, netted his first career hat trick with a goal in the first and two in the third; Connor had a goal in the second and third and Compher had one in the third. The trio is responsible for 43 of Michigan's 102 overall goals.
"They're playing the right way. They've got confidence, they've got chemistry, and they're leading our team," said Berenson. "And good for them. You need somebody or a group to really lead your team, particularly when you get behind. We were behind again tonight like we were on Friday but we found a way to dig ourselves out again."
Berenson said that while he's glad to see the line producing, it's a bit of a concern to see the offense limited to mostly one line. Connor, Compher and Motte each had a goal in the 5-5 tie against Ohio State as well.
"On the other hand, we have other guys that have to pick up the pace, too," Berenson said. "It's not just a scoring race. It's playing good defense and playing the right way as well."
Michigan may be a team that has become too reliant on its offense — especially its ability to score in the third period — and that will surely sink the Wolverines somewhere, most likely in postseason play.
"The third period, it's not something you can just turn a switch on," said Berenson, "but I think our team has some confidence in the third. They know they can come back, but we just don't like the fact that we're putting ourselves in that spot.
"Defensively, we want to get better. I think all of our defense will tell you. You know, we can't give up six goals or five goals in a game and expect to win."
And poor Ohio State. The Buckeyes scored 11 goals against the top team in the league but still came out of the series with just two points. When you score 11 goals in a given weekend, I think it's fair to say that you expect to win one.
"Disappointing weekend," Buckeyes coach Steve Rohlik said. "We played well. We stuck to what we needed to do there."
And just when I thought old-fashioned rivalries were a dying thing …
I joked in my picks blog last Friday that the Michigan-Ohio State rivalry isn't what it was back in the late 1990s and early 2000s, when the Buckeyes were more competitive consistently and the games between the squads produced passionate exchanges.
I guess I should be careful what I wish for.
The brawl at the end of the Ohio State-Michigan game was ridiculous. For two periods, the teams played hard, fast, physical hockey with a handful of penalties in both periods. At the end of the second, two overlapping Ohio State penalties gave the Wolverines an extended five-on-three advantage to begin the third period, and Michigan used that time to score twice and tie the game 5-5.
I didn't think the play got any chippier in the third, but when the buzzer sounded at the end of the game, the Buckeyes' Dakota Joshua shoved the Wolverines' Tony Calderone from behind in front of the Michigan net — a shove, not a vicious check — and things deteriorated from there quickly.
For being the initial instigator, Joshua received a game disqualification, as did his teammate Brendon Kearney. The Wolverines' Dexter Dancs and Cutler Martin also received DQs, Dancs for his part in escalating the fight and Martin for some nasty punches he threw at Kearney when Kearney was on the ice.
Let me say that there was nothing the officials could have done to prevent this, and they did everything they could to prevent things from getting worse, throwing themselves right into the mix to attempt to break things up. It took forever for the crew to sort out the penalties after the game — and that's not a criticism, but a reflection of how widespread and nasty the fighting was.
I do have a favorite moment from what transpired, though. When so many were jumping into the fray, Ohio State senior defenseman and captain Craig Dalrymple was physically separating Michigan freshman forward Cooper Marody from the mix, clearly keeping the rookie from making a big mistake.
It's interesting to me that in the aftermath of my lament about a lack of passion in today's rivalries, not only did the Buckeyes and Wolverines attempt to prove me wrong but Wisconsin's Eaves said something this week that may explain why Sunday's fight is such an anomaly.
This coming weekend, Wisconsin hosts longtime rival Minnesota for two, and Eaves gave some good perspective about modern rivalries in the college hockey world.
"I think the rivalry thing has been, I don't want to say watered down, but some form of that verbiage in that these kids know each other so much better than they used to," said Eaves. "They play all summer and they discover, 'Hey, he's not a bad guy.' Before, when you didn't play against each other in the summertime, he was an unknown factor and the things you heard you kind of got a distaste for them. It's not at the level that it once was, but it's still Minnesota and the history still dictates that to some degree."
Eaves — whose Badgers were swept for the first time this season in a pair of games against Penn State last weekend — anticipates that the series will have its moments, no matter how well the players know each other.
"I think having a handful of guys from that state and the history, this weekend is always a little bit more fun," said Eaves. "No matter what their records are, everyone always gets a little excited about this weekend and it always produces some really fun hockey."
But not too much fun. OK?
Three stars of the week
There is one newcomer this week.
First star — Michigan junior forward Tyler Motte: Motte scored four goals in Michigan's series against Ohio State, a goal in Friday's 5-5 tie and a hat trick in Sunday's 8-6 win. He also added three assists in the series, with a career-high five points in Sunday's game. Motte has 18 goals and 10 assists in 21 games; he had 18 goals total in the 69 games he played in two previous seasons. This is his fourth career weekly Big Ten award and his first of the season.
Second star — Penn State junior goaltender Eamon McAdam: McAdam had a .975 save percentage and 1.00 GAA in Penn State's 4-1 win over Wisconsin on Saturday, improving his record to 9-2 on the season. He leads the Big Ten in goaltending with a .932 save percentage and 2.18 GAA. This is his third career weekly Big Ten award and his second of the season.
Third star — Ohio State freshman forward Mason Jobst: Jobst tied the NCAA lead with seven points in Ohio State's series against Michigan, registering a goal and three assists in the 5-5 tie Friday and a goal and two helpers in Sunday's 8-6 game. This is his first career weekly Big Ten award.
My ballot
1. Quinnipiac
2. North Dakota
3. Boston College
4. St. Cloud State
5. Providence
6. Omaha
7. Michigan
8. Boston University
9. Notre Dame
10. UMass-Lowell
11. Harvard
12. Cornell
13. Yale
14. Denver
15. Penn State
16. Minnesota State
17. Michigan Tech
18. Minnesota
19. Robert Morris
20. Holy Cross