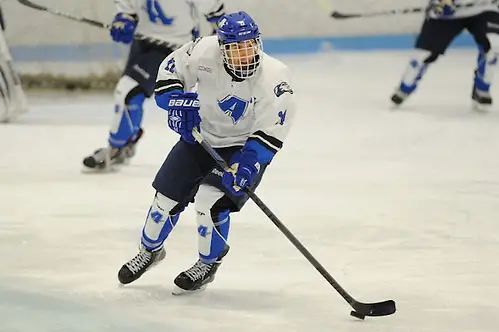 Going into and coming out of the semester break, one of the hottest teams in New England has been Assumption.
A 2-6-2 start to the season has been eclipsed by a recent five-game winning streak that moved the Greyhounds above .500 for the season and significantly increased the confidence level of the team. A recent loss at Cortland and tie with Wentworth over the weekend sees the Greyhounds at 5-1-1 in their last seven games. During the win streak, Assumption outscored their opponents by a 27-13 margin scored over five goals a game in that stretch.
Leading the way has been senior Brandon Bete and his 16 goals in just 17 games played.
The breakout year for the senior has not been a surprise to his coach, Lance Brady, but the high output has been a very welcome contributor to Assumption's on-ice success.
"Winning five in a row was great and it's been a combination of balanced scoring and [Nick] Comesso keeping pucks out of our net," stated Brady. "We are rolling four lines, which also has been a big part of our success lately, but without question, our first line has been outstanding and Brandon leads the way for us scoring."
During the win streak, the Greyhounds are scoring more than five goals a game and have key wins over St. Michael's in NE-10 play and Endicott in nonconference action where Bete's hat trick led the way for the offense. Bete's 26 points already surpass his point total from last season as do the 16 goals with still 10 regular-season games on the schedule entering Wednesday night's game with Daniel Webster.
"I think Brandon would have had more points last year if the injury bug didn't get him during the season," said Brady. "He worked very hard in the offseason on getting his body and his shoulder ready to go and I think our opponents are seeing the results of all his hard work. I have been involved in the D-II/III level of hockey for the last nine years and I don't think I have seen such a clean and quick shooting release on any player as what Brandon does shooting the puck. He really does know how to finish and has been more dangerous in five-on-five play than when we have the power play."
That being dangerous comes from the tight relationship he has with his best friend on and off the ice in linemate Ryan Gomez. The pair finished one and two in scoring for Assumption last season and it's no surprise this year they are again atop the stat sheet having already topped the 20-point plateau.
"That first line is special," noted Brady. "Knock on wood that no one figures out how to defend them, but there is just a great chemistry with all of them, but especially with Ryan and Brandon. They are best friends away from the rink and spend a lot of time together, which translates to great awareness of each other on the ice. I think they are tape-to-tape about 95 percent of the time passing the puck with each other and they just get the puck to each other in good places to create and finish opportunities.
"It's fun to watch."
Last season, Assumption had a similar mid-season run of wins, but fell on hard times down the stretch finishing 2-9 over their last 11 games in the 2014-15 season. The remaining schedule for the Ice Dogs is unfriendly with two-thirds of the last 12 games coming on the road where Assumption is just 2-4-1 this season. Key road games on the horizon include Amherst and critical conference games with St. Anselm and Franklin Pierce may go a long way in determining if Assumption qualifies for the four-team NE-10 tournament next month.
"We really want to keep a good thing going and if we continue to focus and play hard, score the way we can and keep pucks out of our net, it won't matter if we are home or away, we should continue to get results," Brady said. "The league situation is very much up in the air and in that final week we have a home-and-home with Franklin Pierce and play St. Anselm, so it very well could come down to the last weekend of the season for us to qualify for the playoffs. We got two big points with the win over St. Michael's, but dropped games to Southern New Hampshire, so they got the two points on us. That makes the games remaining with Stonehill, Franklin Pierce and St. Anselm very important, so we want to be playing our best when it matters most. It looks like it is going to matter right up to the end of the season."
There is still a lot of hockey to be played and Assumption hopes its recent success is an indicator its best hockey is still in front of them – playing to the "Bete" of their leading scorer!