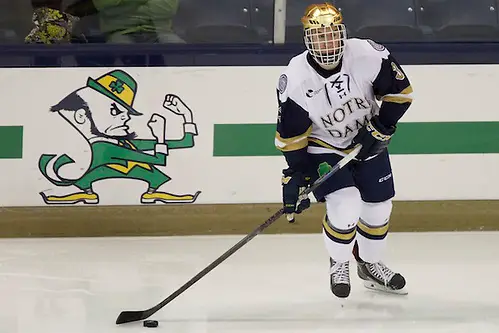 Last weekend's first full slate of Hockey East games had major implications in the standings, with not a single status-quo split. Three of those sweeps came from teams jockeying for first place, with another home-and-home series — Boston College taking three of four points from Boston University — further clarifying the top positions, at least for now.
Arguably, four teams — Massachusetts-Lowell, Boston College, Notre Dame and Providence — rank as the early favorites for a first-round playoff bye. Three of the four have only a single league loss and the fourth, Lowell with two, has the most wins.
Coming in at No. 5, perhaps squeaking into the top tier while still finding itself significantly behind the other four in the pursuit of a bye, is BU (5-4-3). After that, teams are at least a couple games under .500, making all of them long shots to join the top tier and seriously contend for the bye.
Below the top five, there's hardly any separation at all in the race for home ice in the opening round. Other than BU, or whatever top-tier team fails to secure a bye, New Hampshire is best situated to get home ice with two games in hand over all its likely competition.
All of which magnifies the importance of this weekend's upcoming full slate of league contests.
Notre Dame on a roll
With its sweep last weekend of Merrimack, Notre Dame extended its unbeaten streak to 10, dating all the way back to the day after Thanksgiving. While one could quibble with blowing a 3-0, third-period lead at Western Michigan two weeks ago, there's no discounting the rest of the Irish's results. They've moved into 10th in the PairWise Rankings (13th in the USCHO.com Division I Men's Poll) and appear to have as good a shot at finishing atop Hockey East as anyone.
"We've started to play more consistently," Notre Dame coach Jeff Jackson says. "We had the little blip against Western Michigan, but we've got a lot of guys going good right now. That certainly helps, it makes your depth better.
"A lot of it goes to our young guys developing, learning how to play the game at this level, both sophomores and freshmen, because that's probably close to two-thirds of our team. With them maturing and getting more confidence, it certainly makes a big difference."
Two of those younger players, sophomore Jordan Gross and freshman Bobby Nardella, are providing considerable offense from the blue line, filling out the team's top five in scoring, including a total of 11 goals.
"Sometimes we play them together, sometimes we split them up," Jackson says. "A lot of it's based on matchups. Both of them have really good puck skills and instincts. They're both willing to try to make a play offensively, and jump into the play if it's off the rush or the cycle. They're creative and they make plays, so that certainly makes them dangerous, makes us a better team."
While there's no superstar to dominate the scoring, there are 13 players ranging from Anders Bjork's 24 points to multiple players with nine. That type of balance creates effective matchup problems.
"Going into the season, I knew that if we were going to have any success we were probably going to have to have balanced scoring and so far it's played out," Jackson says. "There's not one line on a given night that you have to shut down. It could be any one of actually four lines; even our fourth line has started to be more productive in the last month.
"So it's hard to create matchups against us because really any line can score. Our scoring depth has really helped us, no question."
Arguably, balance is the mantra of this team, with no apparent weaknesses. The Irish rank fourth in Hockey East in team offense and defense, fifth on the power play and third on the penalty kill.
"The only weakness may be the inexperience sometimes," Jackson says. "That shows up every once in a while. We blew the three-goal lead [against Western Michigan].
"But we've also come from behind a couple of times like that. We've been down a couple of goals and come back to tie it or win.
"This group is resilient, but they don't have the confidence to finish out games sometimes. So that's been one of the deficiencies, that we relax a little bit or we get a little comfortable and all of a sudden, boom, the opponent's back in the game. So we're still learning."
Although the Irish have compiled a strong 8-2-3 record at home, they've been only 3-2-4 on the road so this weekend's two games at New Hampshire represent a challenge.
"We haven't had the best track record against UNH," Jackson says. "We have to understand that they're a good offensive team. They've got a great power play. They've got some dynamic offensive players, some of the best in the country.
"We don't look to go shut guys down. We worry more about us. [But] we have to be conscious of the fact that they are a very good offensive team.
"They were really coming on there for a while. After a tough start, they really started getting hot. For whatever reason, they've had a little blip here in the last few weeks, but, I know [UNH coach Dick Umile] will get them going again. They're never an easy out.
"We just have to play smart hockey when we play on the road, regardless of who the opponent is."
Providence back on track
The Providence Friars approached perfection through the holiday break, allowing only three ties to sully their 15 games. So it was a bit of a shock to see them falter to the tune of 1-3-1 in their five games coming out of the break before getting back on track last weekend with a 3-1 and 6-3 sweep of Vermont.
But a few facts are worth noting. First, two of the three losses came in overtime. Which, for all you non-math majors, means Providence still has lost only a single game in regulation all year. Second, the Friars were without star sophomore defenseman Jake Walman for four games due to injury, including two of the losses. Despite missing time, Walman remains the top-scoring defenseman in the country, so his absence was sorely felt.
"It gave some other guys a great opportunity to play and to develop, but we missed him pretty dearly on the power play, and we missed him from the offensive standpoint of just being able to get pucks down to the net quickly," Providence coach Nate Leaman says. "He's our power-play quarterback. He brings the puck up the ice very well.
"We struggled in that area with him gone. He adds another dimension to our power play."
It's hardly a coincidence that the Friars scored three goals on the man advantage last weekend with Walman back.
That said, Walman isn't the only offensively gifted blueliner on the Friars. John Gilmour (17 points), Tom Parisi (10) and Anthony Florentino (nine points, including five goals) also add punch in the offensive zone.
"We have to be a multi-faceted team," Leaman says. "Getting our defensemen involved has been something that we've been focusing on this year. Our defensemen are a big strength to our team because they can get involved, every one of them. So we've just been trying to use them as much as possible and use that to our advantage."
There's an old adage that you need a core group of seniors to lead you to championships. If true, Providence is in great shape. Other than Walman and fellow sophomore Brian Pinho, all of the Friars' top eight scorers are seniors.
That's a mother lode of leadership.
"Our seniors were our first recruiting class [when Leaman arrived at Providence], so they got put in a situation where they had to come in and be good right away," Leaman says. "So they've played a lot of hockey. From freshman year on, they've played in just about every situation.
"So they have a lot of experience. With that experience comes a lot of confidence, a lot of poise. They're doing a terrific job of leading the team.
"That being said, I really feel that our freshman group is really starting to play well. They're starting to feel a lot more comfortable on the ice. Erik Foley has played terrific for us here in the second half. Garrett Gamez and Ryan Tait have.
"So we're starting to feel the impact of our freshmen pushing. I don't think they're going to have the numbers that our seniors have because our seniors were able to do it from the start of the season, but I really feel like our freshmen are coming along and providing that secondary push that we need."
Arguably the biggest question coming into the year — how do you replace Jon Gillies in goal? — has been answered emphatically. Nick Ellis has played all but one game, meaning his record of 14-3-4 is beyond repute, and the same can be said for his other statistics: a 2.11 GAA and a .928 save percentage.
Not too shabby.
"Nick's a good goaltender," Leaman says. "He's one of our hardest-working players. Being behind Jon for two years, he was able to watch Jon, but he was also able to work and work and work.
"It's fun as a coach to see someone rewarded like he's being rewarded with the season he's having because I know the amount of work that he's put into it."
A pivotal weekend series with Lowell beckons, one that could determine each team's fate. Lowell sits atop Hockey East in terms of total points, six ahead of Providence, but the Friars hold four games in hand so another strong weekend could put them in an ideal position.
"They're all good series from here on out," Leaman says. "The standings matter, but with every game there's so much on the line that you're getting everyone's best game.
"We've obviously had great games with Lowell in my time here. They're always hard-working and highly contested games, and we're expecting nothing different."
A milestone deferred
Boston College could have given its longtime mentor, Jerry York, his 1,000th career win last Saturday night at BU, but a tie left that milestone waiting.
Not that York cares one whit.
"I'm not involved in that," he said predictably. "We've always talked about it being a team sport. We, not me. So it's just a number to me.
"The early part of my career, I didn't think I'd make it to 37."
Close but no cigar
BU had to settle for only a single point in its home-and-home series with BC but was awfully close to a lot more.
The Terriers didn't play well on the road on Friday but almost rode three power-play goals to a tie. However, a late Ian McCoshen goal and then empty-netter sent them home empty handed.
"We took a step back tonight," BU coach David Quinn said, finding little solace in the near miss. "It's certainly not the way we want to play or need to play if we're going to have success moving forward. I thought we were slow. I thought we were soft.
"[We gave up] way too many odd-man rushes. Not an awful lot to like about our game tonight."
When asked what led to all the conceded odd-man rushes, Quinn pulled no punches.
"Poor puck management, puck-watching and being lazy," he said.
One night later, goaltender Sean Maguire had another strong performance and two points loomed large, but BC tied it to salvage a point.
"It's disappointing the way both games ended," Quinn said after Saturday's game. "We were two-and-a-half minutes away from at least getting a point [at BC], and tonight we're two and a half minutes away from getting a win, so disappointing from that regard, but it's Jan. 15, and you don't want to be playing your best hockey now."
Maguire's play, however, bodes well for the stretch run and playoffs. After missing all of last year with injury, he started slow in the fall semester but finished it with a bang, leading the Terriers to an upset of top-ranked Quinnipiac, still that team's only loss.
"He's been getting better and better," Quinn said. "The great thing over the weekend is we got elite goaltending, and that certainly bodes well going forward."
Time to rally the hockey community
Two of our family could use your support.
You've no doubt heard of Denna Laing, the member of the Boston Pride women's hockey team who suffered a significant spinal injury in the first-ever Women's Winter Classic.
This strikes close to home. I've written many pieces about spinal cord injuries, starting with the first one about Travis Roy 20 years ago. Additionally, my niece Cherie Hendrickson plays for the Pride.
One fundraiser can be found at http://auctions.nhl.com/dennalaing, where game-worn jerseys from Tuesday night's Bruins-Canadiens game are being auctioned off.
I'm sure that other fundraisers will follow.
Additionally, courtesy of John "Jocko" Connolly's column in the Boston Herald, longtime BU supporter Elliot Driben is ailing. Send your own word of cheer to him at Driben c/o Briarwood Rehab and Healthcare Center, 150 Lincoln St., Needham, MA 02492.
And finally, not that it has anything to do with anything, but …
It's been gratifying to see the response to my new novel, "No Defense," a hockey romance. Thanks to all for your interest.
If you haven't gotten a copy, it's available in all electronic formats and trade paperback. If you'd like a personalized, autographed copy of the trade paperback for $15 (which includes standard shipping), email me at [email protected].
Go Patriots!