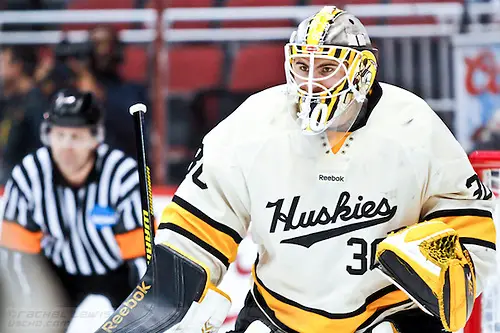 The WCHA has three teams in the USCHO.com Division I Men's Poll for the first time since Oct. 12, and the hottest team appears to be the one that just kicked down the door to get back into the top 20, not to mention second place in the conference standings.
Michigan Tech is 17th, leapfrogging over Minnesota State (20th) and Bowling Green (18th) following its three-point home weekend against the Mavericks, a team it hadn't beaten in 10 games. Saturday's 3-1 victory was the Huskies' first against the Mavericks since 2011-12, coach Mel Pearson's first season at Michigan Tech.
"I didn't realize the streak was like it was," Pearson said. "We've had really good games with them, tight games. You wish you had more games like this. Two good teams. They play hard, play clean. They're good, clean games, but you've got to show up. You have to earn your victories."
The Huskies have been doing just that.
Since a somewhat perplexing pair of home losses to Alaska-Anchorage on Dec. 4-5, Michigan Tech has lost just once in eight games, and that was to No. 6 Michigan in the finals of the Great Lakes Invitational on Dec. 30.
Against Minnesota State, the seniors took over. Goaltender Jamie Phillips had his best weekend of the season, Pearson said, stopping 55 of 58 shots in the series. That included a 16-for-16 performance in the first period of Friday's 2-2 tie.
Meanwhile, forwards Alex Petan and Malcolm Gould combined for four goals (three by Petan) and three assists (all by Gould) in the series.
"Minnesota State has an excellent team, but we have a pretty good team ourselves," Pearson said. "What can you say about Alex Petan and Malcolm Gould … and Jamie Phillips? I thought they were really the three stars for us."
Petan was named the WCHA's offensive player of the week, and Phillips was awarded defensive player of the week for their efforts.
The Huskies also did it without junior forward Tyler Heinonen, their second-leading scorer, who missed the series with an injury.
"We have depth," Pearson said. "We've talked about that all year. Guys rallied around that, and we got key performances from key people."
The Huskies have a week off before traveling to Bowling Green to face the team with which they're tied for second place. The two are three points behind first-place Minnesota State.
Pearson lamented that his team doesn't get another shot at the Mavericks, and not just so the Huskies can try to start an unbeaten streak of their own against their nemesis.
"You'd like to play them more often, believe it or not, even with that streak," he said. "It just brings out the best in your team. It's unfortunate we only have them two times on the schedule this year. We want to play the best and I'm sure they do, too. … But I have a feeling we'll meet again somewhere down the line."
College hockey faithful
An extra shout-out this week has to go to the Michigan Tech fans. There were more than 3,100 in the MacInnes Student Ice Arena for Saturday night's game against Minnesota State despite a lake-effect snowstorm that dumped a reported 27 inches of snow in the Houghton area that day and night.
Much of that area is Green Bay Packers territory, too, and with a playoff game going on at the same time, there were plenty of reasons for people to just hunker down at home instead of braving the elements.
"No. 1 star tonight's our fans," Pearson said. "I mean, given the weather and everything going on, for them to turn out 3,000 people to come out to a game tonight really says a lot about the support in the community, and I just couldn't be happier that we have the support that we get from them."
Ferris gets to three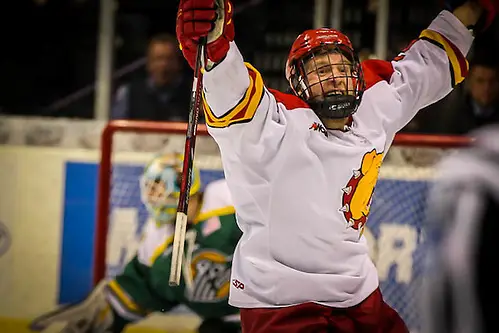 Ferris State's three-point weekend against visiting Alabama-Huntsville was its first of the season, having taken two points in every other series before that. The result pushed the Bulldogs into fourth place in the tight league standings, three points out of second place. They're one point ahead of Northern Michigan and two ahead of Bemidji State, where they will travel this weekend.
"That's probably the best weekend of hockey we put together," coach Bob Daniels said after Saturday's 4-1 victory. "Had we not, I don't think we would have come out with three out of four [points]. It shows you we're getting closer."
Bulldogs goaltender Darren Smith, who stopped 38 of 42 shots in the series, was named WCHA rookie of the week.
Daniels said it was a tough call to play Smith both games. The freshman has been sharing time with senior Charles Williams.
"It was a real tough call," Daniels said. "It came down to he hasn't lost. We beat UConn the second night at the Minnesota tournament, tied [Friday] and won again today. Right now, if a guy gets hot and starts to roll off and can keep us undefeated for a length of time, I'd like to stay with that goaltender."
That doesn't necessarily mean Smith will start against the Beavers on Friday night.
"With that said, Darren's marching orders are: Let's show up Monday, let's work hard in practice, let's make sure there's no dip in your game because I guarantee Charles Williams is champing at the bit to get back in the goal."
Offensively, 10 different Ferris State players have reached double-figure point totals already, led by junior forward Gerald Mayhew's 21 points. Michigan Tech is the only other team that has 10 skaters with 10 or more points.
Ice chips
• Alabama-Huntsville took just one point from Ferris State last weekend, tying 3-3 on Friday before losing 4-1 on Saturday. Chargers netminder Matt Larose was the goaltender of record in Friday's game; he is unbeaten in his last three starts and is averaging 36.3 saves with a .957 save percentage, which is good for third in the WCHA since Dec. 18.
• Following its two-week road trip to Alabama-Huntsville and Northern Michigan, in which it went 2-2, Alaska is off this weekend. But the Nanooks will go right back out on the road after that for a nonconference series at Wisconsin on Jan. 29-30. Following that road trip, they will play three of their final four series at home.
• With a win at Lake Superior State on Sunday that snapped a five-game winless streak, Alaska-Anchorage already has surpassed last year's league point total. The Seawolves have 14 points; they had 12 in 2014-15. They will play at Bowling Green on Thursday and Friday to wrap up a two-week road trip.
• In defeating Arizona State 5-0 and 2-0 in a nonconference series last Friday and Saturday, Bemidji State earned its second consecutive sweep. The Beavers are unbeaten in their last six games (and since the calendar turned to 2016). And in each of those six games, sophomore forward Gerry Fitzgerald has had at least a point. Fitzgerald has scored a goal in each of Bemidji State's last four games and is tied with Alaska's Tyler Morley for second place in goals (with 12).
• Despite losing 2-1 to nonconference foe Miami on Saturday, Bowling Green has allowed three or fewer goals in 19 consecutive games. The Falcons' 1.84 goals allowed per game ranks fifth nationally. Bowling Green is tied for second in the league with Michigan Tech but has two games in hand.
• Lake Superior State's youngsters continue to power the Lakers. The nine-member freshman class (10 if you count goalie Nick Kossoff, who has one assist) has accounted for 28 goals and 40 assists this season. Mitch Hults has 12 points (6 goals, 6 assists) to lead the freshmen, while Gage Torrel and Anthony Nellis are also in double figures in points for the Lakers.
• Don't expect to see a lot of power-play goals when Minnesota State plays. The Mavericks have not allowed a power-play goal in their last 10 games, with opponents going 0-for-31 in that span. Meanwhile, the Mavericks' own power play has struggled, going 0-for-21 over their last six-plus games.
• Northern Michigan coach Walt Kyle always expected his team to have a balanced scoring attack this season. During their recent series split against Alaska, 13 different Wildcats players posted at least one point, while six recorded two. Defensemen Barrett Kaib scored two of his team's six goals, while fellow blueliners Ryan Trenz and Brock Maschmeyer added one apiece. Junior forward Dominik Shine also scored in Saturday's game. The Wildcats' goal-scoring leader (10) has a point in seven of the team's last eight games.
• This week's WCHA players of the week are Michigan Tech senior forward Alex Petan (offensive), Michigan Tech senior goaltender Jamie Phillips (defensive) and Ferris State freshman goaltender Darren Smith (rookie).