It hasn't always been easy to tell who this college hockey season has been tougher on: the North Dakota men's hockey players or the Fighting Hawks' training staff.
Injuries to high-profile players have become almost regular problems for UND this season. That hasn't deterred the Hawks, however, as much as it likely would for most teams.
Earlier this season, with injuries sidelining top two goaltenders Cam Johnson and Matej Tomek — the latter of whom still hasn't played for UND this season — third-string goaltender Matt Hrynkiw stepped in and kept the Hawks afloat. In 13 games played so far this season, the junior has posted a 9-2-2 record and .908 save percentage.
Johnson has since returned, however, and the sophomore (13-1-1 so far this season) is a big reason why second-ranked UND is three points clear at the top of the NCHC standings. Two months after returning from a groin injury, he came up big again last weekend in a road sweep of Western Michigan despite the Hawks again missing some key pieces.
UND star skaters Drake Caggiula (shoulder) and Nick Schmaltz (lower body) both missed the trip to Kalamazoo, Mich. On Friday, however, the big story on the ice involved Johnson making 31 saves and earning his fifth shutout of the season in a 2-0 win.
Johnson's play was vital again Saturday night when UND defeated the Broncos 2-1 on goals from freshmen Brock Boeser and Shane Gersich. Johnson racked up 28 saves in the rematch.
UND was without four of the top nine forwards on the Hawks' roster. Chris Wilkie (arm) and Rhett Gardner (illness) were also out of the lineup against the Broncos.
Another key cog was ruled out during Saturday's game when standout defenseman Troy Stecher departed in the second period. He is not, however, expected to miss further game action due to an injury picked up Saturday.
Despite all that, the Hawks still got the results they wanted last weekend inside Lawson Ice Arena, one of the toughest places in the NCHC for visiting teams.
"I said to our guys in the locker room that we have a really special group in our team this year," Hawks coach Brad Berry told reporters after Friday's game, "to the point where it doesn't matter who is in the lineup, we find a way to win.
"That goes to our mentality at North Dakota and the players and their character."
UND will be idle this weekend. It's a good time for the Hawks to have a bye week, too, with a chance for players to rest up ahead of a trip to No. 13 Denver next weekend.
The Hawks should also be glad for the opportunity to decompress after a tough weekend in Michigan.
"It was a hard-fought battle," Berry said after UND's sweep-clinching win Saturday. "We knew that coming in. We talked about how tough it is to win in this building.
"[Western's] a hard, heavy team. They play the right way. They are well-coached. We're grateful to come out with six points."
RedHawks keep climbing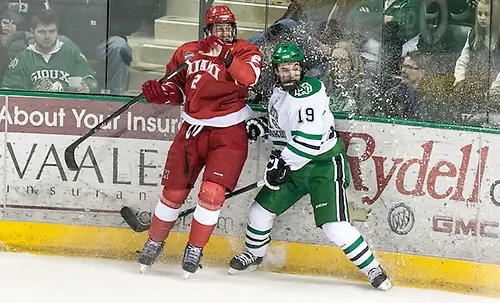 Three weeks ago, Miami sat at 2-8-2-2 in NCHC play and was 22 points behind then-leader St. Cloud State in the league standings.
Since then, things have changed dramatically for the RedHawks. They're still not a major factor in the race for the NCHC's regular season championship, but Miami is now tied for fourth place with Omaha and Minnesota-Duluth.
Including one three-on-three overtime victory, Miami has won six of its last eight games. Four consecutive victories were rattled off before the RedHawks fell 5-3 last Saturday at home against Denver.
Confidence is up in the Miami camp. So, too, are the RedHawks' cohesiveness and sense of drive on the ice.
That made itself apparent, for example, when Miami blocked 43 shots in its two-game set last weekend against Denver, which included a 3-1 win over the Pioneers on Friday.
"For me, blocking shots is an indication that guys are playing for each other and trusting each other," Miami coach Enrico Blasi said this week. "That's been our focus and what we'll continue to focus on.
"You've got to sacrifice for each other, and I think our guys are doing a pretty good job of that right now."
Blasi hopes his RedHawks maintain their energy levels this weekend during another tough home test against No. 3 St. Cloud State.
The Huskies will enter Oxford, Ohio, possessing the nation's second-best offense. St. Cloud State, winner of its last six games, has scored 4.39 goals per outing so far this season.
"I think you have to play good team defense, period, against St. Cloud," Blasi said. "They're a high-scoring team and they like to score goals and they score them in bunches, so you've got to play good team defense.
"Whether it's blocking shots or getting sticks in lanes or making sure you're doing a good job on the backcheck and tracking back and that your exits are clean [and] your entries are clean, all that stuff comes into play when you're playing a high-skilled team like St. Cloud."
These two teams have already met twice this season. St. Cloud State outscored Miami a combined 6-1 in a pair of home wins on Oct. 30-31.
Both teams are better now than they were then, and the RedHawks are well aware of what they're up against this weekend and what Miami itself will have to do to keep up its recent good form.
"You're probably talking about a top-three team in the country," Blasi said, "so they possess a lot of weapons and offensively they're very gifted on four lines, their D corps is as good as anybody in the country and mobile, and they're very good at dictating the pace of the game and their goaltending is really good.
"Couple all that with good coaching and you've got yourself a pretty good team. Our focus again, just like any other weekend, is to play our best hockey and we'll continue to do that."
NCHC players of the week
Offensive player of the week — Mikey Eyssimont, St. Cloud State: The freshman from suburban Denver had the best weekend of his young collegiate career. Eyssimont picked up three goals and two assists last weekend while helping the Huskies capture the North Star College Cup title as Minnesota's de facto state champion.
Defensive player of the week — Andy Welinski, Minnesota-Duluth: The senior blueliner picked up a goal and two assists in a road split last weekend against Northern Michigan. Welinski also helped the Bulldogs kill all six of the Wildcats' power plays.
Rookie of the week — Brock Boeser, North Dakota: Boeser had a hand in all four of UND's goals last weekend in a sweep at Western Michigan. The forward racked up three goals and an assist and collected the game-winning goals in both games.
Goaltender of the week — Cam Johnson, North Dakota: Johnson gave up only one goal in two games against Western and posted a .983 save percentage for the weekend. Fifty-nine of the Broncos' 60 shots against the Fighting Hawks didn't cross the goal line.