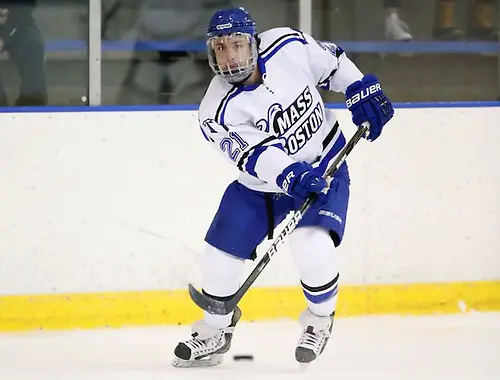 The Beacons of Massachusetts-Boston are certainly enjoying a successful season to date.
Ranked eighth in the most recent USCHO.com Division III Men's Poll with a 16-3-2 record and sitting atop the NEHC standings, there are still major goals to be achieved, starting with the regular-season title and opportunity to host the conference final four.
Just four conference games remain on the schedule and while noted seniors Matt Lemire and Frankie DeAugustine receive a lot of attention and credit for the team's success this season, head coach Peter Belisle believes the senior leadership and example for other lesser-known players has galvanized his team for a strong playoff run.
"This senior class is a special one," noted Belisle. "Matt and Frankie obviously get a lot of credit along with Colin [Larkin] because of the offense and their point totals, but this senior class is about so much more in terms of perseverance and commitment – attributes the whole team has latched on to and a story I continue to build for the underclassmen as we try to go to the next level in this conference."
While goalie Zach Andrews, forwards Jeremy Finger, DeAugustine and Mike Miller are the core of the senior group along with transfers Billy Faust and Lemire, the character stories of Derek Colucci, Andrew Crawford and junior Alex Demchuck showcase the heart and soul of the Beacons sense of determination this season.
"You know, it isn't easy for a player to complete four years of a college hockey program," said Belisle. "It is a hard road and commitment to make with individual priorities and team direction being key challenges that each player faces along the way. A lot of players who don't play regularly will often look to leave the game and focus on academics or transfer somewhere that they feel there may be better opportunity. We have a core group of upperclassmen that really leads by example in terms of their commitment, preparedness and passion for the game and the program that are great motivations for the rest of the team."
Belisle also ran down what impresses him about Demchuk, Colucci and Crawford.
— "Alex Demchuk played just one game – ONE – in his prior three seasons here. I had the difficult conversation about whether he wanted to stay here knowing he wasn't going to play and he has stuck with it and been extremely positive in working hard every day. He scored his first career goal against Norwich [back on Dec. 4], one of our biggest rivals – that is storybook stuff."
— "Derek Colucci has come back for a difficult injury last season when he broke his ankle and is a key leader and contributor to getting balance in scoring across all of our lines, not just the big line. He also has stepped into the alternate captain role when Albee [Daley] went down early in the season."
— "Andrew Crawford has stepped up after not playing a lot early in his time here. Knowing our challenges entering the season on the defensive side and helping out with the freshmen that see a lot of time, Andrew has been our first defender on the penalty kill unit all year and has been a terrific leader for the young 'D' corps."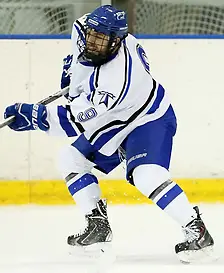 "These guys all moved past adversity that stood in their way due to injury or team circumstances or factors I actually put in front of them based on the personnel situations at the time," explained Belisle. "All of them are still here and are a big part of this season's success. They may not get the press that our big point-getters do, but they are as big a part of our overall determination and accomplishments to date. That is why this senior class is so special. It hasn't come easy for a lot of the group, but their dedication has set a great example for the team. I do love telling these stories about the character of these players and the commitment they have made to themselves and the program.
"This senior class is special because of the combination of all these stories and I hope there more stories to tell about further success for this group in February and March."
The rest of the team is not without its own success stories this season, starting with freshman forward Garrison Sanipass, who is on the verge of a 20-point season, and junior defenseman Tyler Bishop, whose 10 goals are tied for second on the team. Bishop is the only defenseman in the country to post a hat trick this season. His three goals, including the overtime game winner against New England College in early January, is still something his coach is talking about.
"Tyler just goes about his business so quietly," Belisle said. "He is not flashy, but has a natural knack for the offensive part of the game and knows not only when to join the rush, but when to push the play in the zone, where to be for offensive chances like a fourth forward and be a key contributor on the power play. We had a lot of questions at the beginning of the year about our defensive group, especially with three freshmen expected to see a lot of minutes. Freshman Bryan Carter has been the perfect partner for Tyler and as a freshman, has performed really well. He is a 'stay-at-home' kind of player although I laugh since he scored on a rebound against Southern Maine last weekend. They have been very good together and the young defensemen have been a strong part of our overall game this season."
Old or young, the Beacons have found ways as a team to gel and create success on the ice. Just four regular-season games remain in conference play and with rivals Babson and Norwich close behind, the coach isn't taking anything for granted starting on Friday night with St. Michael's in Winooski, Vt.
"We set goals at the beginning of the season," said Belisle. "They are a little more tangible now, but we still have to go out and earn it these next two weekends and into the playoffs. Knowing the obstacles many on this team have overcome to get this far, I am confident of their motivation and determination but am happy to remind them of our stories of perseverance as a driver to goals yet to be reached."